Residential life develops community with updates to curriculum
Back in the fall of 2019, Dr. Juli James joined the faculty as the new Director of Residential Life. James came to the FSH community with lots of experience working in residential life, and she hoped to use that experience in order to update the program for the residence hall on the Hill.
James had just started to get a feel for the campus and what the residential life program could use when, to everyone's surprise, Covid-19 put things on hold, and residential life students left the Hill and returned to the homes of their parents and guardians in order to go to school at FSH on Zoom. 
Now, 20 months later, school is getting back to normal, residential life students are back on campus and James is finally able to implement her new program, one that focuses on developing community. As a result of her efforts, James now has the title of Director of Community, which means that she'll be able to make an impact not just on the residential life hall but on the campus as a whole. 
James has a wealth of experience. She spent 25 years as an English teacher and dorm head for the Webb Schools in Claremont, a co-ed private school where 65-70% of students live on campus. 
After Webb, James went to China to work at a well-established boarding school in Beijing. After that, James was one of the first faculty members of a new school, also in Beijing, called Keystone Academy. At Keystone, she was the Dean of Students; Director of Service, Learning and Global Initiatives; and a representative of Round Square. Out of the 1,200 students attending Keystone, 420 were residential. 
James knows what it takes to build a lasting and meaningful residential life program. 
"I have a series of goals [for FSH]," James said. "They include things such as bridging that divide [between residential life students and day students] and letting the day girls know that they are welcome to join us for intentional programs, weekend excursions, camping, weekend sleepovers and cultural nights. Everything is open to everyone."
James' residential life curriculum contains five areas of development: social-emotional learning, wellness, life skills, outdoor skills and character. 
"The one that's most important to me is the development of girls' of good character, women of faith. No matter what school I'm in, that's super important. I don't care how smart or athletic you are; if you have lapses in your character, then that erodes our impression of you and it erodes community," James said.  
The values James is developing in the residential life program mirror the school's overall mission. 
"We're focusing hard here on developing a community that is compassionate, kind and collegial — where people generally want to hang out together," James said. 
The outings so far this year for residential life students have been varied and enjoyable. 
"We have been holding big and small outings. The small outings include boba and Target runs. One big outing was Universal Horror Nights. The Hispanic Heritage Month dinner and Canadian Thanksgiving were huge successes, so we are encouraged to take suggestions and host similar events," Emilie Zhang '22, president of the Residential Life Leadership Council, said. 
Within the residential life hall, the students take charge of the kind of environment they want. 
"There are hall or dorm meetings where we exchange ideas and thoughts. I can see that the res life hall is trying to create an inclusive and secure space for everyone," Ziling "Coco" Chen '23, vice president of the Residential Life Leadership Council, said. 
James has introduced an activity known as circles to the residential life hall, which is all about encouraging communication within the hall's community. 
"Everyone is in a giant circle, and that's when you talk about yourself, our community and any issues that might be percolating. It helps girls feel like they belong here and that everyone is included. It's not just sitting in a circle and talking; it's carefully designed, and it gives girls agency and the chance to develop the confidence to speak in a smaller setting," James said. 
James would like to take the circles school-wide. Girls would be trained to be circle leaders, and students from all grades would be together. 
"It's sort of like a town hall meeting but also a way for people to speak, to be heard, to be seen and for us to share anything that's happened in the real world or here on campus," James said. 
More than anything, James wants to foster a relationship between the residential life students and the day students. 
"I would love to see as many day girls as possible over here [in the residential life hall]. It's super easy to do. We have some extra beds and extra rooms, so we can have sleepovers. I would love for day families to invite a res life girl over just for a change of scenery," James said. 
Overall, the residential life hall is a place full of love and compassion, and the new program has helped foster and enhance that caring community. 
"I feel like I'm living in an unusually supportive community. Girls know girls. Girls help girls. For the res life hall specifically, I feel lucky to be able to meet with a group of sweet and smart girls who are always concerned about each other," Chen said. 
Leave a Comment
About the Writer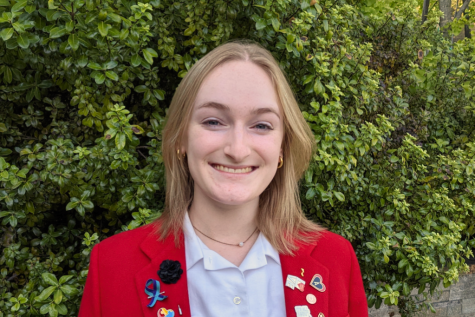 Julia Krider, Managing Editor
Julia Krider is a senior at Flintridge Sacred Heart, and is the Shield's managing editor this year. She has been part of the paper since sophomore year,...