The best hangout spots on campus
A student arrives early to school on a bright morning. Birds chirp in the distance as she puts on her backpack.
"Where should I go?" the student asks herself. "I could walk over to the bridge and enjoy the breathtaking views. Or, I could go to the library and finish my schoolwork there. Before school starts, I could even go to my teacher's room for extra help."
At FSH, the possibilities are endless. 
Whether it's relaxing in the library's swivel lounge chairs or taking in the views from the Hill, students at FSH have access to a wide variety of places to hang out on campus. 
"I like the library because it has a very productive atmosphere which allows me to get my work done," Nathalie Genyk '23 said. 
Students can also come to the library for a quiet space to recharge their batteries.
"The library is one of my favorite places on campus since you can go there whenever you need some downtime to clear your mind, chill or hang out with friends," Fifi Joyner '24 said. 
Aside from the library, Tologs enjoy the Student Activity Center (SAC), which is a great place to unwind.
"The SAC is probably my favorite hangout spot on campus because it's where I used to eat lunch every day. I used to go there whenever it was hot outside because the indoor space is much cooler. There's also a vending machine which is nice," Emilie Zhang '22 said.
The SAC is also where sophomores have their class meetings. 
"Hanging out in the SAC brings our freshmen class together and allows us to spend time getting to know one another," Grace Garrity '25 said.
The gym makes people feel a part of the school community with all of the events that take place there.
"My favorite spot on campus is the gym because we have a lot of fun activities, [like] class masses, volleyball games," Elle Gilhooly '24 said. 
For many students on campus, the gym is a symbol of Tolog Spirit.
"The gym is my favorite hangout spot because it gives students a rush of adrenaline that helps them maintain school spirit," Annie Ramirez '24 said.  
The bridge over St. Katherine Dr. is popular for students who want to spend time outside.
"In my opinion, the views are especially beautiful in the morning or at sunset. It's really calm there, and it's where I like to eat my lunch," MJ Von der Ahe '22 said.
In the newly built art center, the glass windows provide views of the surrounding neighborhoods.
"I like the art building because you can enjoy the beautiful view of the Rose Bowl, houses, trees and greenery," Ava Barraza '24 said.
Additionally, FSH's residential life community is open to both boarders and day students. 
"Exploring the boarding hall is also a lot of fun. It's super cool because I love looking at all of the furnishings and architecture," Barraza said.
Some boarding hall locations allow students to mingle and get to know each other better.
"Because we aren't able to hang out in our dorms as much due to Covid, the club room is where everyone goes to socialize when we have free time and sometimes cook," Emily Xu '24 said. 
At FSHA, there are myriad of locations on campus where students can hang out and relax. Who knows, maybe the next place you visit will become your new favorite spot to hang out.
"This is my fourth year at FSH, and based on my personal experience, I believe it is important to thoroughly explore the school's campus because there are so many things to do and so many ways to spend your time," Lana Megerdichian '22 said.
Leave a Comment
About the Writer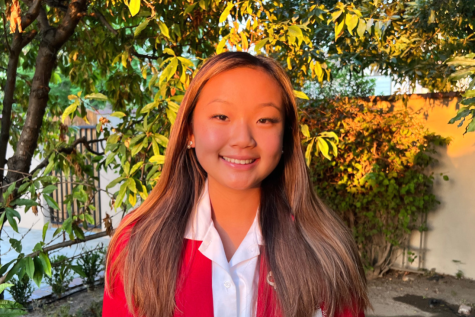 Madison Wuu, Associate Editor
Madison Wuu is an associate editor at the Veritas Shield. She began writing for the paper as a sophomore during her first year at Flintridge Sacred Heart....