Tologs find wellness without Wellness Wednesday
It's Wednesday morning, and instead of sleeping in like you did last year, you wake up to the abrupt sound of your alarm. A few minutes later, you drag yourself out of bed to get ready for the school day, which you find is filled with classes and homework, leaving no time for the self-care routine that your quarantine self is used to. The time you used to spend going on a morning run and cooking an extravagant breakfast, you now have lost.
For the 2020-21 school year, Wellness Wednesdays were a day off, giving members of the school community a chance to catch up on homework and rest. Students and faculty over quarantine utilized this day to get off the computer and recover from the Zoom fatigue. Now that Tologs are back on campus, FSH is back to a normal five-day week, meaning no more Wellness Wednesdays. 
Though giving up a day of the week for rest and relaxation has taken a toll on the student body, Tologs have been creative about how to find wellness this year. 
"I am just tired. I have a job, so doing that on top of school is a lot, and it's tough to balance. I've been feeling a little overwhelmed, but talking with friends helps a lot," Megan Underbrink '22 said.
With what seems like an endless amount of homework and responsibilities, many students are finding that there is less time for the things they enjoy. As a result, they are exploring new ways to alleviate stress. 
"My outlet is mainly singing, but I also love drawing. When I sing, I feel like there is nothing I need to worry about. So it kind of makes me forget about all the issues going on," Kat Petrossian '22 said. 
Paris Esmailian '22 has also tapped into her artistic side. Over quarantine, she has channeled her stress and spare time into her art as a way of expressing herself. 
"I like painting and doing things to get my creative thoughts out. When I'm not painting, I also love to bake, which helps me relax a lot when I'm feeling stressed out," Esmailian said. 
As a sophomore who is new to in-person classes, Siena Londono '24 has her own way of finding wellness. 
"I usually try after school to manage my homework and my sports. I try to walk my dog and set a time for myself. I think that it is really important that you set aside time for yourself and others and try to find something that works for you," Londono '24 said. 
Though walking dogs and painting might help for some Tologs, Lanna Megerdichian '22 is relying on Santa. 
"I am really looking forward to Christmas break," Megerdichian said.
Leave a Comment
About the Writer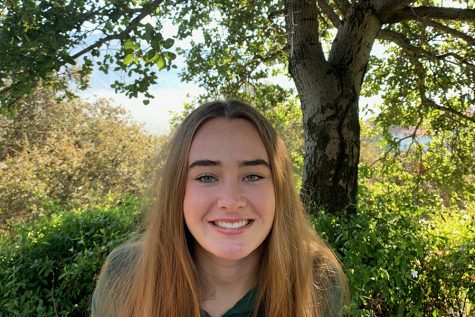 Jacqueline Fitzpatrick, News-in-Brief Editor
Jacqueline Fitzpatrick has been with the Shield for three years now and is the current news-in-brief editor. When she's not writing articles and seeking...