Tologs love the library
A Tolog walks into the library for the first time after a while away. She smiles and stops to chat with librarians Ms. Nora Murphy and Ms. Katie Eisenstein before going to browse the mystery section. Around her, other students are reading, doing homework and crafting. As she picks out a book and sits down, she breathes a sigh of joy. 
This year the library opened in-person after a year and a half of online learning, and Tologs couldn't be more excited to rediscover the abundance of resources available to them inside. 
"There are a lot of resources you can use here, such as the databases, which you can always ask the librarians for help with. There's books on everything," Adele Kelley '22 said. 
Kelley '22 is a member of the library board, a group of students that gives the librarians ideas for activities to host in the library, and has been a fan of the library since her freshman year when she couldn't find a book she wanted to check out during freshman orientation. She asked Ms. Murphy for help, and their bonding over a shared appreciation of books began her love of the Flintridge Sacred Heart library.  
The board has several members, and the library is busy now that it's open in-person once again. 
"I know that everyone in there is really grateful to have it," Leigh Weeks '24 said. 
Weeks is another member of the board and enjoys the perks of having a library at school, like having a great place to check out books and unwind after a hard class or a lot of homework. Weeks especially appreciates Murphy and Eisenstein. 
"They're both really great, and in every interaction I've had with them, they're always happy to help," Weeks '24 said. 
There have been some changes in the library, including moving poetry, short stories, drama and memoirs out of nonfiction and into their own sections. The library also has crafting days as well as Potter Pals, a Harry Potter club. 
"[The Potter Pals meetings] were a lot of fun. We did a lot of Harry Potter quizzes, trivia and games, and we won prizes and just talked about theories and stuff," Emily Meadow Mota '24 said. 
Mota '24 said that while she hasn't spent as much time as she'd like in the library yet, she expects to be in the library more during the rest of the year. She's visited Ms. Murphy's office and loves it, as does Weeks '24.  
"[The office is] very cozy and nice because she's always willing to talk to you. Her book recommendations are amazing as well," Weeks '24 said.
Ms. Eisenstein believes that the experience of being physically present in the library changes how people use it. She enjoys being able to use the space again and being around people who enjoy the library.
"Last year you guys couldn't come in and browse, and we were checking books out through curbside, but you had to do it all online. So it's nice being in the space during lunchtime and seeing everybody," Ms. Eisenstein said. 
View Comments(1)
About the Writer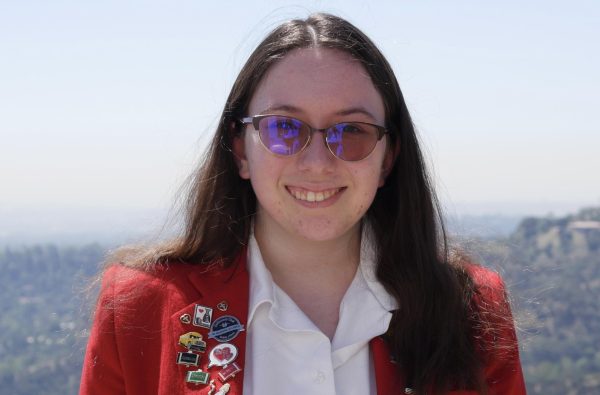 Claudia Lee, Managing Editor
Claudia is a senior and the Managing Editor of Veritas Shield. She joined journalism as a sophomore. In her free time, she enjoys spending time with her...