This year's sophomores feel like freshman
It's the first day of a new school year and the once barren parking lot is now the center of excitement and commotion. Girls in pink and blue skirts overcrowd the entrances while parents scramble to take pictures of their kids in uniform. Everyone is thrilled to be back and can't wait to experience what it's like to be on campus with all their friends and new teachers. It's the first day of school for the class of '25 — and the first "first day" of school for the class of '24 as well.
After kicking off their high school years by sitting at home staring at screens, it's no surprise that the sophomore class is excited for their first full year on campus. 
"I was thrilled when I finally got to experience my first day of high school at FSH with all the welcoming teachers, staff and students," Brynn Napierala '24 said. 
After a challenging and isolating freshman year at home, Napierala is excited to be back at school. 
"[Last year,] I couldn't wait to meet new people at socials and bonding activities," Napierala said. 
Like Napierala, Olivia Park '24 thinks that sophomore year is 10 times better than her first year at FSH. 
"[As a freshman], I had a hard time being away from all my friends for so long," Park said. 
During her freshman year, Park was disappointed that she couldn't receive the full in-person learning experience while online. 
"I think that, even though it's a big change from online class, learning in-person is more beneficial because it allows students to be fully present and ask as many questions as they want without the fear of unmuting or being wrong," Park said.
At first, Park had difficulty transitioning back to in-person school, especially with managing both school and sports.
"It was rough, and I noticed that I got tired easily during the first week of school. But now, it's getting better and easier to handle [sports and school]," Park said.
Park loves being back on campus with her friends and new teachers. She has finally found out what it means to be a Tolog. 
"Usually freshman year is where you get to dress up for spirit week and learn about all the school traditions. Since we didn't get to do that last year, I'm excited to finally experience all the fun things we do at FSH," Park said. 
Though sophomores are very excited about finally being back on campus, some showed up on their first day a little worried about not knowing where everything was.
Colleen Traver '24 is a freshman retreat leader, and she realized that she didn't know everything about the Hill when an incoming student asked her for directions.
"I had to ask the teacher in charge because I wasn't familiar with the campus yet," Traver said. "It'll take some getting used to, but I feel like it should only take a couple of days before I can actually map out the whole campus." 
For Traver, learning the school cheers has been just as important as learning her way around campus.
 "I didn't even know more than two volleyball cheers last year, but now I scream all the Tolog chants at games and can't wait to dress up for spirit week," Traver said.
Leave a Comment
About the Writer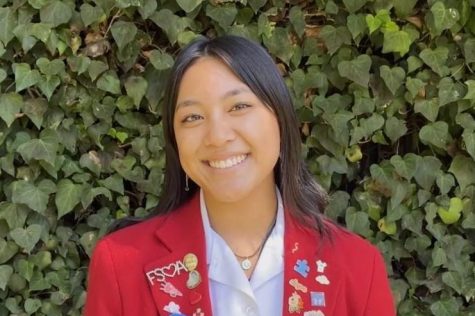 Angelina Cao, News Editor
Angelina Cao is a senior and the news editor for the Veritas Shield. She is obsessed with music and often can be found reorganizing her Spotify playlists....