Tologs welcome fresh faculty faces
After starting last year on Zoom, Tologs are starting 2021 back on the Hill. Now that they are back, Tologs are seeing many familiar faces, and they are seeing new faces on the faculty as well. This year's new crop of teachers brings a wide set of skills and expertise that they can't wait to share with the FSH community. The Veritas Shield had a chance to sit down with this year's new faculty to learn about their approaches to teaching and much more. 
Dr. Jennifer Oliver (Biology, Chemistry)
What is your approach to teaching?
I believe that my job as a teacher is to offer guidance. I focus on inquiry-based learning where students are doing some type of hands-on activity every day. Some students need that hands-on experience to actually grasp concepts that are challenging. I believe in a student-led classroom, and I like to encourage my students to ask questions. My hope is that students leave the classroom understanding how [science] applies to real, everyday life.
Where were you working before coming to FSH?
I actually was working on staff at a church doing administration work. But I also taught, and still do teach, at Cal Baptist University. I teach in the chemistry department, and I also teach in the health sciences department.
Ms. Candance Toogood '10 (Environmental Science, Anatomy & Physiology)
What prompted you to come to FSH?
I saw that there was a need for an environmental science teacher along with an anatomy and physiology teacher. I've always wanted to come back up to the Hill, and I'm excited that I have the opportunity to give students real-world experience being in a research-based field. 
What are you most excited about this year?
I'm really excited to get to know the girls on a one-on-one level, to figure out what their passions are and to have them grow in them. A big takeaway I got from going [to school] here was figuring out myself, and I want the girls to also be able to do that.
Dr. Amara Gero (AP Language & Composition, English II)
How do you like to run class?
I really like to have in-class discussions. I've been having students generate questions and lead graded discussions.
What led you to work at Sacred Heart?
I had taught previously in a Catholic environment at Marquette University, and it made a meaningful difference to be at a school where faith and the spiritual component of life are integrated into learning. I also went to an all-women's Catholic undergraduate college, St. Mary's, so I knew the particular specialness of being supported and mentored in an all-women's environment early on. So, I was very excited when I found out that there was an opportunity to be here.
Mr. John Burton (Theater Technical Director, Stagecraft)
What is your first impression of the school?
My first impression of the school at large is incredibly welcoming. My impression of the students is that [a lot of the stuff we do in Stagecraft is] new to a lot of people, and it is not something that people have been exposed to before.
What is your approach to teaching?
Theater is all of the art forms together at the same time. It starts with the words of the playwright, the director creates the vision and then we go into all the sensory things that create a story. You can take seemingly unimportant things and make them important.
Mr. Chambers Stevens (Theater I-IV)
What were you doing before coming to FSH?
I am an acting coach in Los Angeles, and I am an author. I've written seven print books for young actors about how to act. I also go around the country and hold workshops.
What are you most looking forward to this year?
I'm very excited about the play. Each year, high school athletics make about $1.5 billion, but high school musicals make about $2 billion. Because the plays had to be canceled [last year], theater companies all around America went broke. So, all these great composers and songwriters decided to donate one song each to make a musical revue. They put the best songs together to create one show, and that's what we're doing.
Ms. Julia Wood (Choral, Instrumental Music)
What led you to come to FSH?
I wanted to move to the area, and the school's values and opening for a music teacher really drew me here. I felt the values aligned with who I am, and I love that it is an all-girls school.
What is your teaching philosophy?
My philosophy is that everyone is welcome. Music is a universal language, and I think that if you want to make music, everyone should have the opportunity for music education. Music is a way to bring people together and bring joy to a lot of people.
Leave a Comment
About the Writer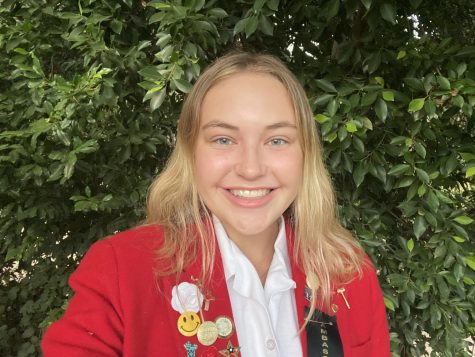 Jessie Mysza, Managing Editor
Jessie Mysza is the managing editor for the Vertias Shield. She started writing for the Shield her sophomore year and served as an associate editor her...