The tension between my faith and my politics
Practicing Catholicism has been second nature for as long as I can remember. I went to a private Catholic middle school from kindergarten through eighth grade where I learned about the past and present of my family's religion. Being Catholic has always been a large part of my identity, and I try to lead my life with many of the Catholic views that have been central to my thinking from a young age: treating others the way you want to be treated, leading your life with forgiveness and being thankful for all that you have. I have always seen the Catholic church as a symbol of love, strength and community.
When I came to Flintridge Sacred Heart, I started socializing with people who are really interested in politics. It was eye-opening to hear about my friends' beliefs and what they thought about different topics. After talking with them and seeing them post political opinions online, I decided to explore my political views for myself. Since then, my political views have become very important to me. 
Sometimes my faith and my politics go hand in hand, and other times they completely oppose each other.
While my family and I are fairly liberal, many families at my parish, St. Bede, identify as conservative. Despite the fact that many other families there have different political beliefs than my family's, our differences didn't seem that significant to me until recently.
During my freshman year, I started confirmation classes. The confirmation process consists of teen Catholics who reaffirm their faith by their own choice. Confirmation is a rite of passage in my family, but I also appreciate the fact that, by getting confirmed, I am able to make my own choice to continue developing my faith.
In confirmation classes, confirmands delve into heavier topics that can get politically heated, such as female leadership roles in the church, the LGBTQ+ community and reproductive rights. It was during confirmation classes that I noticed the tension between my politics and faith. During our meetings on Zoom, our confirmation teacher would discuss how the Catholic church would traditionally look at these topics, and the rest of the confirmands would then unmute their microphones and voice their own opinions and ask questions. The teacher was very careful not to input her own opinions. She left it up to us, the confirmands, to form our own opinions on these challenging topics. Outside of class, I started to do my own research rather than only listening to what my parents or church had to say. Finding exactly what I believed in became tricky, but the more I read different news sources the more I was able to develop my own opinions.
I believe that, as a Catholic, it is always your duty to be loving, accepting and understanding of everyone. Sometimes I see members of my church interpret passages from the Bible in ways that contradict these bigger principles of love and acceptance.
Another point of friction with me is regarding the role of women in the Catholic Church. After being in a primarily female-led environment at Sacred Heart for almost two years, going to a heavily patriarchal church system has been challenging to adjust to. Seeing female leadership at Sacred Heart all day is empowering, but when I go to church on the weekends, I know that I will not be able to see a woman in a high position in the church, and this is disheartening to me.
Having liberal ideals separates me from a many members of the community at St. Bede. Especially in such a politically polarized time, it is often difficult to see eye to eye with opposing party members, and at my Catholic Church, strength in community is valued more than anything.
When you grow up with people who end up having vastly different thoughts than you, it can be a challenge to see them in the same light as when you were a kid. Keeping this in mind during political discussions, I always try to see the opposing side to an argument. I try to put myself into their shoes and see how their upbringing may have affected their beliefs. Instead of jumping to conclusions about their character based off my initial assumptions, I try to get a better understanding of who they are and where their opinions are coming from.
Leave a Comment
About the Writer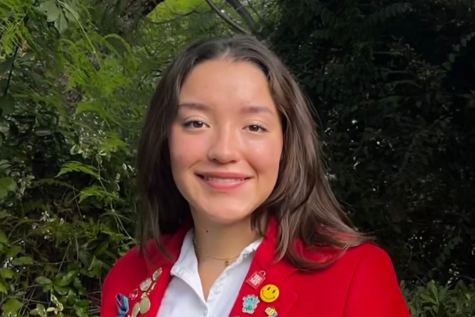 Siena Urquiza, Editor-in-Chief
Siena Urquiza, a senior, is the Editor-in-Chief of Veritas Shield. This year marks her third year with the Shield. Siena cannot wait to make her mark on...