America's royal family fixation
The founding of our country is based on a desire to separate from the British monarchy and establish America as an independent country. One might assume that, because of this, negative attitudes towards the British monarchy might continue into the future. Despite the past, however, many Americans today find themselves fascinated — maybe even obsessed — with the British royal family. With Prince Harry and Meghan Markle in the news on the heels of season four of Netflix's "The Crown," Americans have entered into an age in which the British royal family seems to be a focal point. 
For Americans who don't know much about the royal family, the Emmy-winning "The Crown" makes for a good introduction. The show provides a dramatized synopsis of Queen Elizabeth and her life, as well as the events that helped shape the monarchy today.
In addition to Harry and Meghan, who are currently living in Montecito, American fascination with the royal family centers on two people who get a lot of attention in "The Crown," Princess Diana and Prince Philip.
Many Americans, especially from Gen Z, don't like Prince Philip, who recently died at the age of 99, because of his controversial past. Philip had a reputation for casually dropping racist comments, like when he told a group of British students visiting China, "If you stay here much longer you'll all be slitty-eyed." Philip's history of racism is one of the main reasons why there's so much discourse about him. Furthermore, in the show Philip's portrayed as a womanizer. Despite his womanizing and his history of racism, however, many viewers sympathized with him because of the challenging role he took on in his family and the ways in which he challenged the traditions of the monarchy. 
Although Americans have recently found themselves interested in Philip, nothing can compete with the American interest in Princess Diana. From her impeccable style to her endearing personality to her passion for activism, it's no wonder there's been a revival of the Diana obsession.
Diana was only 20 years old when she made the life-changing decision to marry Prince Charles in 1981. Right after the couple said "I do," Diana was thrown head-first into a life filled with paparazzi following her every move and royal duties she had to fulfill every day. Through the pressure of maintaining the image of a royal, Diana flourished into someone who was loved by everyone who knew her. She was a philanthropist whose charisma and ambition made Americans obsess over her. 
When I was in middle school, I remember my mom would buy certain dresses because Diana wore similar ones. At school, my teachers would talk about her and say that she was one of the nicest royals anyone had ever met. The impact Diana had on the world is something that Americans still talk about over 20 years after her death.
It wasn't just her personality that made people adore her. Diana's fashion was something that society couldn't help but admire. A New York Times article describes Diana as someone who "used fashion to champion the causes she cared about." She was so impactful that, even now, there are still magazine headlines titled "15 Princess Diana Fashion Trends That Are Back For 2021." 
Over 20 years after her death, "The Crown" brought Diana back into the news. Early in the show, she's portrayed as innocent and naive. Later in the show, she becomes riveting and strong-willed, and people can't get enough of her. To Americans, Diana represented someone who was passionate about activism and who was kind-hearted and humble. 
While Harry and Meghan aren't featured in "The Crown," the show provides a backdrop for an understanding of their relationship with the royal family. Even before he met Markle, Harry knew he wanted out of the royal family when he was in his 20s. With his and Markle's stepping down from their roles as working royals and relocating to the US, tensions are high between them and the royal family. Harry loves them, but he has admitted that he and members of his family have grown apart. 
Meghan has worked hard to change the monarchy for the better. She's exposed the racism that goes on in the palace and has spoken up about controversial issues that other royals would usually not speak up about. She is captivating and endearing, and it's no surprise that people are even more obsessed with her after watching her recent interview with Oprah. 
While Meghan is considered impactful and admirable among many Americans, some British people have other opinions about her. Many have said that they feel like her problems are just her own and don't represent how the royals actually act. An article about the Oprah interview expressed how some British people are ashamed of Meghan and outraged that she's been constantly attacking the royal family. Where some see her as an icon, others see her as someone that's disrupted and embarrassed the monarchy. 
The bottom line is that Americans are undoubtedly obsessed with the royals. It might be because they're the last remaining English-speaking monarchy or the fact that Harry is married to an American. Nevertheless, the rich and powerful British dynasty has captured the attention of many Americans. "The Crown" helps because it exposes the drama underneath the royals' facade, making them seem more three-dimensional. They're like us, but they also have titles and castles.  
I know for me, I'm fascinated because they're very powerful and a little foreign. I like learning more about them because we don't have a family like that here. In America, the closest thing we have to the royal family is the president's family, but that constantly changes. And besides, who would pay attention to whoever happens to be in the White House when we have posh-speaking, crown-wearing royals just across the sea?
Leave a Comment
About the Writer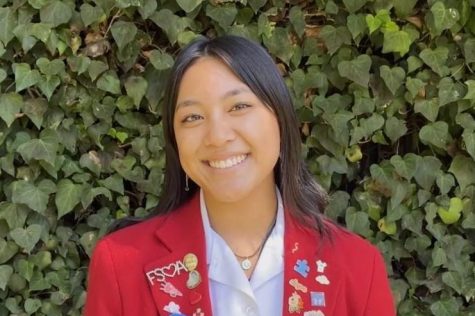 Angelina Cao, News Editor
Angelina Cao is a senior and the news editor for the Veritas Shield. She is obsessed with music and often can be found reorganizing her Spotify playlists....