Dorm room essentials, according to graduating Tologs
The college decision-making process has come to a close, and seniors on the Hill are getting ready to explore their new homes for the next four years. While thinking of the future may be daunting for some, most Tologs are looking forward to entering this new chapter of their lives. Many are excited to have artistic freedom with their rooms, while others are just excited to have the freedom to live on their own. Here is what seniors say their essential items for their dorm rooms will be.
Noise Machine – Walmart
"It would have to be my noise machine because I always have rain noise on in my bedroom. I just can't sleep or relax without it." – Sophia McLoughlin '21
Memory Foam Pillow and Fluffy Blankets – Bed Bath & Beyond
"I'd probably want to bring my memory foam pregnancy pillow and fluffy blankets because I need my beauty sleep." – Blu Mackey '21
Mattress Topper – Costco
"The first thing that came to my mind, and probably a lot of people's minds, would be these really fluffy mattress toppers because I really love my bed. The topper is memory foam and you just sink right into it." – Alyssa Valdivia '21
Teddy Bear
"My teddy bear; simple as that." – Christina Costanzo '21
…
While the aforementioned seniors value their beauty sleep (especially Blu Mackey), other seniors value both practical home-away-from-home items and cute decorations.
The Basics
"Either snacks or my yoga mat." – Abby Martinez '21
A Cute Lamp
"I would just want a cute lamp to add more color to the room and make it look happier." – Pauline Khajekian '21
Mini Fridge
"Definitely a mini fridge because I like my drinks cold." – Emma Hartley '21
Lime Green Grass-like Rug
"I've been thinking of getting a lime green rug that kind of looks like grass for my future dorm room because I think they just look really cute." – Sofia Sierra '21
Crepe Maker
"A crepe-maker would be ideal, and it would honestly just be for fun. There's not much else to it." – Bella Germano '21
Charging Station
"My boyfriend just got me this charging station that you attach your USB cables to, and it basically charges your phone, AirPods and Apple Watch. So I'll definitely be using that out of convenience." – Christine Barseghian '21
…
Two senior Tologs are focused on storage.
Storage Bins
"Definitely bins because I have a lot of stuff, so it would be easy to just store under my bed." – Nicole Bednar '21
"I need something that'll give me a lot of extra space, because I have so much stuff since I'm basically a hoarder. Extra storage bins are a must-have." – Bella Gerhardt '21
…
The remaining girls wanted an item that would allow them to creatively express themselves and make some really amazing memories in their new homes.
Sun Box
"I need to get a sun box because it is depressing in Seattle, and coming from LA, I need some sunlight, even if it has to be artificial." – G Casciani '21
Film Camera
"One thing I would bring is my film camera, which I take everywhere, because I like to print out a bunch of photos to put into a photo album." – Zoe Grace '21
Something Related to Music
"My essential item would definitely have to be something related to music! If I can take my record player with me, then I will. But as long as I have my Spotify Premium and some good playlists, I can survive." – Isabella Durand '21
Leave a Comment
About the Writer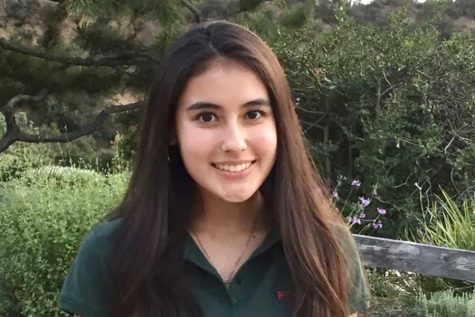 Carisa Joyner, Social Media Editor
Carisa Joyner joined the Veritas Shield junior year as a staff writer and is now the social media editor. Aside from writing articles relating to her life,...