On the hunt for the best boba in Pasadena
I am no stranger to boba. As a Pasadena resident, getting boba while hanging out with friends is a rite of passage. There's Simplee Boba in South Pasadena, Bubble Puff & Tea on Colorado and so much more. Whenever I go, I tend to get pretty much the same thing — something fruity — but each time I take that first sip, I fall in love all over again.
For those of you who aren't experts on boba, the drink is typically a milk-tea base with tapioca pearls that have a chewy texture and a sweet taste. In recent years, boba has become something for everyone to try with all the options that boba places have to offer.
Not only, however, is boba my favorite drink. It is also a core part of my relationship with my boyfriend, Jack Modrzejewski. Even though Jack goes for the sweet drinks while I stick to the fruity drinks, we are still able to bond over how much we enjoy the experience. 
Recently, many boba places have been added to the Pasadena area, so we thought we would take the perfect opportunity to try them out. We decided to try several different places and choose our five favorites. While going around town, we made observations at each spot, carefully picking what we liked the best about each place. Here's what we found.
Tpumps — A good place to start 
Starting off with something familiar, we began our journey at Tpumps, a Pasadena favorite. I decided to include Tpumps in our top five because I think it's a good place to start if you aren't a huge boba fan. There are dozens of flavor options, from gingerbread to lavender to good old-fashioned strawberry banana, and you can custom make your own drink with any combination of the options on the menu. If this sounds intimidating, don't worry. They have a list of their 10 most popular drinks on their menu right in front of you. At the top of the list is rose vanilla and after that coconut pineapple and on down to salted caramel cookie dough. 
If you choose to go, beware of your time, as there is usually a line that can take up to 30-40 minutes. Jack and I even had enough time to play a round of Trivia Crack before we got to the front (I won). Despite the wait, people like Tpumps so much because there is something for everyone. The long lines prove I'm not the only one who thinks this. 
Whenever I go to Tpumps with Jack, my go-to order is a strawberry raspberry lemon green tea with light sweetness and honey boba. Whenever I take that first sip, I am immediately refreshed by the fruitiness of the tea and energized by the sweetness from the boba. Jack's order is a peach rose vanilla black milk tea with boba, which would give me an instant headache but is perfect for him. Jack typically enjoys "manly" activities like off-roading in his Jeep, but the sweet, peachy drink showcases his softer side. 
Prolece Tea — Nicest and most helpful staff 
After seeing dozens of five-star Yelp reviews, Jack and I decided that we needed to try Prolece Tea in Old Town Pasadena. We went on a Tuesday thinking the line wouldn't be too long, but to our surprise the place was pretty crowded, so I knew that we had made a good choice. As I walked up to the counter, I wasn't expecting to see so many drinks that I would actually like. I knew I needed some guidance in choosing which one to get, so I asked the woman who was working there. She was really sweet and took the time to ask me what types of drinks I preferred — mango green tea, Thai tea and fruity smoothies. It was obvious that she wanted me to enjoy my drink as much as possible, and I appreciated the time she spent with me. 
She recommended that I try the mango, which actually comes with Prolece's famous cheese foam. With me being a picky eater, however, I was not about to step that far out of my comfort zone. Honestly, cheese foam freaks me out because the main ingredients, cream cheese and milk, are two of my least favorite foods.
When I got the drink (without cheese foam), I was a little worried, but after I took the first sip, I knew it would be gone in no time, and my cup was practically empty by the time we got back to Jack's car. Strangely, the car that we assumed was Jack's wouldn't unlock, even when he used his key. We were so distracted by how good our drinks were that we didn't realize that we were on the brink of committing a crime. 
I was shocked that the woman had given me such a good recommendation after asking me just a few questions about my taste preferences. I went to Prolece's Yelp page to see if anyone had had a similar experience, and what I saw made it even more clear that Prolece's staff is top-notch. Not only were there dozens of positive reviews but they also responded to people who had given negative reviews and offered them help adjusting the tea to their liking.  
Tea Maru — Best authentic boba 
I had high expectations going into Tea Maru in San Gabriel because they make their boba fresh in house every day. My expectations were more than exceeded. Not only was the consistency of the boba absolutely perfect — sweet and chewy — but their drinks were also incredibly good. 
Their menu is full of authentic milk tea drinks, but they also have crazy options like "fluffy" matcha and adding ice cream. Jack decided to go the classic route and try the Maru milk tea with brown sugar boba, which he later deemed the best boba he'd ever had. When he took the first sip, his eyes widened and a smile slowly formed on his face. I asked him what he thought, and he said he was speechless. 
I stuck with the fruity flavors and went for the mango slushie with boba and cream. It tasted like Mango & Cream Bars from Trader Joe's but better, the texture of the boba adding something extra. I would recommend Tea Maru to lovers of authentic boba but also to those who like to experiment and try new things. 
Oinkmoo — Best location 
The winner for the best location, without a doubt, goes to Oinkmoo. Boba is a great drink, but it gets even better when the atmosphere matches, and this is exactly what Oinkmoo offers. It's on Lake in Pasadena, which doesn't seem all that special, but it's also inside the Burlington Arcade, which makes parking convenient as there is a large lot. Oinkmoo also has filled their area of the arcade with tables and chairs, so we sat down to relax while we enjoyed our drinks. 
We decided to order our drinks online, so they would be ready when we got there. When we arrived, however, the place was packed, and our orders were not ready yet. I didn't mind waiting, though, because I enjoyed taking in the scenery around me. There were lights that hung above the tables and the rest of the arcade was quiet because every other store had closed. Oinkmoo brought energy and life into the beautiful space. The Burlington Arcade is the perfect quiet and safe haven on Lake.
As the guy working the counter yelled "Order is ready for Gabi" over the loudspeaker, a feeling of excitement came over me as I prepared to drink a mango green tea with boba. I could tell that Jack was excited for his brown sugar milk tea because, by the time I got up to get the drinks, he was already at the counter. 
The Alley — Best presentation 
If you want to be wowed (or, if you want to wow your Insta followers), go to The Alley in Pasadena. When we went to this place, I had the intention to go out of my comfort zone a little bit. I chose the passionfruit green tea with boba, but it also had coconut jelly in it, which I had yet to try. 
After ordering, I regretted my decision. While I complained to Jack, he assured me that I would like it, and all my worries faded away when my drink came out in the coolest cup. It was small and had such a unique shape. Not only was the cup fascinating to me but the drink was also beautiful. It was a distinguished shade of orange, and there was a perfect boba to jelly to drink ratio. While at first I was scared to try the coconut jelly, it ended up being my favorite part of the drink. As soon as I bit into some, a rush of sweet coconut flavoring filled my mouth. The jelly also added extra texture, which really made the drink. 
Once again, Jack opted for a sweeter drink and decided to get the brown sugar deerioca crème brûlée milk, which is one of their most popular options. Just like me, he said the drink was really good, but that the best part was the extra add-ins, which happened to be chunks of crème brûlée in his drink. 
Not only did we enjoy our boba journey but we also noticed how much it means to our relationship. We've been getting boba together since freshman year, and it is always something we can enjoy with each other. I really hope Pasadena continues to add more tea spots so we can continue our boba expedition. 
Leave a Comment
About the Writer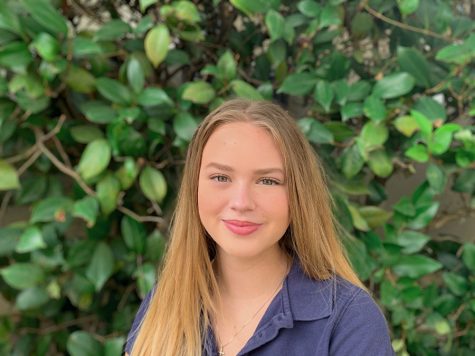 Gabi Miller, Staff Writer
Gabi Miller joined the Veritas Shield writing staff this year as a senior. Gabi loves to dance and is a member of the school's Veritas Dance Project....