Spring sports get into the swing of things
You get out of the car with your mask on and walk to the field to put your bag down. You say hi to your friends from six feet away. The coach blows his whistle in order to get the team to huddle "together," but you're still distanced. Then, it's time to get the practice started. 
Though classes remain on Zoom for now, spring sports such as swim, track, golf, softball, soccer and tennis have begun or will begin soon meeting in person. In accordance with California Interscholastic Federation (CIF) guidelines, some sports will be allowed to compete while others will only be allowed to practice. 
Softball is not able to start competition yet due to state guidelines, but the team will begin practicing to prepare for games in the future.
"We had a meeting on February 18, and during that, [our coaches] told us that we will most likely start our conditioning as of the first week of March. During the meeting, the coaches said that they are hopeful that we are going to have somewhat of a season, but it might look a little different this year. It will also be a bit different because we will have to share field space with other sports, and we could have just one or two smaller teams. It really depends on what [the coaches] think," Faith Blea '22 said.
Because of scheduling during Covid, some sports that are usually played during the winter season will now be played in the spring, and some students who play both winter and spring sports will have to choose which sport to play. As a result, roster sizes for some sports, like tennis, will be smaller.
"There will be no separate varsity and JV teams this year. We are just one whole tennis team. Also, since our campus doesn't have a tennis court, we are looking for other places we can practice. Currently, the only ones available are the Flint Canyon tennis courts. Our practices will include some days of on-court training, if the courts are available, and mostly conditioning. Due to Covid, we are not sure if we will be able to compete against other schools and are still waiting to hear more about it," Natalie Oktanyan '22 said.
Due to the small number of people on the golf team and the fact that the sport can be played outside, Tolog golfers will be able to start competing. 
"On February 24, the golf team [had] our first practice, which is very exciting! Our first match is April 8, so we need to start practicing. Currently, we don't have a coach, so Ms. Contreras might take over. For practices, we will go to either Brookside or Scholl Canyon to use their driving range," Julia Kinsel '22 said.
Like golf, track is able to start competition and will begin practicing shortly.
"We should be starting soon; I think they want to start next week. CIF allows sports like track to practice and compete if the team follows their and the CDC's requirements," Ella Venne '22 said.
Since swim takes place in a pool, the sport has different safety protocols.
"Swim is starting this week, but only for two days to get it started. The following week, we are doing everyday practices, but you only have to attend four practices a week. When you get there, you have to be dressed and wearing a mask. If you need help putting your cap on, you can ask someone to help you but both people need to have a mask on. You don't take off your mask until you are getting in the pool and everyone is spaced out in lanes. There are also going to be pods, so groups go swimming at different times in order to limit the number of people. When you get out of the pool, you must go to your towel, wipe your face, put your mask on, put hand sanitizer on and go straight to your car," Riley Peterson '22 said.
The soccer team will begin training on campus but is unsure about when it will start games.
"This soccer season is obviously much different than previous years. We are finally able to start conditioning as a team on campus while following the CIF and CDC guidelines. There is no news about when games will start, but I am taking it one day at a time and hoping that I will get some of my senior soccer season up on the Hill with all my Tolog sisters," Maddie Leroy '21 said.
Leave a Comment
About the Writer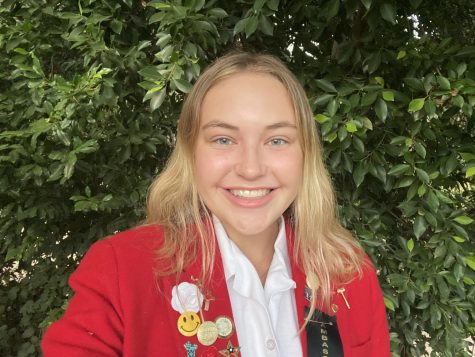 Jessie Mysza, Managing Editor
Jessie Mysza is the managing editor for the Vertias Shield. She started writing for the Shield her sophomore year and served as an associate editor her...