Seniors provide advice on the college process
The college process is different for everyone. Some students want a big campus in the middle of Boston, while others want to be at a small liberal arts college in upstate New York. Some have their heart set on a dream school, while others just have their heart set on getting into a school, any school. Some will go to college to play sports, and others will go to watch sports.
As juniors start digging in to the college process, their brains suddenly are flooded with questions. What do I do if I want to go to college for sports? How can I stay organized when applying to so many schools? How do I narrow my college list? Should I apply early decision or early action?
In terms of resources, this year's seniors have lots of valuable experience to offer.
It can be difficult to stay organized when there are so many different deadlines and applications, but Ana Cristina Bailey '21 has been able to find a way to stay on top of everything.
"One tip I have is to have a calendar, notecard, spreadsheet or something like that where you have all of your deadlines and scholarship deadlines written out. Deadlines can really creep up on you, so it was helpful for me to have a Post-It on my laptop where I had all my upcoming deadlines," Bailey said.
When the college process started, Bailey was thinking that she was going to apply to over 20 schools, but she soon learned about ways to narrow down her list.
"I think I was able to narrow down my list by looking at schools that would be a good fit for me, not schools that just sound nice or have a big name," Bailey said. "I feel like we can all get caught up in wanting to go to a school that is super prestigious with a well-known name because we think that's what we want, but it's really important to look at schools where you think you will be happy and have the opportunity to thrive."
Going into application season, there was not a school that Bailey was willing to commit to that early on, so she applied regular decision and early action (EA). 
"I would recommend doing as many as EA schools as possible, particularly for your safety schools or your top schools. I think it's just a nice feeling to have a college acceptance or two under your belt by December, so I would for sure apply EA to at least one safety school. Obviously, don't overwhelm yourself too much, but I'm really glad that I did a lot of EA," Bailey said.
While Bailey did not go into her applications with a top choice in mind, Emma Yates '21 found Boston College and immediately knew it was the school for her. A big part of Yates' process was going on tours, both virtually and in person.
"I visited a lot of campuses junior year — I went on the FSH northern California college tour — so I saw lots of UCs and other California campuses," Yates said. "I never really visited many out-of-state schools since those were only taken into consideration late in the process, but I did visit Boston College before deciding to apply early decision. Over the summer I also attended tons and tons of virtual tours to see other campuses. Even though it's not the same as physically being at the school, every college has virtual tours, either self-guided or live tours with students, and it's a great way to expose yourself to the types of campuses available."
Reaching out to people who go to the colleges of interest can be a helpful way to get a feel for the school and the students who go there. 
"I think juniors can learn more about the right schools for them by reaching out to former classmates, family friends or people they know who attend schools that they are curious about. I reached out to a lot of people who went to different schools I was interested in — varying in extreme interest to little interest — and I asked them about their favorite/least favorite things about the school, what they wished they had known before coming there, if the reputation of their school and their students holds true and about their friends' experiences," Yates said.
Each student has different goals and wants something different out of her college years.
"For me, I really wanted to have a college experience that allowed me to form meaningful relationships, explore new places, make new memories and experiment to find my passions," Yates said.
Yates was able to find what she was looking for in Boston College, where she has been accepted. 
Tolog athletes, like Maddie Leroy '21 who committed to Cornell University for soccer, go through a whole different process.
"I encourage prospective athletes to continue making phone calls and emails to coaches and assistant coaches of schools they are really interested in," Leroy said. "Through my process, I have learned that colleges love to see and hear your interest. They aren't going to put in the effort to watch you until you've shown them your interest and effort towards them. I learned the hard way to always tell the college/university that they are your number-one choice (even if they aren't). Even though it is hard to put yourself out there, it will instantly increase their interest in you. Continue putting in the extra time and training on your own to increase ball skills and accuracy and keep your endurance up. But most importantly, keep hope. There is always light at the end of the tunnel."
Now that the seniors have submitted their applications, all that's left to do is wait.
"Submitting your last college application is a great feeling. The next step is just to kick back, relax and frantically check your application portal every day," Bailey said.
Leave a Comment
About the Writer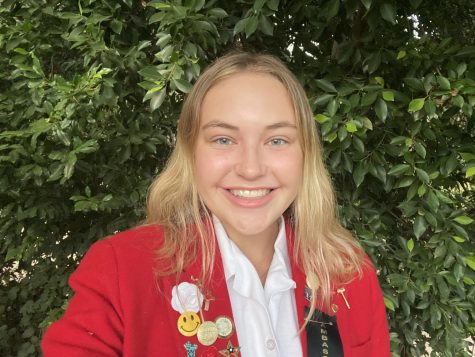 Jessie Mysza, Managing Editor
Jessie Mysza is the managing editor for the Vertias Shield. She started writing for the Shield her sophomore year and served as an associate editor her...