The LA taco scene: Claire's hard and soft shell favorites
What is the best thing about Los Angeles? Is it world-class entertainment? The beautiful skylines and sunsets? The never-ending Hollywood Walk of Fame? 
The answer is far more obvious. The best thing about LA is mouth-watering, cheesy, greasy tacos. 
In LA, there's a taco for every possible occasion. You can get $20 deconstructed lamb-braised tacos if you are feeling fancy; tacos made out of romaine, guacamole, peppers and limes if you are vegan; and if you are like me and you are content with a classic street-style taco, you can find a beat-up taco truck on nearly every corner of this city. 
In such a taco utopia, it is extremely hard to decide which tacos are worth your money. In order to make the decision process easier, I reviewed two of my favorite taco spots in LA: one specializing in hard shell, the other soft shell. If your favorite soft and hard shell tacos did not make the list, blame this city and it's incredible taco selection, not me.
El Sombrero 
A true Angeleno can't even hear the words "hard shell" without thinking of Tito's, the taco spot with the synthetic-looking orange cheese right under the freeway in Culver City. So, before my FSHAmail gets inundated with hate, I would like to preface this review by stating that I have been to Tito's before. While I do believe that Tito's serves a killer taco, and my mom swears by the place, Tito's has always dominated the hard shell scene in LA, and I usually root for the underdog. So, after deciding which hard shell taco deserved the Veritas Shield's love, I made the journey to Manhattan Beach to pay El Sombrero a visit.  
El Sombrero is your typical beachy Mexican restaurant. In non-lockdown times, the sidewalk in front is crowded with shirtless, shoeless patrons, salivating over the smell of tortilla chips frying in the kitchen. 
My family and I have been El Sombrero fans forever. The rickety plastic tables and chairs on their patio have served as the setting of many McDonald family First Communion parties and casual dinners in our swimsuits after long days at the beach. My order is always the same, and on this trip sponsored by the Veritas Shield, I was feeling rather nostalgic, so I ordered my usual yet again: two chicken tacos and a Mexican Coke. I grabbed my juice-soaked white paper bag and headed down to the beach to take my first bite. 
By hardshell, I don't mean that boxed Old El Paso stuff you get at Ralphs. I mean authentic corn shell tacos that are grilled in-house. El Sombrero has perfected this process and their shells are crunchy but also a little greasy, so by the time you have taken your first bite, you feel like you need to wipe your hands on your beach towel. 
El Sombrero doesn't skimp on the cheese and lettuce, and what falls off your taco ends up in the bottom of the tin bowl your meal comes in, creating a cheesy, beautifully unhealthy romaine salad that you can eat with your fingers. 
What makes the El Sombrero hard shell taco the best, though, is the chicken. The chicken is juicy but never sogs down the shell. You hardly have to move your teeth to eat it; it disintegrates in your mouth. It isn't very spicy, but it has a definite taste. The pieces are not stringy or too thick. 
As I sipped my Coke and admired the orange sunset along the water, I thought about the times I shared these tacos on the beach with my family, but mainly, I thought about how miserable I would be if I lived somewhere where it isn't 75 and sunny in January. 
Spanglish
To be frank, no taco will ever compare to El Sombrero's in my eyes, but El Sombrero is 30 minutes away, and I can't drive on the freeway. If I am craving a taco on a casual homework-filled Tuesday night, I hop in the car and drive to Spanglish. 
Spanglish is yet again a restaurant that may send some of my taco-snob peers into a frenzy, questioning my taco knowledge. Yes, I know Spanglish, located in Alhambra, doesn't appear on Eater Los Angeles's "38 Tacos You Have to Try in Los Angeles." Yes, I know they sell hamburgers and french fries. But I assure you, this unassuming taco shack in a strip mall across from a gas station makes a killer soft shell chicken taco.
Before I got out of the sweltering car on this special trip, I racked my brain for what to order. I don't eat red meat — my sincerest apologies to the carne asada lovers out there — so my options were either chicken, chicken or chicken. 
On a recent school day, right after class, I headed over, parked, popped out and quickly shuffled to the counter. 
"I'll get two chicken tacos, no onions no cilantro, lime rice and… how much is the side of guac?"
"Four dollars," the young worker curtly said to me.  
"I'll get the guac too," I said.
Once I got home, I unwrapped my food, threw it on a plate and dove in. 
The chicken was diced into mini squares. It wasn't juicy like El Sombrero's chicken, but it was perfectly grilled and seasoned, and I wasn't reaching for my water glass after every bite — perfect street taco-style chicken. 
I had never ordered Spanglish's cilantro lime rice before, but I decided it would be nice to add some more carbs to my meal. Upon first bite, I was shocked at how mild the rice was. In fact, I, a person who shrivels her face at the sight of flavor, found it to be a little bland. But, when I picked up some rice and moved my fork to the other side of my plate to pick up a piece of chicken, I was able to imagine how this rice would taste in a burrito or with beans. I am not sure of the exact purpose of rice in Mexican cuisine, but I assume that it isn't traditional to separate your food onto opposite corners of your plate. I am sure that with the right partner, this lime rice would serve as a perfect base. 
The corn tortillas were the perfect circumference and thickness, just regular home-made goodness. Attention-grabbing tortillas are employed by poor chefs in an attempt to distract from what's inside of the taco. 
The guacamole was a little heavy on the onions but it had a lot of tomatoes, which is a sign of a chef who isn't skimping on ingredients. 
Spanglish's tacos aren't revolutionary, and the only thing they remind me of is the anxiety I feel when driving on Atlantic at night. But they are definitely some of the best street style tacos you can find in LA. If you are like me and looking for some consistently delicious hard shell and soft tacos in LA, check out either, or both, of these places. 
Leave a Comment
About the Writer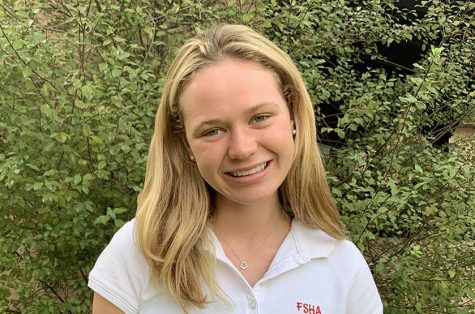 Claire McDonald, Managing Editor
Claire McDonald is the managing editor this year for the Veritas Shield. She started writing for the Shield her sophomore year and served as news editor...