Thank you, Los Angeles
"You're so lucky," is the usual response I get when I tell people I'm from Los Angeles. But until recently, I never truly understood the fascination associated with the place I call home. Sure, LA seems glamorous in movies and TV, but when you actually live here, the place can seem dull. The water isn't as blue as it is in pictures, and the lights don't shine as bright. Almost every tourist attraction, namely, Hollywood Boulevard, is underwhelming and the beauty that exists within the city is suppressed by freeways and smog. 
Now that I am about to leave, however, I've come to appreciate how unique Los Angeles really is. It's the only city where you can find avocado toast and Korean fried cheese on the same street, the only place where you can go skiing and surfing on the same day. You won't be able to find The Bunny Museum anywhere else. 
When I started the college application process, I could hardly wait to get out of Los Angeles. I imagined myself in a new place far away from high prices and materialism. Now that I am actually preparing myself to leave, however, I realize how much of my identity comes from the city, how much of LA is who I am. As I prepare to move on, I want to take the chance to remember the things I'm really going to miss. 
Dodger Games
For as long as I can remember, I have been going to Dodger games with my family, so much so that my second words happened to be, "Go Dodgers!" Whenever my dad would come home from work with tickets to a game, my brothers and I would immediately start fighting for the opportunity to go. I can still feel the excitement that bubbled up inside me when my dad would say, "It's Gabi's turn." 
One of my favorite Dodger memories is very uniquely LA. A couple of years ago, I was at a day game with my family. The Dodgers were filling the outfield, preparing for the bottom of the third inning. Suddenly, animal rights activists stormed the field, proudly displaying their "Fur is not Fashion" flags. Almost immediately, the security guards ran after the intruders, and when they finally caught up with them, the chaos turned into a football game. I will never forget witnessing the activists being tackled and escorted out of the stadium. Everyone seemed to be unfazed by their stunt, as if this were just a normal Tuesday. 
The Beach
My mother always made it a point to take us to the beach every summer. Even though she grew up in California, it was never something she was able to do as a child. My brothers and I loved going so much that my family decided to start a tradition of renting a house by the beach for a week every summer. My brothers and I also started attending a beach camp on Catalina Island. 
The reason I love going to the beach now is because it brings back so many memories. There is a joyful feeling that I associate with the sun, sand and salt water. Whenever I can see Catalina from the beach on a clear day, all the wholesome camp memories come flooding back. Being reminded of my childhood is a special feeling that instantly fills me with gratitude. 
I was scrolling through TikTok over this past summer and saw a video that featured Manhattan Beach. The comment section was filled with people longing to go — some even saying they'd never seen the ocean. I couldn't believe my luck. If I feel the need to watch the sunset at the beach (which happens to be quite frequently), I can go on a whim. When I'm feeling trapped by the suburbs, I can drive only 30 minutes and completely change my perspective by spending time looking over the vast ocean. 
After the Rain 
Although they don't happen often, rainy days in LA bring me so much joy. Not only is it refreshing to actually experience somewhat of a colder season, but the way the city looks after the rain clears is worth seeing a thousand times. 
I like to think of LA as having layers to its landscape. First, there's downtown, which is filled with energy. Through the skyscrapers, you can see the hills that capture that energy and keep it within the city. Behind these hills are the mountains, and they reach far above any skyscraper, even the US Bank building. 
When it rains, the hills turn from a boring brown to a green that seems to be electric. They make the city feel more alive. On especially cold days, the peaks of the mountains are filled with snow, adding yet another beautiful layer to the city. 
The only downside to rainy days is that the city completely shuts down. As soon as that first drop falls, everyone in LA forgets how to drive. Not only are the streets a mess, but rain is so rare that it becomes distracting. Basically everyone stops to update their social media, most using a temperature stamp to show that LA really does get "cold." This is exactly the ridiculousness that I love about this place. 
Rose Bowl 
Both my mother and father attended UCLA, and they would often visit the Rose Bowl on game days. After they got married and were looking for a place to buy a house, they both felt a calling to Linda Vista, which is located directly above the Rose Bowl, because it reminded them of their college days. 
My house is never empty on UCLA game days. Tons of people, mostly my parents' college friends, even some I've never seen before, stop by before each game — probably because we don't charge for parking. Regardless, I've always had this sense of community surrounding the Rose Bowl and UCLA football.
I never thought that I would miss the Rose Bowl traffic, but the pandemic has made me aware that the traffic brought some excitement to my life. Finding a way to get home when all the streets are blocked off after a concert is exhilarating, especially when you have to convince the guards that you're an actual resident. 
Driving
I know some people will argue against this, but in my opinion, nothing beats driving in LA. Not only can you blame tardiness on traffic, but the views, even on a mundane drive, are unmatched. I promise, nothing heals the soul like driving down PCH at sunset. There is no feeling like the one I get on a clear day when I can see downtown LA from Eagle Rock on the 134. The best views of Pasadena can be found on the Angeles Crest Highway, which hugs the San Gabriel Mountains. 
Whenever my parents need to run an errand, I always volunteer to drive. I make sure to grab my phone and a pair of sunglasses before heading out to my car. I believe a good drive starts with good music, so I've prepared a playlist specifically for the car. I hate driving the same route over and over, so I usually try to take a new path to my destination. This has led me to places I never thought I would go. 
Los Angeles has given me the freedom to be who I want and do what I want. With such a big and diverse city just outside my front door, I've learned a lot about myself and how I approach different situations. Without LA, I wouldn't be as ambitious or outgoing. I've learned that there is no "right" path to success and no one way to use my mistakes to learn and grow. There is no better place to grow up than LA because here you are given the freedom to figure things out for yourself.
Leave a Comment
About the Writer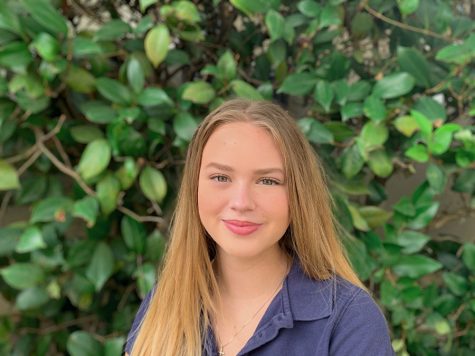 Gabi Miller, Staff Writer
Gabi Miller joined the Veritas Shield writing staff this year as a senior. Gabi loves to dance and is a member of the school's Veritas Dance Project....