"We owe our success to loyal customers": North Shore Burgers stays afloat during Covid
It was a sunny Saturday, and it seemed as if everyone had the same idea: go to North Shore Burgers and eat their delicious food. The restaurant, which is located in La Cañada, is co-owned by Michael Davitt, the father of religion teacher and campus minister Abby Davitt '12. 
Outside the restaurant, people milled about, their stomachs growling as they glanced at the menu despite already knowing what they wanted. It seemed like an average Saturday, except for one thing: there's a worldwide pandemic going on. 
The people standing around were six feet apart and had masks on. Customers went inside to order before walking back out to wait for take-out orders. The tables and chairs have been put away, and in place of them were signs reminding everyone to stay six feet apart. This is what normal has come to, and this is how North Shore Burgers has been operating for 10 months now. 
Opened in 2011 by Michael Davitt and his best friend, North Shore Burgers has been a favorite restaurant that La Cañada residents have gone to for almost a decade. Over this past year, however, Covid has affected thousands of small businesses, including this one. Although North Shore had to shut down dine-in services, the restaurant has found a way to survive.
"Our business model changed quite a bit, but we quickly adjusted to make the take-out experience as easy as possible," Michael Davitt said. The restaurant's prices, menu and business hours have stayed the same, though the restaurant is operating in new ways. 
The restaurant is taking extra precautions to ensure that the measures they're taking align with the guidelines of the CDC. 
"Face shields come on, social distancing is always practiced and intensive hand sanitizing is done throughout the day," Abby Davitt said. 
La Cañada residents have played a big part in keeping the restaurant going. 
"Our loyal customers have made sure to still safely order and pick up from us. It warms my heart to see that we've come together during these difficult times," Michael Davitt said. 
Abby Davitt has also noticed how the La Cañada community has rallied for North Shore. 
"I feel like the local community has done a really great job at supporting these places in these unideal situations," Abby Davitt said. 
Both Davitts miss the dine-in experience as much as their customers do. They hope that soon they will be allowed to provide outdoor dining again. 
"I want people to be able to get out and socialize in a safe environment," Michael Davitt said.  
Leave a Comment
About the Writer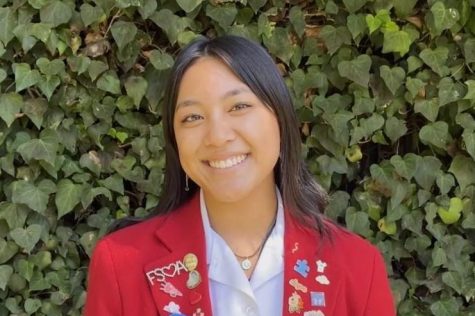 Angelina Cao, News Editor
Angelina Cao is a senior and the news editor for the Veritas Shield. She is obsessed with music and often can be found reorganizing her Spotify playlists....