My fry experience: Which one is best?
As I step into the kitchen, the scent of freshly air-fried potatoes and salt meets my nose. For Christmas, my dad has received an air fryer, and he is giving it its first go. 
Our whole family gathers around the fryer as the fries finish up, anticipating the big reveal of our first batch of homemade fries. 
"I hope they taste like Chick-fil-A fries," my brother comments, getting the ketchup out of the fridge. 
"Oh, please, we all know In'N'Out fries are the best," I scoff, and my mom agrees. 
After the first batch of my dad's fries were done, we shared feedback with the chef.
"Too soft, but the salt is definitely there," my brother said, and I nodded my agreement. 
"But hey! They're really good, I'd probably order them again if I was given the chance," I added, trying to keep the comments positive. 
A friendly argument ensued as we debated which local restaurant serves the best fries. Sick of disputing, I texted some friends to let them weigh in on the subject. Then, my dad suggested a brilliant idea: a fry quest, in which we try the top five fries suggested by my friends. Along the way, my dad could take notes on flavoring and texture in order to perfect his fries at home. I loved it! Soon, the recommendations rolled in. McDonald's, In'N'Out, Chick-fil-A, Popeyes and Potato Corner were my friends' top suggestions. 
"But how should we grade them?" my mom asked, and we crafted an informal rubric for our fries, which included wait time, price, taste, crunch and cost per serving. (Known as the SciSearch teacher Dr. Liz Krider to the FSH community, of course she was the one to bring up grading in a situation such as this.)
The destinations and parameters were set! My dad and I set out on our quest, hopeful about finally ending the controversy. Putting on some 80s girl band tunes like Bananarama and The Go-Go's, we were ready to try some fries. 
McDonald's ($2.18 for a small)
The first stop on our fry quest was McDonald's, which has the reputation of serving the best fries of all restaurants. While the line had a little bit of a wait, these fries ended up being the cheapest. However, my dad and I soon found out why this was the case. 
When we got to the window, the McDonald's employee handed us a bag holding a very small envelope of fries. Slightly disappointed by how small our serving was, I took a bite of my fry. What I tasted was the perfect fry: hot — meaning, fresh — salty and the perfect balance of a soft middle and outer crunch. 
Chick-fil-A ($2.28 for a small)
Next, we drove over to Pasadena to try from Chick-fil-A fries, notorious for their unique waffle shape. Even though the line almost went out to the street, the whole experience took less than ten minutes. 
After receiving our fries, I took my first bite — and barely tasted anything! The texture was soft, and the fries were floppy (not necessarily a bad thing), but there was barely any salt at all. 
"Chick-fil-A must have learned how to use salt back in the 70s! It's not like low-sodium is a trend anymore," my dad laughed as he reached for another. 
As I moved on to my next one, I was relieved to taste sufficient amounts of salt. While my second fry was delicious, however, I couldn't dismiss the inconsistency of salt from Chick-fil-A. 
In'N'Out ($2.26 for one serving)
Driving over to In'N'Out and seeing the long, long line stretch across the parking lot filled me with dread. However, it was so much worse than I had estimated it to be. 
"Oh, great," my dad and I muttered, but we steered into the line, and my dad continued his conversation about the music he listened to in high school — U2, Billy Idol and Van Halen. 
My dad and I love to compare notes on music. I wish I'd been born in the 70s if only so that I could experience the music of the time. From Pink Floyd to Men At Work, my dad took advantage of the seemingly endless line to continue educating me on the hot bands of the time. 
After 50 minutes, we finally got to the window and ordered. While I am partial to In'N'Out fries, especially animal fries from the secret menu, even I could not explain away my experience this night at In'N'Out. After such a long wait, I was excited for In'N'Out to redeem itself with warm, salty fries. 
Alas, I was mistaken. 
What we received were tiny nubs of overcooked potato with little to no salt. On the day In'N'Out's performance truly mattered, the restaurant dropped the ball. In'N'Out, how could this be? As McDonald's number one opponent for best fry, I couldn't believe how this quest was going down. 
Popeyes ($2.62 for a small)
After a highly disappointing experience at In'N'Out, we made our way to Popeyes. I was surprised to see so many of my friends recommend Popeyes — I mean, I barely knew they even served fries. So, as we pulled up to the restaurant, I didn't really know what to expect here. Although there was no drive thru, the wait was short. 
I enjoyed these fries. I liked the spices added to the potatoes, but these fries were a little on the chewy and greasy side. I liked the temperature of the fries, but they did not taste fresh.
While I had an okay experience, I would not return to Popeyes just to order their fries. The texture of the fries was not very appealing.
Potato Corner ($5 for a Jumbo)
Lastly, my dad and I made it to the Americana to try fries from a kiosk in the middle of the mall called Potato Corner. After a long line, we finally got to the ordering window, and I was surprised to learn that Potato Corner's brand was to add different flavors to their fries — BBQ, cinnamon and sugar, parmesan and garlic, etc. Another thing that caught my attention was how Potato Corner referred to their sizes — Jumbo, Mega and Giga. (As much of an oxymoron as it seems, Jumbo is what the rest of the world refers to as "small.") 
After many minutes waiting in the cold, our order name was finally called. We hurried up to the window and accepted our parmesan and garlic fries. Indeed, our serving was not Jumbo, but a small cup of fries. However, this small serving cost $5! For such a long wait and such a small cup, it was not entirely worth it. 
But, after I tried these fries, I could see why so many people would pay such a price. These fries were warm, crunchy and the perfect texture. I enjoyed the flavor of parmesan and garlic, but it eventually became a little too much and let my dad finish the fries. 
On the car ride home, my dad and I debated the final standings
"In'N'Out has been so much better in the past, I can't believe how bad they were today!" I exclaimed, and my dad nodded his agreement. 
With In'N'Out failing to deliver fries better than McDonald's, I named them my top restaurant. "You just can't compete with the crunch and the salt," I explained. 
Taking all aspects of these fries into consideration, we named McDonald's number one. Based on past experiences, In'N'Out took second place. Chick-fil-A followed, with Potato Corner in fourth. Lastly, Popeyes took fifth place. 
"Well, how would you rank your homemade air-fried fries against these?" I asked my dad as we drove up our driveway. 
"Oh, first place for sure," he said without hesitation. Laughing, we headed inside. 
"So, how are you going to augment your fry process?" I ask. 
"Well, I think I'll definitely fry them longer. All the best fries today had a really good crunch and outer texture, so that's my first step," he responded. 
"Sounds like a good plan," I said with a smile. 
While it was fun to try different fries and finally end the mystery of the best fries, what I really enjoyed was the time I got to spend with my dad. Although he's been working from home since March, I really valued the quality time we got to spend together, bonding over music and our love for salty, fried potatoes.
Leave a Comment
About the Writer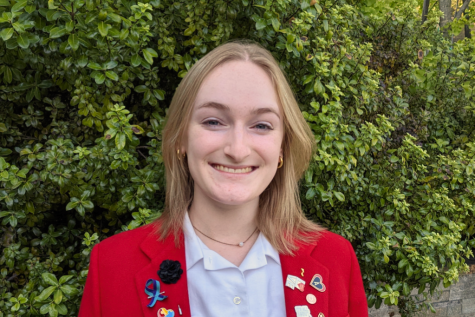 Julia Krider, Managing Editor
Julia Krider is a senior at Flintridge Sacred Heart, and is the Shield's managing editor this year. She has been part of the paper since sophomore year,...