Bridget Byrne's quarantine lifestyle guide
After transitioning to online school in March because of the coronavirus, students across the country have found themselves in a state of isolation that has created a void. For many of us, filling this void has remained a challenge. 
First, we tried "Tiger King" and TikTok dances. Then, we tried whipped coffee and charcuterie boards. And now that we've actually made it to 2021, we're in desperate need of fresh ideas to update our routines.  
Luckily, the Hill has its very own lifestyle guru, Bridget Byrne '21. While simultaneously juggling classes, cross country and Academic Decathlon, Byrne has taken on another challenge: making quarantine fun. 
For the students continuing to struggle to get through the day, Byrne's tips and tricks are exactly what you need. Not only has she discovered many new hobbies, but she has also learned a lot about herself in the process.
Crochet
Byrne started to crochet when she was younger after watching her grandmother — Barbara Long, aka "Nana" — do it. She was always intrigued by her Nana's craftiness that was evident in the many quilts she made. Even though Byrne enjoyed crocheting, though, it never stuck with her, partly because she was so young. 
Everything changed, however, on one boring afternoon in quarantine. Byrne's friend, Berit Oxley '21, told her that she had begun knitting during lockdown. This reminded Byrne of her Nana, and she couldn't help but think, I should pull out my crochet needles. Having gotten back into crocheting, Byrne has found herself with an activity that relaxes her during quarantine and helps her connect with her family. 
After a failed attempt at making a sweater, Byrne decided to make something a little more simple and opted for a shirt. When she was done, she showed her mom, who was really impressed. She encouraged Byrne to call her grandma and show her the masterpiece. 
Her Nana loved it and told Byrne, "You're a natural. It's in your genes."
Byrne was excited to make a connection with her Nana, and the two started to crochet together. Byrne's Nana gave her some insight into their family's history with needlework. 
"It turns out that my great-great-great grandmother crocheted, and my Nana gave me a blanket that she had made for her. She also gave me the needles that she used, which I thought was so cool because they're family heirlooms," Byrne said. 
Her Nana was so happy that Byrne started to crochet again because she is continuing the family tradition. 
"Knowing the family history brought back so much joy to my quarantined lifestyle. I think it's really cool that I learned so much about my family through it," Byrne said. 
This connection to her family history is exactly what makes crocheting so fulfilling. Through this activity, she has enriched her bond with her family, which is especially important during quarantine, as many people are spending more time with their families.
Have an Escape  
Byrne recognizes the importance of getting out of the house now more than ever. Fortunately, she has her own escape from reality. Her great-grandparents built a house in Lake Arrowhead in the 1930s. It's the perfect lake house, sitting right on the water with a dock that makes getting on the water easy. Byrne's great-grandparents passed the house down to her grandparents, and, eventually, it will belong to Byrne's dad and his siblings. 
"I've been going there forever, so I have this association with it that is just so family-friendly. Going there helps me maintain stress because of the memories I associate with it," Byrne said. 
Her family even has a boat, which Byrne learned to drive when she was much younger. She's been taking it out alone during quarantine to watch the sunrise from the water. 
"Every single time [I go], I realize how fortunate I am to have a house up here. I've learned to be grateful to have a place to get away with my family and forget about everything going on," Byrne expressed. 
What makes Lake Arrowhead such a perfect escape for Byrne is the beautiful nature present within it.
"I've realized that nature is a huge part of feeling good. Being inside a lot has made me aware that I'm so fortunate to be able to go outside and breathe in fresh air," Byrne said. 
Lake Arrowhead's fresh air fills Byrne with gratitude and makes her look at life more joyfully. 
Take Photos  
After making a connection between good mental health and being outside, Byrne decided she wanted to take photos to preserve the happy moments she experiences in nature. During quarantine, she began taking pictures, and eventually she took so many that there was no more storage in her phone. She then decided it was time to purchase a digital camera. 
She knows her pictures aren't exactly professional, but she's realized that they have helped her connect with her surroundings. 
"Not to sound granola or anything, but appreciating our beautiful earth is something that makes me feel really good. Especially right now, you can get so caught up in the stressful aspects of life, so being able to go outside and see so much beauty is so incredible," Byrne said. 
This unexpected beauty is exactly what Byrne tries to capture through her photos. 
"If you want to start taking pictures, you have to just go for it. It's so simple yet brings so much fulfillment when you freeze a happy moment in time," Byrne said.
Leave a Comment
About the Writer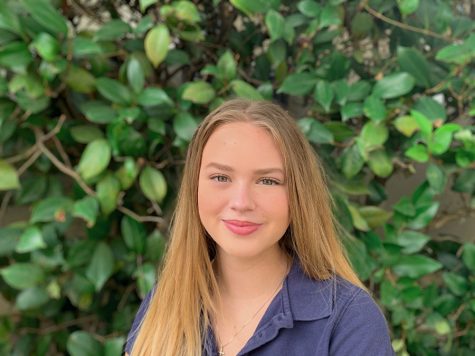 Gabi Miller, Staff Writer
Gabi Miller joined the Veritas Shield writing staff this year as a senior. Gabi loves to dance and is a member of the school's Veritas Dance Project....