How well did the FSH community handle the election?
Last year, in preparation for the approaching election, Assistant Principal Ms. Rosemary Johnston had a series of discussions with the class of 2021. Johnston dropped in on every junior social studies class, and the topic of the discussion she had with them was one that is prevalent in the news, that being, of course, politics. 
The idea for Johnston's talk came from the intention to provide guidance for the next student leaders and role models of the school. The talk, however, was also a response to political alienation on campus. The upcoming election was a year away still, and there were already signs of polarization extending into the classroom. 
"We knew that the election was coming up, and we didn't think it was fair to have students going into that without some kind of guidance on how to have conversations [about politics]," Johnston said. "Then, in the social studies department, it came up that there were some students who were feeling uncomfortable voicing their opinions because they felt that they were in the minority and that there wasn't really a mutuality of conversation."
With the 2020 election two months behind us now, students have the opportunity to reflect on how the conversations Ms. Johnston prepared them for have actually gone. How well did we as a community survive the contentious moment surrounding the election?
Senior Emma Hartley and sophomore Graciela Tiu agree that neither witnessed serious issues, and both felt respectful discussions were in fact a possibility when it came to talking politics in classes and among friends. 
"I think we did a pretty good job this year when discussing the election in my classes. There were never any super heated, angry discussions. Everything was discussed respectfully, and I feel like everyone had good intentions — the intent to listen and not make anyone feel polarized," Hartley said. 
Tiu also recognizes the efforts made by her teachers and peers to navigate the tension-filled times. 
"Looking back now, after the election, I think that the FSH community did a decent job surviving our partisan moment, considering how things could have potentially ended up. I don't think everything was perfect, but I think overall we did a good job staying somewhat respectful of each other," Tiu said. 
McKenzie Street '22, on the other hand, felt uneasy talking to people who had different opinions than her. 
"I struggled talking to people of the opposite political ideology or party than me. Also, people who I didn't already know their political views were intimidating to talk to. With the high political climate we're currently living in, it can be hard to have respectful arguments especially because so many political issues are personal to our identities. If someone disagrees with you, it can often feel like a personal attack," Street said. 
Riley Peterson'22 struggled with her comfort when talking politics as well.
"This election was hard for me because I felt this indirect pressure from friends and social media to sort of pick a side on the political spectrum. Personally, I had hoped to stay out of the heated discussions, but it was hard since politics was all anyone wanted to talk about. It was just a little uncomfortable for me when I felt put in the middle," Peterson said.
Johnston is proud of how the school community did its best at actively promoting the inclusion of all perspectives. 
"I think everybody has worked extra hard to be super sensitive to each other and to think before they just speak, to think about how to present themselves and converse so that they're being true to who they are and what they want to say, but in a way that makes it possible for people to understand, respond and actually engage in dialogue," Johnston said. 
Johnston recognizes the level of maturity and care that Tologs hold for one another, especially the juniors she addressed in social studies classes last year who are now seniors. She hopes they continue to do so in the future if any problems should arise. 
"It seems as though [this year's seniors] really care about each other, and because of that caring, they're able to hold their differences, be true to who they are without alienating each other. That being said, we make mistakes, so there are probably some places where there have been girls that are a little uncomfortable with the conversation or something, but my impression is there's a maturity in addressing it and not letting it go undealt with," Johnston said. 
Though the election results are in, political polarization is not over, and it is too big of an issue to be solved by our school alone. 
"Of course political division among individuals goes far beyond school walls. We are living in extremely controversial times, which cannot be solved overnight. I think, honestly, the only thing we can do as a community is to be respectful of one another's opinions and try our best to have those difficult conversations with people because that is the best way to learn and to grow," Hartley said. 
Tiu worries that post-election time will continue to divide people, but she has a few ideas about how students in the future can handle differing viewpoints.
"Moving forward, I think that we should all stay informed as best as we can, and if disagreements come up with friends, I think being open-minded but also staying true to your morals and values is important," Tiu said.
Leave a Comment
About the Writer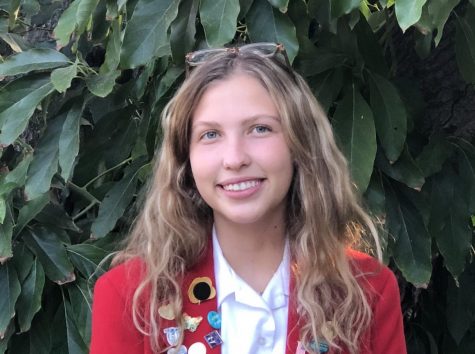 Michelle St. Denis, Podcast Editor
Michelle St. Denis joined the Veritas Shield her sophomore year as a staff writer. This year as a senior, she is the paper's podcast host and editor. Michelle...