Covid silver lining: Hunnewell spends quarantine reading poetry to newborn granddaughter
Before coronavirus, most of us had crazy busy lives with little time to spend with family. But now, many of us have plenty of time to spare. Ms. Holly Hunnewell, the chair of the English department, has seized this unique opportunity of quarantine to spend time with her newborn granddaughter.
"I believe we're going to become aware of unique silver linings to the pandemic, and one of them for me has been the ability to spend one-on-one time living with and helping care for my new granddaughter," Hunnewell said. 
Hunnewell enjoys the time she gets with her granddaughter, especially the moments when she gets to share her love of poetry, just as she did with her own kids.
"I believe in talking to infants. I have always been a fan of the Romantic Period of poetry. [Percy Bysshe] Shelley is my favorite poet, and when I was pregnant with my own children, I always read them poetry. I talked to my daughter's belly when she was pregnant, and now I sing songs and recite poetry to my granddaughter," Hunnewell said.
Hunnewell advocates for daily poetry readings with her granddaughter partly in order to balance the influence of her granddaughter's tech-loving father.  
"Her father is a big techie and is always saying she's going to be the next tech giant, but I've determined that she will be the next poet laureate. So, good thing she has two ears because she has one of us speaking into each of them," Hunnewell said. 
Family is a big part of Hunnewell's life, but so is keeping safe during this pandemic.
"I can't really expose [my granddaughter] to anything I am exposed to, so I am very careful about quarantining," Hunnewell said.
Leave a Comment
About the Writer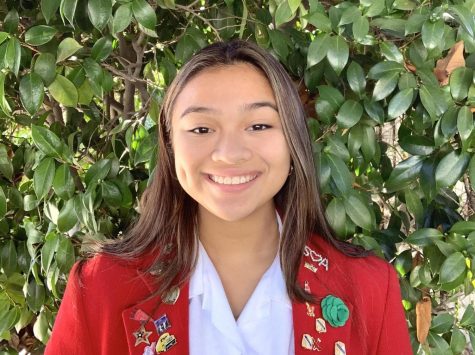 Caitlin Cruz, Editor-in-Chief
Caitlin Cruz is the editor-in-chief. She started freelance writing for the Shield her freshman year, became a staff writer her sophomore year and moved...