Four-year universities aren't the only option
Four-year university tuition is at an all time high. Pair this with the uncertainty around Covid, and the future looks pretty complicated to students approaching their college years. 
The cost of college tuition has increased at a faster rate than wages have, many students are forced to take out loans in order to pay for their education and student debt is at record levels. Since 2008, the cost of a four-year college degree has increased 25% and student debt has increased 107%. 44 million Americans hold over $1.6 trillion in student debt. 
Attending community college instead of a four-year university can save students a large amount of money. According to the National Society of High School Scholars, tuition at community colleges can be around $3,500 per year, while out-of-state tuition at a public university can be up to $35,000 per year or more. And now with Covid and the switch to online learning, students are not even getting all the programs and amenities that might make the large price tag of a four-year university worth it. 
There are other benefits to community college as well. Going to community college in California makes it easier to get into both the University of California (UC) system and the University of Southern California (USC). The transfer admission rates are higher for these competitive schools than admission rates for those who apply straight out of high school. In addition to all of this, taking a year to think more about career paths can really benefit students. What to major in and where to receive a degree is a huge decision to make right out of high school, and many students aren't ready to make this choice yet.
Despite all of these benefits, going to community college is not a typical choice for Tologs.
"At our school, because we are called a college preparatory school, I think the biggest thing is that parents and students have an understanding that they are going to come here to be prepared to go straight to a four-year college," Dr. Candy Navarro, the school's head college counselor, said. 
For a variety of reasons, however, three recent graduates have found themselves studying at Pasadena City College, and all three are happy with their decision. 
Jocelle Lauron '20, despite being accepted to a handful of four-year schools, ultimately made the choice to go to community college at PCC with the intention to transfer to a four-year school later on. For Lauron, money was the main factor in her decision. 
"I'm paying for college all by myself, so any loans that are taken out are taken out in my name," Lauron said. "California has this thing called a promise waiver where you get to go to a community college for your first year, and it's entirely free. So I am genuinely saving 30,000 dollars, and I'm getting all these [general education] units done." 
Community college can also be a good choice for those who aren't happy with their college acceptances as seniors.
Even though she got accepted to University of California San Diego while she was a senior, Ryan Dubb '19 decided to go to PCC so that she could save some money, take a year to figure out what she wanted to study and eventually transfer to USC, which she did before the start of the current academic year.
"Right when I graduated, I knew I wanted to go to USC in the long run, and I reached out to the advising administration over there. I got a counselor, and I tried to stay in contact with her as much as I could. She told me what classes to take at PCC, and the transfer process was super easy," Dubb said.
Today, the four-year college experience is more than just an education. It's a time to join clubs, go to parties, find friends and cheer the football team. But in the age of Covid, lots of the social activities are gone. Without all the amenities and social activities available, the large price tag for a four-year university might not be worth it.
For Lauron, the pandemic played a large role in her decision not to attend a four year college.
"Covid was setting in, lockdown had been going on for months and there was no foreseeable future. I want to get my college experience. I want to be in the dorms and make friends and go to games and stuff like that, but that just wasn't going to happen," Lauron said. 
Going to community college can also give students some time to mature and grow before deciding on a major and career path. Many kids graduate high school feeling very unsure of what they want in life.
"I chose to go to community college because, after I graduated, I was very indecisive. I think there's a lot of high school seniors out there that don't know what they want to do yet. College is a place where you want to know what you want to do beforehand. So why not give it a year to decide and use the resources of community college nearby?" Dubb said. 
Gabie Garibyan '19, who is currently in the process of transferring out of PCC to a four-year school, felt the same uncertainty. 
"I had a lot more mental clarity in community college than I did in high school. I had a lot more time to think about things instead of jumping right into a specific path. So I did figure out what I wanted to do while in community college, and the smoother transition made figuring things out easier," Garibyan said.
At Flintridge Sacred Heart, there is a lot of pressure to go to a four-year university right after you graduate. The seniors decorate their cars, post all over their Instagrams and wear their school sweatshirts. 
"At FSHA, I feel like the option of community college just isn't encouraged, whether you want to go for financial reasons or whatever else. It was hard seeing the majority of everybody go to a four-year university and having to tell people, 'Oh, I'm gonna go to community college for a year or two.' I just kinda felt like an outsider. But then I realized that it doesn't really matter after you graduate. It's not something to be ashamed of," Garibyan said.
Making the choice to attend community college isn't an easy decision for a lot of students, especially when they attend academically rigorous schools.
"At FSHA, and I think at a lot of high schools, with community college, there's negative connotations around it, which is so small minded. But once I kind of beat down my own ego, I was able to make that decision to go to PCC and understand that I was doing a good thing for myself," Dubb said.
While Flintridge Sacred Heart is a college prep school, and the college counselors are hired to help girls get into four-year schools, lately the topic of community college has been coming up more frequently. College counselors are aware of the complications that Covid has caused as students apply to colleges. 
"We have a lot of families that have been seriously impacted by Covid-19 in terms of their financial status. So we have had a lot more conversations about community college being an option," Navarro said.
Leave a Comment
About the Writer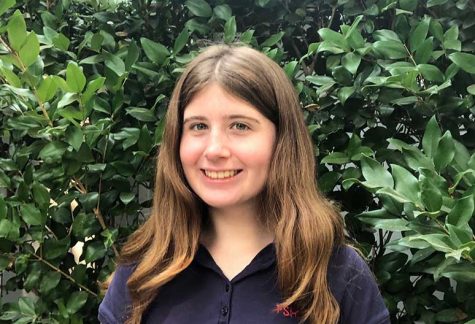 Kailey Cullen, Associate Editor
Kailey Cullen has been a member of the Veritas Shield since her sophomore year and currently serves as an associate editor for the paper. Kailey is a member...