Thanksgiving will look different this year for the Vennes
The year is 2019. It is Thanksgiving day at the house of Ella Venne '22. Venne gets dressed up in her best fall colors, cooks the day away and heads over to her aunt's house in the afternoon. Everyone is there — grandparents, aunts, uncles, cousins — and they hug one another and talk in close proximity. Food is communal and shared at a table while everyone is sitting next to each other. People take sips out of other people's drinks and lend their forks for extra bites of the potatoes. Uncle Joe talks about that one crazy play in the NFL game for 45 minutes while Aunt Susie worries about the dogs flipping over the beautifully prepared table. Yes, this is what a normal Thanksgiving looks like. 
Fast forward to 2020 in California. Gatherings including more than three households are prohibited. Everyone must maintain a six-foot distance from each other at all times. People may only remove their face masks briefly to drink or eat and must put their masks back on immediately after. All gatherings must be held outside. Gatherings should be two hours or less.
That's a lot of rules, and that's a lot for the Venne family to consider as they plan this year's Thanksgiving. 
Ella Venne '22 will adjust to Covid by eating the main meal with her parents and sister, Lilly Venne '24, before going to her aunt and uncle's house to join her extended family and eat dessert outside. 
Thanksgiving is Venne's favorite holiday, and she usually celebrates it with 10 family members, and they have traditions that are repeated every year.
"Usually, we all go to my aunt's house in the afternoon around 3 p.m. We play basketball and just shoot the ball around. Then, we have the whole Thanksgiving dinner and are at the table talking for a really long time. After that, we usually sing Christmas carols around my aunt's piano while she plays the piano. Finally, we watch 'Planes, Trains, and Automobiles' before heading home," Venne said.
This year, Venne and her immediate family will eat at their own home.
"At my house, since we won't be all together, my mom will make all of the usual dishes and get the recipes from my aunt, so we can all have the same food," Venne said.
After dinner, she will head over to her aunt and uncle's house, but not everything will be the same.
"I don't think we will be able to watch the movie, and we definitely won't be able to sing or play basketball because we're trying to stay distanced from each other. We will try to stay outside as best as we can and stay in her backyard, besides going inside to get the food," Venne said.
Her aunt's pumpkin pie is a Venne family favorite, but each household will bring its own dessert this year.
"We will bring our own desserts, and I had hoped we would use the same pumpkin pie recipe, but my aunt is the only one who knows how to do that since she makes the dough and everything else," Venne said.
The Venne's are not risking anything this year. Forget the fancy plates and grandma's expensive China.
"I'm assuming my aunt will have paper plates and plastic forks, so everything is disposable. We will also have things pre-wrapped so people won't touch everything," Venne said.
The Venne's are going to be careful around the grandparents but be a bit looser around the other family members.
"My grandparents don't want to come in close contact with us, so we will keep our distance from them. With my aunt and her family, we will do a quick side hug or shoulder tap. We try to stay away from family, but we definitely come a little closer to my aunt, uncle, and cousin," Venne said.
How is Ella feeling about the new Thanksgiving this year?
"Initially, I was sad that we wouldn't have our normal family dinner because I love Thanksgiving, but I was relieved when my family decided to do a shorter version of what we usually do with our dessert. I have mixed feelings, but I'm pretty excited about how we will be doing things in light of the current situation," Venne said.
Leave a Comment
About the Writer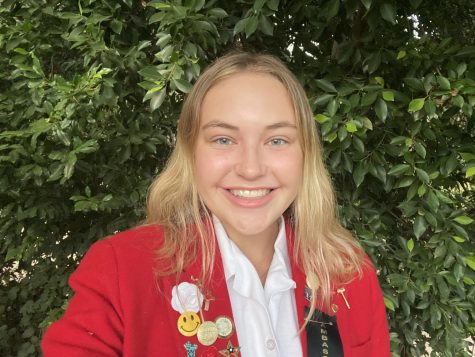 Jessie Mysza, Managing Editor
Jessie Mysza is the managing editor for the Vertias Shield. She started writing for the Shield her sophomore year and served as an associate editor her...