'Julie and the Phantoms' saves 2020 with music, entertainment and a really cute ghost
It was another typical fall day of procrastination after school when I was scrolling aimlessly through Netflix. I wanted a show or movie to play in the background while I finished my assignments. After a few minutes of nothing catching my eye, my mouse grazed upon a show called "Julie And The Phantoms" in the top-ten most-watched category. The preview started and I laughed out loud when I saw girls dancing in vibrant wigs and Justice-style clothing (as in, pink, glitter and peace signs). Seeing the sparkling yet hideous outfits, I thought to myself, "No way is this actually a show." After a few more seconds of the weird dancing and the people in cat costumes, I decided, though, that a terrible show might just be what I needed to keep myself from getting too distracted while doing my homework. 
After 15 seconds of episode one, the word terrible was no longer in my vocabulary. The dancing, the singing, the story of friendship — I just knew I had to keep watching. The characters' over-the-top enthusiasm when doing even simple things like picking up furniture made the whole show irresistible. 
"Julie And The Phantoms" stars Madison Reyes as Julie Molina, a teenage singer and musician. The show begins with three musicians who die after a terrible encounter with some bad hot dogs. Fast forward 25 years, and Julie is playing a CD in her studio when these three cute boys appear out of thin air, right in front of her. With the help of Julie, who lives in the house where the boys' band used to practice, the boys can live out their dream and share their music. 
Julie is the only living person who can see them, and at the time when the boys appear in her life, she is dealing with her mother's death. After a successful mission helping Julie back into her school band, the four of them create their own band and call themselves Julie and The Phantoms. To Julie, these boys are ghosts and her friends. To the rest of the word, the boys appear as holograms. 
This show is perfect for what it is. From the catchy songs to the talented actors, I love it all. I have rewatched the whole season at least three times, and I often listen to the show's playlist on repeat. This show is truly brilliant. The plot contains just enough mystery, comedy and romance. One second you are laughing at the snarky comebacks, the next you are crying about an emotional scene and the next you are singing your heart out like there is no tomorrow. 
With all the chaos happening this year, "Julie And The Phantoms" fulfills a need I didn't even know I had — the need for an escape from homework, Zoom and stress. While no one is living a normal high school life right now, my mind is especially vulnerable to shows that depict all the fun experiences I am missing out on. I get to live vicariously through Julie as she takes her audience along her journey of school dances and friend gatherings — both things we don't get to do this year. Somehow, even the show's cheesiest romance, which typically would be very cringy, is now appealing to me. When Julie and Luke, her love interest, stared into each other's eyes, my heart swooned. Before Covid, seeing this, I would have hidden my eyes. With online school not being an ideal situation, this show strays my focus away from all the negatives I could focus on. The idea that, someday, I will be able to live a full life, sit in a classroom, go to a school dance and go to prom is the reason for maintaining my positive attitude toward the show. 
This PG entertainment offers a simple yet effective distraction during quarantine. Especially with the media and everyday life being so politicized, this light-hearted show is exactly what we need. Let's be honest, what else can you do nowadays to unwind and relax? Watch the news? Start your schoolwork early? Or how about get on another Zoom call?  
"Julie And The Phantoms" will take you back to the good old days of chatting with friends by the lockers. It will make you look forward to the days of doing so once again. With all the crazy things going on in 2020, a feel-good show is just what we need.
Leave a Comment
About the Writer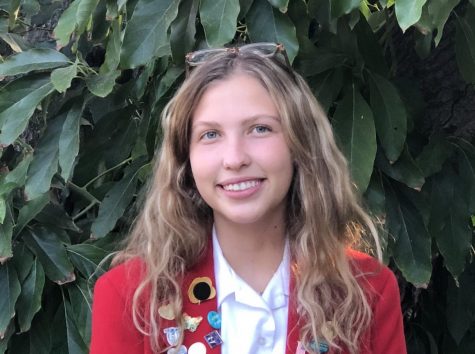 Michelle St. Denis, Podcast Editor
Michelle St. Denis joined the Veritas Shield her sophomore year as a staff writer. This year as a senior, she is the paper's podcast host and editor. Michelle...