'Two Personas': The beginning of a modern-day Renaissance
Pandemics, ignorance and division: the Dark Ages were not so different from modern-day America. Starting in the 14th century, however, European society found a way forward from its troubling times to an explosion of art and culture, thus establishing the Renaissance. 
As Covid-19 continues to affect millions of people worldwide, Christina Costanzo '21 has decided to repeat history and set an example for others by using this dark time to create art and express creativity. 
Costanzo's medium of choice is fashion. Costanzo has made a dress, bloomers and dozens of masks. Recently, though, she has become interested in assembling outfits to post on social media in hopes of portraying her individuality through fashion and photography. 
When the country went on lockdown, Costanzo saw the extra time at home as an opportunity to go thrift shopping and increase her closet inventory, leading her to create different outfits that she would eventually use in photoshoots. In addition to paying attention to the clothes she selected, she started paying attention to the photography. Costanzo started posting photos of herself in themed outfits on VSCO, an app where creators can organize collections of pictures into what VSCO calls "Journals." Costanzo's most recent Journal is entitled, "Two Personas," which communicates the idea of a single person having various personalities. 
"I found myself playing around with my outfits and makeup, and I started using some spotlight techniques on the pictures I took. Taking a couple of pictures turned into a one-person photoshoot," Costanzo said. 
After weeks of researching various editing methods and applying them to her pictures in her photoshoot, Costanzo noticed that her photos fit one theme: two personas.  In one photo from the series, on the left side of her face, Costanzo twirls her baby hairs and sticks them around her cheekbones and eye; on the right side of her face, she puts on a bright pink blush and a pink hair clip. Together, the two sides of her face represent a split personality. The right side portrays a person who is more structured and follows the status quo, as opposed to the left side, which portrays a person who is disorganized and unusual. 
"I feel like both sides complement each other nicely. There's a story of internal struggle, the feeling of societal pressure to look a certain way or to be someone you don't feel comfortable with," Costanzo said. 
The two personalities together make up a persona and a solus persona. A persona is a trait that is either presented to or perceived by others, and a solus persona is the multiple personalities that come out when one is alone. 
"Two Personas" mixes quotes in with the photos. The Journal opens with a quote by the actor Vince Vaughn, who suggests that each individual has multiple personas within her identity but mistakenly decides to present only one of those personas. After this quote, Costanzo displays a close-up picture of the front of her face as well as full-body pictures in the corner of the room, posing with both sides of her face. 
The Journal also incorporates a quote by Nate Larkin, a popular speaker and author, who compares personas to holograms, stating that constant energy is required to display a persona because letting a persona sleep means letting it die. In the photos that follow this quote, Costanzo shifts from the corner of her wall to posing on the floor and the counter. The last quote in the collection of photos is by the author Anais Nin: "We do not see things as they are, we see things as we are." Costanzo concludes the Journal with a photo of her in a poised stance while brushing her hands on the wall. 
At first, Costanzo was hesitant to post the VSCO Journal because she didn't think it was necessary to share it with other people, but then she realized that sharing it would allow others to see her creativity.
"Fashion is an art that lets people express their personal style, in contrast to the type of art you would see in a museum. You wouldn't understand the art you see at a museum, but using clothes as a medium allows for a more real and interesting conversation," Costanzo said.   
After the various tragedies that have occurred during 2020, people are trying to find ways to find happiness. Costanzo hopes that people find happiness through creativity and inspiration during quarantine.
"I'm praying that once the coronavirus is over, we experience our own type of Renaissance. People are the most creative during the toughest times. I'm hoping for a new wave of creativity," Costanzo said. 
Leave a Comment
About the Writer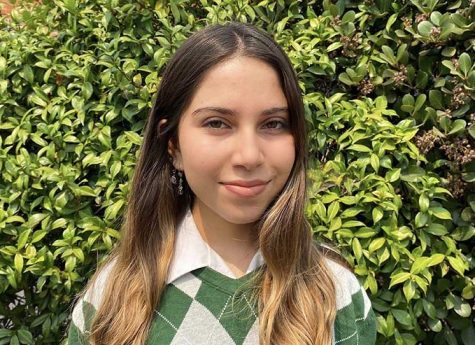 Angelina Arevalos, Community Editor
Angelina Arevalos joined the Veritas Shield during her junior year as a staff writer and now serves as the editor of the Community section. She enjoys...