Nish adjusts to online teaching
"No…no…NO! IF YOU CAN'T FACTOR, DIE!" 
The voice screams from my computer at 8:30 a.m. in the morning. The sound bounces off the walls of my bedroom. Startled, I make eye contact with my beloved math teacher, who is gesturing wildly towards the camera. 
"Remember your special cases from last year? Use them now!!!" 
I watch him stab at his smartboard as he scribbles in the rest of the work while muttering, "You fools. Honestly, you need to be more like cheetahs." I make eye contact with my friend Leah Boutros '22, and we suppress a laugh as we write down the answer. For a moment, it feels like we're back in the math dungeon again. 
Mr. Kirk Nishiyama, better known by students as Nish, is a math teacher, cross country coach and softball coach who has taught at Flintridge Sacred Heart for 26 years. To anyone who hasn't had the pleasure of being in his class, the event I've described might seem alarming. But to students that have had him as a teacher, that's Nish every single day — sarcastic, amusing and fun. He is the type of teacher who everyone knows and loves due to his playful humor and loud voice. 
Nish clearly loves being a teacher. The guy always has a smile on his face, whether you see him in class, on the softball field or in the halls. So how does someone like him, a person who loves his job and his students and has been here forever, adjust to online teaching?
The first thing Nish had to adjust was his way of reading people in the classroom. Now that we're online, it's difficult for him to get a feel of how his students are doing.  
"It's hard when you're teaching and watching, trying to read their expressions to see if they understand," Nish said. "It's easier with [students I've taught before] because I know you all. It's more challenging with the freshmen and sophomores that I don't really have a relationship with yet."  
Nish values having a strong relationship with his students. He loves seeing them every day and misses walking by the ones he's taught before in the hallways. 
"I miss that personal connection. You know, I enjoy seeing you guys every day online, but I love having you guys in my classroom." 
In addition to adjusting to the different relationships he can have with a student online, Nish has had to change the way he holds students accountable for their work.
"The main thing I had to change was testing. I still need to get a true assessment of each student while keeping in mind that every test is basically open book. That's why we have to have quizzes so often." 
(Sources confirm that Nish is testing and quizzing his students constantly. Nothing can stop him from giving out MyMathLab quizzes, not even a pandemic.) 
Even with all the online quizzes, Nish finds it harder to assess students online than in person. 
"I feel like you still kind of don't know whether or not a student is getting the material. I prefer to be with the student in person so that they can just tell me what they need help with. This is why I don't really like online teaching at all." 
To make the best of a challenging situation, Nish makes sure to keep in touch with his colleagues to figure out how to do online teaching as best as he can. 
"I do a lot of talking with other teachers about how to improve online learning and understand how it is for you guys." 
While Nish misses and looks forward to being on campus with his students and colleagues, he is trying to keep the experience of teaching remotely in perspective. 
"I have at least cross country practices two to three times a week, which keeps me from going insane. Corona has made me appreciate the little things that would be happening right now [if we were on campus], like frantically racing to Costco to get snacks for the girls. I think that this time is very difficult for the students as well as the teachers, but we just have to remember to keep on moving and take this time to grow and learn new things." 
So what is Nish actually looking forward to when he can finally come back to campus?
"I do actually miss coming up to school and racing Saki or Miller so that they don't steal my parking spot."     
Leave a Comment
About the Writer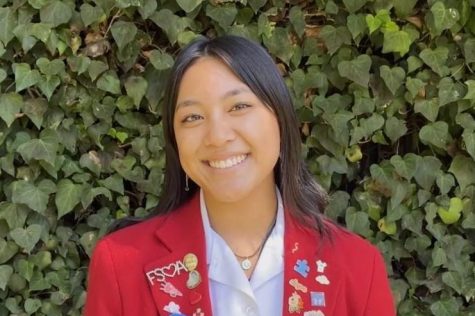 Angelina Cao, News Editor
Angelina Cao is a senior and the news editor for the Veritas Shield. She is obsessed with music and often can be found reorganizing her Spotify playlists....