Trader Joe's does pumpkin best
In the midst of this fall season, Trader Joe's seasonal items are in full swing. If you have ever stepped foot inside a Trader Joe's during the fall, you can understand the joy and excitement this season brings to the store's customers. You get the full experience as soon as you walk up to the line and see a large pile of white and orange pumpkins and fall-themed flower arrangements. The store smells of freshly cut wood and seasonal candles, and, most importantly, every aisle is filled with different pumpkin-flavored things, from pumpkin ice cream to pumpkin ravioli. You name it, Trader Joe's probably has it — pumpkin flavored. 
I haven't always been the biggest fan of pumpkin, but Trader Joe's just has a way of making it taste good that is completely unmatched. I never saw myself as a fall-loving gal, but the older I get, the more I discover how much I love Trader Joe's during its best season, the fall season. 
As soon as the fall items come out, I am the first person to walk in the store. As soon as I walk up, I see a large bin of pumpkins giving me a glimpse of what I'm about to walk into. Once inside, I see that Trader Joe's has really outdone themselves with the decorations. In just about any aisle, I find the shelves stocked with things from pumpkin butter to pumpkin pancake and waffle mix. I see reds and oranges everywhere. As I go from aisle to aisle, I am in complete bliss as I spot new items I haven't seen before, such as pumpkin-spiced pretzel slims and pumpkin-spiced batons. There is always something new to discover.
This time of year reminds me of the fun time we'll soon get off for Thanksgiving break when we'll spend time with family and friends. I am always just so happy to step foot in the store that reminds me of such cheerful times. The store just makes me want to get all warm and cozy while drinking a pumpkin-spiced latte in a comfortable chair as the weather gets cooler. The store makes me want to eat a stack of pumpkin pancakes while rewatching my favorite holiday movies. The store makes me want to bake a loaf of pumpkin bread for my grandma just because.  
Trader Joe's completely dominates the pumpkin scene, but other companies have given pumpkin a go. For example, Starbucks is pretty well known for their take on pumpkin-spiced lattes. I would say I am a pretty open-minded person when it comes to food, but I am pretty convinced that Starbucks doesn't compare to the Queen of Fall, Trader Joe's. Starbucks' pumpkin line feels like an obligation. They barely put in the effort, and it's hard to say they even compare when you look at the effort Trader Joe's puts in. I gave into the hype this year and gave the famous Starbucks latte a try, and it's now safe to say that there will not be a second try. I was disappointed by the underwhelming pumpkin flavor. I had high hopes and was quite let down. 
Can anyone compete with the Trader Joe's pumpkin flavor? The answer to that, of course, is no. So take advantage of the seasonal goodness that Trader Joe's offers during this time before everything turns red and white. This is definitely one of the best times of the year, and if you haven't already checked out your local Trader Joe's, what are you even doing? I will be quite sad to see it all go when Christmas rolls around, though I have to say, peppermint and chocolate sound like things to get excited about, too. 
Leave a Comment
About the Writer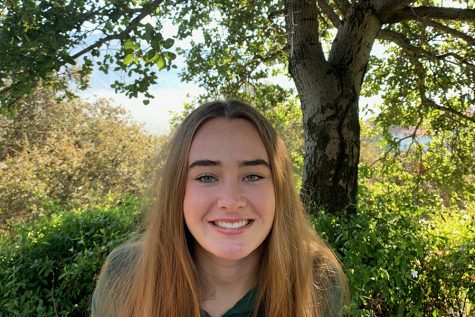 Jacqueline Fitzpatrick, News-in-Brief Editor
Jacqueline Fitzpatrick has been with the Shield for three years now and is the current news-in-brief editor. When she's not writing articles and seeking...