From classmates to sisters: A boarder moves in with her best friend
Stress pervaded the boarding hall during the first weeks of the pandemic back in March. The news featured crowded airports filled with terrified people trying to get home. For boarding students, seeing all this chaos on TV was especially worrisome, as the residence hall was closing for summer. 
Some of FSH's international students were able to get home, while others stayed in family residences in America. For Beatriz Cerezo '21, though, neither of these were an option. Her parents were warning her that Spain was getting hit hard, while the U.S. government was warning her that she might not be let back in the country if she left. Other boarding students were advising Cerezo to figure out a summer living situation, and fast. 
Cerezo was overwhelmed. She was nervous for the wellbeing of her family while grappling with the effects of the pandemic on her own life here in America. The only thing that she could think to do was to call her friend for help.
"The first person I thought of was Emmie," Cerezo said.
When the phone rang, Emmie Barnard '21 had just finished dinner with her family and was heading upstairs to tackle her homework. Barnard picked up the call from her nervous friend, who asked her a question that would change her senior year: "Can I stay with you this summer?"
The answer was yes. 
"I was super excited at the thought of having her as a sister. I've always thought it would be fun and I admire the relationships my friends have with their sisters. I have always wanted that for myself," Barnard said. 
Once the logistics were worked out, Barnard and her dad headed up the hill in their blue SUV. When Barnard arrived, Beatriz took one more look around her room in the boarding hall and said goodbye to the campus that had been her home for the past two years. 
"I knew that an exciting and new experience was ahead of me, and I knew that I would learn and grow," Cerezo said. 
After one last trip down St. Katherine Dr., Cerezo settled in at Barnard's house. For the first two and a half weeks of summer, the two friends put most of their energy into working out, going on long walks and embracing the woodsy streets of South Pasadena.
"When working out, we could support each other. We could keep each other accountable," Barnard said. 
After one particularly arduous dance workout, Barnard and Cerezo came inside to cook together. Barnard opened up the white cabinets, searching for the correct pots, while Cerezo cut open the top of the Trader Joe's gnocchi, which would become their favorite meal. 
When Barnard discovered that Cerezo had never had PB & J — Barnard's school lunch staple — she lathered Jiff and organic strawberry jelly on two pieces of bread and waited for Cerezo's reaction to the American delicacy. Cerezo may have been kicked out on the spot if she hadn't appreciated Barnard's beloved sandwich, but, luckily, Cerezo loved the PB&J, as well as all the food the two of them ate together. 
"We have the same taste, and over the summer, we ate the exact same things," Cerezo said.  
Along with writing in their journals and catching up on summer reading and the "The Good Place," Barnard and Cerezo took a true California trip for Fourth of July to Newport Beach. The two of them walked up and down the tiny streets of Balboa Island in white jeans (an Orange County staple) while enjoying chocolate-covered bananas. Cerezo marveled at the amount of American flags flapping in the breeze and felt a sense of home. 
The summer of exploring LA, bullet journaling and cooking was coming to an end, though. Cerezo had become the sister Barnard had never had, and not living together anymore would feel foreign to the both of them. To commemorate the end of their summer, the girls would take one more trip, this time to Catalina on Barnard's family boat.
The offshore winds blowing against them, knotting their hair and making them cold on a hot summer day, the friends looked out and enjoyed the scenery. While breathing in the salty sea air, reminiscing about her summer vacation in America, Cerezo felt a buzz. She checked her phone and noticed that she had received an email from Flintridge Sacred Heart. 
Cerezo skimmed the email: "The boarding hall will be closed until further notice." 
Heat rushed to Cerezo's face. She knew what she had to ask. She and Emmie had had such a great summer together, but that was three months, while the school year is nine — a long time for Cerezo to stay with the Barnards. That is, assuming that the family would let her stay in the first place. 
Cerezo confided in Barnard about the closure. Barnard loved Cerezo, but she was nervous about how their perfect friendship would change. Barnard looked out on the water as she remembered the stress of school. Grades, competition and college apps would soon consume their lives. 
"I was nervous about having her stay during the school year, because we had gotten along really well during the summer, and I was scared that could potentially get messed up," Barnard said. 
Barnard's parents were open to having Cerezo stay, and Cerezo's parents wanted their daughter to stay in America. It was up to Cerezo and Barnard to decide whether or not living together all year would be feasible.
"We had to figure out how to live together in a different situation," Cerezo said.
The girls spent a long time discussing how they could make this work. They eventually decided that their relationship was strong enough to withstand the year.  
"I knew we'd work it out and learn along the way," Barnard said.
After their talks, Cerezo felt optimistic as well.  
"I was very happy. I would be able to be with a family and my new sister and be able to continue experiencing American life," Cerezo said. 
So what's new about living together during the school year?
"We don't get to hang out as much, but I think we see the whole picture of each other now," Barnard said. "We always supported each other, but there is a new dimension now with school. It is just more real life. It was a lot more play over the summer, and now it is less of having a best friend stay with me and more of just living with my sibling." 
Cerezo agrees.
"Because we cannot hang out as much now, our time together is much more meaningful. We now really have each other as sisters," Cerezo said. 
View Comments (1)
About the Writer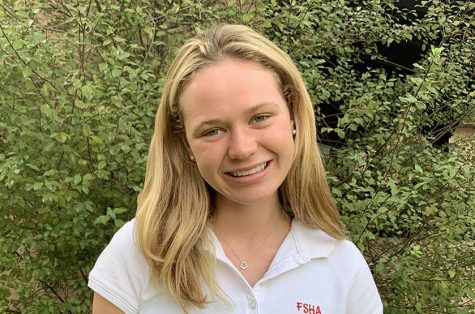 Claire McDonald, Managing Editor
Claire McDonald is the managing editor this year for the Veritas Shield. She started writing for the Shield her sophomore year and served as news editor...