I am a Birkenstocks convert, and you should be, too
Historically, I've been a sneakers gal, through and through. If you take a peek into my closet, it's filled with Nikes, Converse and Vans. I have an obligatory pair of Rainbow flip-flops, but that's about it as far as sandals go. Or at least, that was about it, until recently. Thanks to some enlightenment from friends along with some personal growth, I am proud to say that I've converted. I am a Birkenstocks girl now.
I used to hate Birkenstocks. I thought they were the ugliest shoe ever. I thought they were Jesus sandals that lacked any appropriate occasion to which to wear them. Never had I ever seen an outfit and thought, "You know what would look good with that? Birkenstocks." 
My grandpa wears Birkenstocks. They help him with arch support because he has really flat feet. I once asked my dad for his opinion on Birkenstocks, and he explained that when he was a Christian brother in the 90s, the brothers wore formal, black vestments meant to be worn with dress shoes. But suddenly, his fellow brothers began wearing Birkenstocks with their vestments because they liked the way the Capuchin friars wore them. So, growing up, I thought of Birks as shoes for old people and for the pious.
During my freshman year, Birkenstocks had yet to make their comeback, so I hadn't seen them on campus yet. But thanks to who knows what, during sophomore year, everyone and her mother got Birkenstocks. At first, I was so against this. I saw all my friends buy them and wear them on free dress days with socks, which was on the top of my list of fashion no-nos. Whether Nike socks, printed Forever 21 crew socks or the god awful ankle socks, nobody wants to see the amount of sock that sandals put on display. 
Then and there, I vowed to never buy a pair of Birkenstocks. I went all of sophomore and junior year Birkenstock-less. In the summer, I carried on wearing my sneakers, enjoying "Sneaker Nights" like I was Vanessa Hudgens, telling myself I was super cool for taking the extra five minutes before I left the house to put on shoes with laces. Sometimes, I'd think about the convenience of a pair of Birkenstocks, but I wasn't going to let up; I was sticking to my silent protest. 
At the time, I was trying to develop my own style, my own aesthetic. My favorite movie list consisted solely of rom-coms, just like all my friends. I didn't express my actual love of school, and I told myself that my life goals were to be a doctor, have a big family and live in a suburb. I was trying to fake having a genuine personality, and I felt that Birkenstocks would harm my rom-com and doctor vibe, a vibe that, in retrospect, turned out to be a fake vibe.
I hit a turning point. I was tired of being insecure about my own personality and decided to just embrace what I actually liked instead of pretending I liked the same things as everyone else. I forgot about the rom-coms and starting watching movies at the Laemmle, even though my friends thought I was being pretentious.
As I got more and more comfortable with myself, embracing my actual personality, the wall I had put up against Birks began to fall. I finally accepted the fact that maybe I should give them a shot.   
I asked one of my friends what her opinion on Birkenstocks was, and she explained to me that they were the most life-changing purchase she had ever made. Her Birks had molded to her so perfectly that they had basically become a second pair of feet. She could walk in them all day, no matter the distance, and she, surprisingly, loved to wear them with socks. For her, Birkenstocks sparked joy. 
I was astonished, shocked, flabbergasted. How was I unaware that my friends felt this passionate about the ugliest pair of sandals? I went around to everyone I knew who had Birks and got almost an identical response from all of them. I started to second-guess my aversion to the leather sandal.
I decided I needed to educate myself on Birkenstocks culture. I began researching them, specifically what makes people love them so much. I came to learn that it's the cork sole that slowly but surely molds to the shape of your foot, so that all of the curves and contours are supported by the sandal. And, the leather accents and hardware ensure that the sandal's lifespan will be as long as possible. After much deliberation and thought, I decided that I wanted to try my hand, or rather my foot, at the Birkenstocks life. 
In February of this year, I asked my mom if I could have a pair of Birkenstocks for my 18th birthday. She hilariously and unexpectedly was very much on board. We decided to go to Nordstrom to get my Birkenstocks so that I could try them on and decide what style and color I liked best. I went in knowing for sure that I wanted the Soft Footbed Birkenstocks, in which a latex cushion has been added on top of the cork to make the sandals more comfortable for flatter, more sensitive feet, like my grandfather's and like mine. In the end, after much browsing, I went with the Arizona Soft Footbed Oiled Nubuck Leather Birkenstocks in the color Habana. 
Before I left, the sales associate told me that it would take five to seven wears to break in my Birkenstocks and that I should be prepared for a little bit of discomfort during those first couple of wears. I didn't think it was going to be that bad, but boy was I wrong. Soon after I got them, I wore my Birkenstocks to school with socks. By the end of the day, my feet were in so much pain. The sandals kept slipping off my feet, and I had a really hard time finding a position for the buckle on the straps that would ensure the sandal wouldn't fall off but also wouldn't suffocate the top of my feet or toes. On top of that, I realized I had gotten a size too big. I was really beginning to regret my purchase and doubted whether the Birkenstocks lifestyle was for me. Sometimes decisions, even if right in the long run, are hard to get used to; it's hard to make things fit perfectly.  
But I trudged on, determined not to let my 18th birthday present go to waste. I would wear my Birks to school as often as possible. I wore them to my dog walking job and around the house. I wore them until my feet were crying.
Then one day, it happened.
I slipped on my Birkenstocks one fateful morning, and they didn't hurt to walk in anymore. I had finally broken them in. My friend was right; they felt like heaven. They were no longer slipping off or making the top of my feet hurt from the stiff leather. They felt amazing. As the days and weeks went on, they got even more comfortable. Amazing. They were molded exactly to my feet and became definitively the most comfortable pair of shoes or sandals I've ever owned. It turned out that the size was just perfect, even if my Birks were a tad roomy in the back. The extra space just made them easier to wear with socks.
I've always said that style comes before comfort. It doesn't matter if you can't breathe in the perfect dress or feel your toes in a pair of stilettos; if the outfit's cute enough, the sacrifice is always worth it. I live by that statement. I still live by that statement.
Or, at least part of me does, because now I find myself catering all of my outfits to match my Birkenstocks, which are not the most aesthetically pleasing, let alone stylish. I've honestly shocked myself. I've even cultivated a tan in the shape of my Birks on top of my feet. I found that I've come to sort of love the blatant ugliness of the shoe. They're camp and I like to think the fashion gods would approve. I've worn many black shirts with my Birks, even though they are brown. I know. Crazy. 
In summary and summation, in these last words that I'll ever write for the Veritas Shield, I think you should get a pair of Birkenstocks. As someone who has struggled along her journey to become a Birkenstocks convert, I think the process is worth the work. Birkenstocks will never be stylish. Never. There will never be an outfit that's composition is perfectly completed by a pair of Birks. 
But your attitude while wearing them makes them stylish in an unconventional way. They reveal your alter ego, bringing out a side of you that you never knew existed. Before Birks, I never thought I'd be even remotely granola (except for my love of Hozier), but now you can often find me in overalls and light-wash jeans, complete with my HydroFlask and a banana. If you're a skeptic like I was, I say try new things and take a risk. In the end, your feet will thank you.
Leave a Comment
About the Writer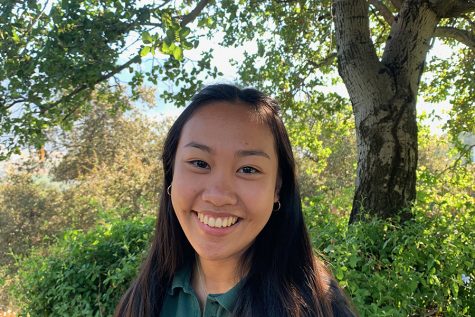 Lea Lopez, Staff Writer
Lea Lopez is new to the Veritas Shield writing staff this year. In her life outside journalism, she can usually be found watching and talking about all...