A blogger considers the differences between writing for herself and writing for the Shield
When I first joined the Veritas Shield, I thought I knew what to expect because of my background in blogging. I started my fashion blog back in 2017, blogging about fashion trends, product reviews and anything to do with style. But after reflecting on this year, I have learned that there are many differences between blogging and journalism. 
My blog, Katia Alexa Fashion, is completely under my control, with some help from my family. I made my own blog logo, and I write my own blog ideas and take my own pictures, but my parents and uncle help me proofread. Creating a blog takes a lot of time and energy, and you have to work hard to get recognized by brands or other bloggers. There is a lot to keep in mind when writing a fashion blog, including when to publish a post, how relevant or important the trends are, how to make the posts interesting, how to emotionally connect it to the reader and so much more. I love writing for my blog because I get to share writing that I am very passionate about. 
Considering the pretty solid background I have in blog-style writing, I thought journalism would be a breeze. Being a part of a high school publication, though, gave me a new perspective on what journalism is actually about and how many people and steps go into publishing one article. For news writing, you have to be unbiased, interview people you have never met before and ask them a ton of questions. After writing the news piece, it's put through many intense rounds of editing, which is a completely different process than pop culture, opinion and sports writing. Although you have the luxury of working with a team, you still have to put a lot of work into each article. 
I honestly didn't think there would be a big difference between writing for a publication and writing for myself. I did not think that writing for a publication would mean my article would evolve so much from the writing stage to the editing stage and eventually to the publishing stage. 
On that note, at the Veritas Shield, there are many people involved with your article who have more power than you. I assumed that you would just choose your article, write it and publish it after someone reads it about once or twice, but I was way off. In journalism, there are a lot more steps you have to go through before you publish a seemingly small article. You have to pitch an idea, write it to the best of your ability, go through a minimum of four rounds of editing, make an insane amount of changes and, after all that, you have to hope your article still works. 
Before quarantine, I started writing an article about our beloved security guard, Iggy, for the senior print issue, which I was super excited about. Once remote learning started, the senior issue had to change around a bit, so my article about Iggy's impact on the seniors was moved from the print issue to the website. Every part of that situation was unexpected, but it reminded me that journalism is always changing, and you have to learn how to roll with the punches. 
The timeline for articles in journalism is very short. For fashion blogging, you want to post an article before the trend fades away, but with news writing, the pace is ten times faster. The fast-paced environment of writing about something relevant such as politics or a new app perfectly describes the chaotic process that every publication will go through in journalism. When there is something new and important that the Veritas Shield wants to write about, the classroom gets crazy as the creative juices start flowing. The first time I had to pitch an article, I was intimidated, but after you get past the stress of the moment, it is actually pretty fun to see the ideas that come out of a brainstorming session. 
A big part of news writing is writing without any opinion or emotion, which was a big learning curve for me, since on my blog I quite literally only write about my opinion. Blogging is very personal; when I write my blog posts, I write as if I am having a conversation about fashion with my reader because people who read blogs want to get to know you and relate to you, while journalism is almost always just stating facts. You read an article from a journalism publication to be educated or informed about a topic, but you read a blog to read a personal article. Since news writing is the most important type of writing in journalism, I have written quite a few news articles. I definitely feel more comfortable writing opinion pieces, though, and it feels great to hear my voice in the article. 
My background in blogging has changed how I view journalism, but I think it also made my first year in journalism much more unique. Learning the process used in journalism has changed how I write my blogs, essays in my English class and, of course, how I write my articles for the Shield. Figuring out the differences and similarities between journalism and blogging, such as the amount of editing an article goes through, when to use opinion or how to publish a piece, has made my year writing for the Shield an experience full of life lessons. 
Leave a Comment
About the Writer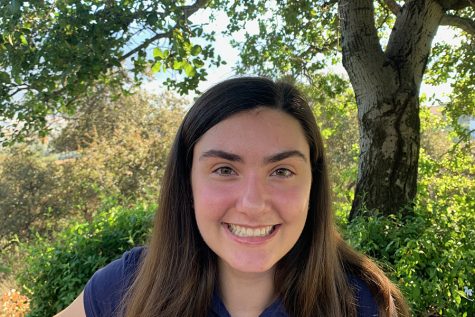 Katia Stavropoulos, Staff Writer
Katia Stavropoulos is a sophomore staff writer for the Veritas Shield. In her spare time, she enjoys playing golf, sewing, watching "The Crown" and...