The Luggage Room: Your go-to to-go restaurant
COVID-19 has changed many things, but nothing has been affected quite as much as the food industry. Restaurants across the country are laying off workers and applying for PPP loans. Some restaurants are adapting by developing family deals, investing in food items that can be reheated and even selling their own materials so that you can cook their meals at home. The most important aspect for restaurant survival during this time, though, is a take-out business.
While take-out was once more of a novelty in my family, a treat that marked time spent in the comfort of our home, it is now a practical way for us to avoid having chicken for the fifth night in a row. Take-out has become a major part of our routine. Every day before my dad leaves work to come home, he texts possible dinner ideas in the family group chat: grilled chicken, chicken Marsala, chicken piccata. I always reply, "Let's do take-out."
The Luggage Room Pizzeria is our go-to place. With its doughy and thick crust, abundance of toppings and famous bacon-wrapped dates, The Luggage Room is a classic hip pizza joint. Before COVID-19, the place was the perfect combination of a bar scene, young adults flowing back and forth from the beer garden next door, and a scene for families, kids playing tag on the brick patio out front. However, given the obvious circumstances, ripping a slice of cheesy pizza from a wood cutting block, folding it in half and stuffing it in my mouth while watching the nearby metro pass just isn't going to happen.
When ordering pizza from The Luggage Room to eat at home, I, of course, have to order a classic cheese pizza. Not everyone in my family shares my sophisticated simplicity, though, so in addition to cheese, we settle on ordering the Farmers Market pizza, which has a pesto base, goat cheese, eggplant and tomatoes. We also order the Gladiator, which is The Luggage Room's classic meat-eater pizza topped with sausage and pepperoni.
My mom called, and once the time came, we geared up in our latex gloves, masks and sweatpants to go pick up our order. My mom pulled her car up in front of La Grande Orange (the restaurant next door), and a man in a far more sophisticated mask than mine approached the passenger side window. I cracked the window open as little as I could, per the request of my clean-freak mom. She has lived her life preparing for an event like the one we're in now, and unlike me, she has no interest in interacting with anyone during this time. My mom avoided any pleasantries, and, without any prompting, said our last name through the window. The man hurried off, my mom popped the truck open and the man closed it. He approached my window once again, so I cracked it open a bit more. My mom signed the check with her own pen (she won't use something other people have touched) and handed it off before swiftly driving away.
Still in our protective garb, my mom and I carried the pizza boxes to our "Corona Countertop," a sterilization center by our backdoor. Leaving the pizzas intact, my mom took off her mask and gloves and washed her hands, only to put on another pair of gloves to empty the boxes. She then put the pizzas into the oven (to kill the virus) and served our dinner char baked.
The Farmers Market pizza was a hit. The pesto had the perfect balance of nuttiness, and the eggplant was perfectly burned, which is just how my family likes it because we like to be reminded that we cannot possibly be ingesting anything harmful. The Gladiator pizza was for my dad and brother, and to me and my mom, it looked like the poster child for cholesterol and environmental recklessness. I tried to use my journalist skills and God-given charm to coax a thought-provoking reaction from my brother on the Gladiator, but he, a man of very few words, would only tell me, "It was good." My favorite, meanwhile, was the cheese pizza, which was had stringy cheese and had crust that tasted like homemade focaccia.
If I closed my eyes and ignored the taste of the burned crust in my mouth, I was brought back to the restaurant, listening to conversations between tipsy adults, drinking my Orangina and tracking the joy-filled kids running in and out of the patio, the metro screeching past.
Leave a Comment
About the Writer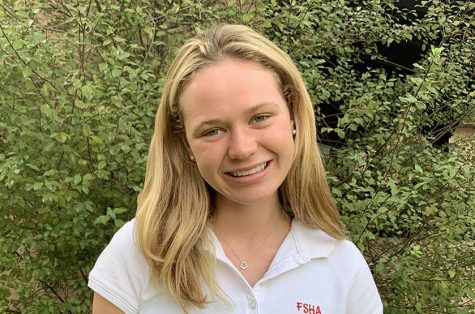 Claire McDonald, Managing Editor
Claire McDonald is the managing editor this year for the Veritas Shield. She started writing for the Shield her sophomore year and served as news editor...