From Stagecoach to Stagecouch: Live music during quarantine
April 24-26 was supposed to be one of the best weekends of 2020. The smell of BBQ mixed with the sweet sound of country music and a friend's laughter is the best recipe for the perfect weekend. But, the dream weekend faded as fast as my dreams had started. COVID-19 caused one of the best country music festivals to be canceled this year, and I was crushed. 
When I went to Stagecoach last year, the concert was easily one of the highlights of 2019. I went with two of my friends that I hadn't seen in forever, and the events that took place that weekend were unforgettable. The magic that the headliners Luke Bryan, Sam Hunt and Jason Aldean brought to the Mane Stage created the wonderful atmosphere for Stagecoach 2019. 
When I saw the lineup for Stagecoach 2020, I knew I had to go. The mixture of Thomas Rhett, Carrie Underwood and Eric Church would, without a doubt, provide the same type of atmosphere as the year before. My friend Kristy and I immediately purchased our tickets and booked an Airbnb. 
The planning process for Stagecoach is overwhelming but so worth it. Kristy and I spent hours upon hours planning outfits and discussing which artists we were hyped to see and those that we were okay missing. 
When the news broke that Goldenvoice had to cancel Stagecoach, Kristy and I were totally heartbroken. Even though it was moved to October, the complication of going to college in different states may prevent us from enjoying Stagecoach 2020. 
A few weeks after announcing the cancellation, Stagecoach posted on their Instagram that Stagecouch (italics are mine) would take place on SiriusXM. A good portion of the artists that were going to play at Stagecoach would preform acoustically from the comfort and safety of their homes. When school let out on April 25, the day of the reconfigured concert, I put on my swimsuit and headed outside to bask in the sun while blasting Stagecouch from my speaker. 
Day one of Stagecoach was supposed to be filled with adventure and excitement. Instead, day one of Stagecouch involved school and less excitement. 
Friday's headliner and most memorable Stagecouch performance was by Thomas Rhett. I was in awe of his set and his voice. He sang my favorite song from his new album, "Notice," and while listening I completely freaked out and thought about what it would be like seeing him live that night instead of listening to him via radio. He played a few of his classics, including "Life Changes." Since my mom and I love that song, we started singing along with him. When Stagecouch's first day ended, I felt pretty good, even though I still wished I were in Indio.
Normally, on day two of Stagecoach you wake up energized, still feeling the ringing in your ears from the night before, your voice a little faded because of how loud you sang. I woke up with none of the symptoms of a great day at Stagecoach. Instead, I woke up to my neighbors mowing their lawn. 
On day two, Jimmie Allen and LOCASH provided the perfect afternoon entertainment while I tried to drown out my family's Zoom party. The moment the band Old Dominion started playing, I felt like crying because they had played last year and theirs was one of the best performances. Since the band couldn't be together due to social distancing, each member of Old Dominion sang a song from home and called it a day. Was it as good as their performance last year? No. Was I still excited to hear their songs? Yes. Finally, Carrie Underwood came on to finish off day two just as the sun was setting.
Day three of Stagecoach is a combination of exhaustion from the heat, the screaming and the long nights spent at the fairgrounds. Your voice is hardly there anymore and your feet are sore from wearing cowboy boots for two days in a row. But once you slip into the day three outfit and place those boots on your feet, a sudden burst of energy enters your body and you are ready to take on the last day. On day three of Stagecouch, I woke up with none of these symptoms. 
Day three of Stagecouch did not have many artists that I listen to. My top two artists for day three were Jon Pardi and Chris Lane. Chris Lane played his new song for the first time live and did a fantastic job. His set was amazing, and I was delighted with his Stagecouch session. I had seen Jon Pardi live before, and his acoustic performance reminded me of that time, and I was excited to hear him sing "Dirt On My Boots." However, he did not perform "Night Shift," which completely infuriated me. I had to turn off the radio before Eric Church came on because I just couldn't believe Jon Pardi wouldn't perform one of his top hits. 
Overall, Stagecouch, while great, did not fill the gap in my heart that I felt in the absence of Stagecoach. I wanted the dirt flying in my eyes and lungs. I wanted late-night memories with my friends. I wanted the feeling that hearing a performance live brings someone, and, frankly, I did not get any of that. I would listen to Stagecouch again, but, given a choice between Stagecoach and Stagecouch, I'm shouting "yeehaw" and driving straight out to Indio.
Leave a Comment
About the Writer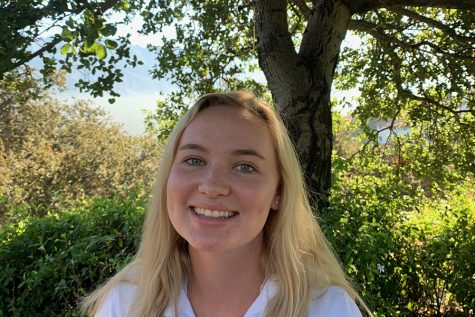 CJ Huston, Arts and Culture Editor
CJ Huston is the arts and culture editor for the Veritas Shield. She began writing for the paper as a junior in 2018. CJ serves as the president of the...