Letter of Recommendation: 'Some Good News' with John Krasinski
I was scrolling through Instagram not too long ago when I saw a new post from John Krasinski. The video featured Steve Carell, who is famously remembered as Michael from "The Office." I was intrigued to see the two of these actors together and immediately watched the video, and the video was about… good news?
This was in March, at the beginning of lockdown, so I quickly understood the need for positivity. The complete video was on YouTube, and I went to go see it, hoping to see more characters from "The Office" as well as to hear some good things going on amidst the catastrophic developments unfolding all around us.
Many of the popular news publications such as Fox News, MSN and HuffPost all have sections on their websites for good news. However, none of these are quite as good as "Some Good News," the new YouTube channel by John Krasinski. While these websites mostly have articles, Krasinski has short video clips which are much more enjoyable to see. I also love the guest stars he features, which have included Ryan Reynolds and Brad Pitt. 
In each episode, Krasinski reports on good news around the world and does something good for the world, too. For example, one week he had the COVID-19 unit members of a hospital in Boston ride a duck boat tour bus to Fenway Park, where the Boston Red Sox play baseball. He also had a prom on YouTube Live for all the juniors and seniors who missed out on their proms this year. Krasinski invited the Jonas Brothers, Billie Eilish and Chance the Rapper. These popular artists each performed a song live for everyone to enjoy.
If you need a "pick me up" from time to time, like I do, this show is the answer. Hearing the good news is the remedy to my annoyance with the world right now. It makes me forget about all the repetitive things everyone is saying on a daily basis: "trying times," "get through this together," "hanging in there."
In these slow passing weeks, it's hard to have things to look forward to, to count down the days until. These weekly John Krasinski videos have become the equivalent of that upcoming concert or vacation that you have been waiting for for so long. I'm always so excited to see what new creative idea Krasinski's come up with.
The constant repetition of everybody talking about the coronavirus has become frustrating. I, of course, am just guilty of this as everyone, though. Almost every day I complain to someone about how I want to see my friends or how I wish my family and I could leave this house and go somewhere. "Some Good News," however, gives me something positive to talk about. The show is both a conversation starter and something to make you happy.
Leave a Comment
About the Writer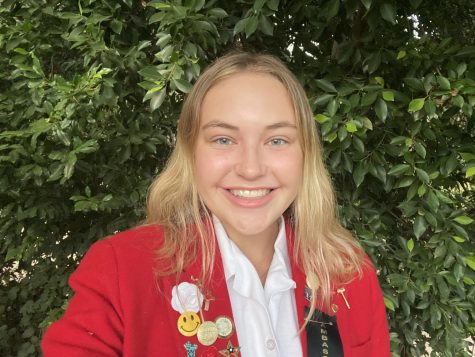 Jessie Mysza, Managing Editor
Jessie Mysza is the managing editor for the Vertias Shield. She started writing for the Shield her sophomore year and served as an associate editor her...