What's in a Tolog bag?
In the tradition of Us Weekly, the Veritas Shield has conducted its very own edition of What's In My Bag, except instead of looking inside a celebrity's bag, we've consulted a handful of Tolog seniors to compile the most typical Tolog bag possible.
Since Tologs often like to follow celebrity trends, why not compare ourselves to the celebs that have been featured in Us Weekly? Do we carry around crystals like Kesha? Travel-size Cinnamon Toast Crunch like Winnie Harlow? Or, do we carry metal straws like Vanessa Hudgens? Let's just say that, rather than facial serums and essential oils, in the typical Tolog bag, you might find items more along the lines of a dented Hydro Flask or loose gum wrappers.
When you are walking through the halls, you could stop any Tolog and find the majority of these objects, whether in her coffee-stained canvas tote bag or unzipped Jansport.
GRAPES by Grace Italia
I'm worried about them getting smashed.
AIRPODS by Janna De Vera
They are the most convenient headphones option. If you forget to bring them to a class, it's game over.
DOVE ADVANCED CARE DEODORANT by Grace Kelley
The crisp apple scent is fresh and glorious.
TAMPON by Julia Yellen
Everyone needs one.
LOUIS VUITTON KEYCHAIN WALLET by A Tolog Who Didn't Want To Be Named
It's cute and convenient but also represents privilege.
OIL BLOTTING SHEETS by Emilie Nunn
Sometimes you get oily, but don't worry. You can always blot and pick yourself back up.
BREADBOARD by Emma Condit
It reminds me that women can be in STEM and that light is everywhere.
VOCABULARY WORKSHOP by Emma Condit
It reminds me of childhood. We've been using it since 2nd grade, and we are still using it. Time flies.
TAMAGOTCHI by Olivia Spina
It keeps me company. It beeps, and I feel like I'm at home.
WILDFLOWER PHONE CASES by Cerys Davies
I bought a wildflower case to support Devon Lee Carlson. And, it just looks cool.
This article originally appeared in the Veritas Shield's 2020 senior print issue. 
Leave a Comment
About the Writer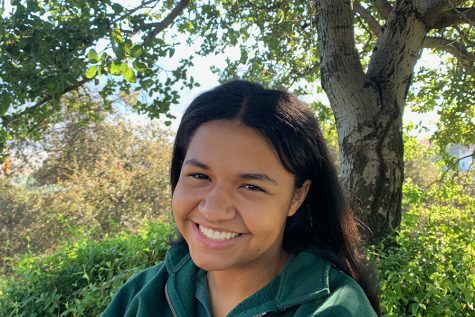 Georgia Kisob, Opinion Editor
Georgia Kisob is the opinion editor of the Veritas Shield. Her journey in journalism began her sophomore year in 2017. At FSHA, she dutifully serves her...