Editorial: The Veritas Shield reviews the class of 2020
Over the years, the Veritas Shield has covered topics large and small. Should prom be held at the zoo? Should ice cream have pepper in it? Should we all buy Instant Pots? We've written about Gen Z, the future, the Rose Court, both sides of the political spectrum, the secret truth of the FSH golf team and Coachella as a "lifestyle experience."
Not to toot our own horns, but it's been a good run.
And now that we're nearing the end of the school year and the last semester of high school for the class of 2020, the Veritas Shield has taken on its biggest challenge yet: reviewing the beautifully indescribable class of 2020.
Are we the best class ever? Are we the most genius group of Tologs ever? Did we alter what it means to be that senior class on the Hill forever?
To find out, let's embark on a journey of nostalgia and oh-so-good reflection.
Humor: 4/5 Stars
It's impossible to discuss the senior class without addressing our off-the-charts comedic value. All the clashing yet chaotically complementary 101 personalities that comprise this year's class come together to create a vibe that's simply too powerful. We overwhelm the senses. We balance intellectual and clownish behavior. We craft comedic gold at every available chance. The odd collection of characters that is the class of 2020 adds spirit and excitement to any typical day on the Hill.
"Typical spirit weeks include the seniors serenading the student body, and we did that fabulously, but we also topped off [our serenade] with an impromptu yet in-sync mosh pit. It was epic," Kiara Hosseinion '20 said.
We can't forget the time we tried to microwave a shoe or the power outage that left us all taking off and raising our total amount of absences. Freshman year, Block G Biology antics were all the rage. During class, students would question the importance of Nordstrom sales, learn about bodybuilding and keep a tally for every time Ms. Parga went to the restroom. What was she doing in there? There was never a dull moment.
Then there was, of course, the infamous mango incident, which still lives on in the minds of many.
"I was sitting in freshman English class, and Ms. Acosta, who was living in the boarding hall, told us she had  to move because of plumbing problems. What was the problem? Tayvans and Kiko came forward about the mango they had flushed down the toilet in the boarding hall," Georgia Kisob '20 said.
When Tayvans Zhang '20 and Kiko Mu '20 were freshmen just barely getting used to the boarding hall, they were given many fruits to enjoy, but Tayvans did not know what a mango was. Confused as to what to do with the tropical fruit, she flushed it down the toilet, causing an array of plumbing problems.
"When I think back to freshman year, the mango incident is the first thing that comes to mind," Meghan Sullivan '20 said.
What else? Grace Kelley '20 started an annotation revolution when she wrote "Party in the U.S.A." lyrics in her copy of "Great Expectations" freshman year. Sophomore year, Honors Chem students put together a POGIL-themed Christmas album and made up a new chemistry concept, Derf, in order to confuse incoming students. As juniors, AP Lang students constructed their own assignment of creating and performing a rap song to get out of writing another essay.
"We really are an engaged community that lives for a good joke," Julia Yellen '20 said.
The senior board even chose Safety Steve as their 2019 Halloween costume.
"I will remember that fun Halloween day on every Halloween for the rest of my life," Mr. Steven Cronkhite said.
Character Growth : 5/5 Stars
Any reflection on the past four years requires an acknowledgment of the incredible character growth that the senior class has undergone. Admittedly, entering as freshmen, we were ambitious, obnoxious, dramatic and extremely annoying. We talked over every presenter at assemblies, we scared off every new teacher and we put each other down.
"At the time, we didn't realize what we were doing, but we can reflect now that we did a lot wrong. We had a complete lack of respect for upperclassmen and teachers. We were entitled and not focused on school. As we have aged, I'm proud to say that we have grown up, at least a little bit," CJ Huston '20 said.
 With each progressing school year, we grew into our own and became free-spirited and mature young adults. Now, we can take part in an assembly without having to get lectured. Some might allow our initial impression on the Hill to define us, but looking back, we have and still continue to bring life and joy onto campus.
"I just scrolled through all of the girls in your class on TologNet and thought back to when you were freshmen," Ms. Sherrie Singer said. "You were and still are a truly distinctive bunch! I have always admired the abundance of talent in your class — theatrical/musical, artistic, academic, spiritual and athletic. You are Renaissance women! What I appreciate most about your class is your grace, as I think this will carry you through the most challenging of times."
With time comes growth, and these have been four years of solid growing.
"We have gotten good at being friends with everyone. We've gotten closer and less problematic. We can still be immature, but I commend our character growth as a whole," Lea Lopez '20 said.
Personality: 4/5 Stars
There's a certain je ne sais quoi about the seniors of 2020. Asking multiple teachers about our class left many fumbling for words, wondering how best to explain that inexplicable "it" factor.
"Seniors are fun, eager and have a personality for sure. They're so unique. I don't know how to explain it," Dr. Karla Callejas said.
Neither do we, Dr. Callejas. But we will try.
We have incredible dancers, actresses, fashion designers, singers, writers, engineers, earring makers, vloggers, TikTokers, health influencers, archaelogists, activists, equestrians, rowers, ping pong enthusiasts, comedians, speakers (and debaters) and even a former star of "Yo Gabba Gabba!," a song-and-dance show that featured monsters and a DJ.
When we asked various Tologs and faculty members to describe the class of 2020, they described us as ambitious, puckish, zealous, quirky, resilient, idiosyncratic, eclectic, absurd, rambunctious, outspoken and iconic.
"I'll remember the class of 2020 for when they had to make moles," Ms. Leslie Miller said. "Everyone chose women who were pioneers in their field. I feel that the senior class is interested in finding their own voice and wants to use their gifts and talents for the good of the world. I love them."
 From getting rained on at Six Flags to losing at our own spirit week, the senior class has smiled and laughed through it all. Quarantine is a rough way to end our time on the Hill, but if these four years have proven anything, they've proven that the class of 2020 has formed a community of young women who will stay strong and connected through even the most challenging of times.
View Comments(1)
About the Writers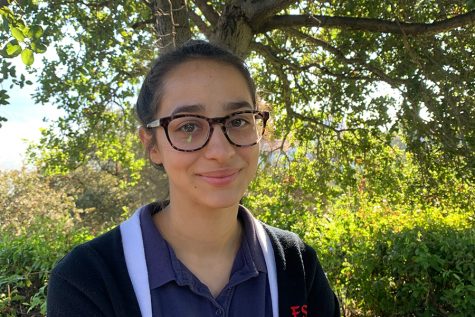 Nikki Godinez, Editor-in-Chief
Nikki is the editor-in-chief of the Veritas Shield. Her sophomore year, she was a section editor, and she served as managing editor during her junior year....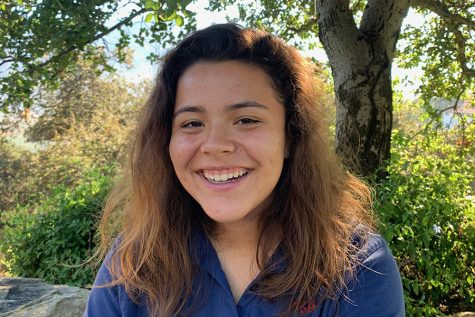 Cerys Davies, Editor-in-Chief
Cerys Davies is the editor-in-chief. She started writing for the Veritas Shield in 2017. Her sophomore year, she was the section editor and advertising...