Letter of Recommendation: Themed Dinners
Not too long ago, while mindlessly scrolling through the TikTok "for you" page, I kept seeing videos come up for themed family dinners. People walk into their dining room dressed as Joe Burrow, Audrey Hepburn, Ariana Grande — basically any celebrity, athlete or character from a movie that follows the theme of the dinner. To say the least, the families in these TikToks go all out. I've seen videos where families wear ball gowns, full faces of makeup and high heels. 
After watching maybe 50 of these videos, I was inspired to try this themed-dinner idea with my family of four. I chose the theme of athletes, since my whole family is obsessed with sports, and I knew they would be able to make a joke out of this idea. With the hope of making the dinner as extra as possible, I started the planning process: designing the invitation cards, decorating the dining room table and putting together an iconic outfit. 
Once I completed the blue paisley invitation cards with the necessary information, I dramatically delivered them to each member of my family. My older sister looked at me, took the invitation card and, after a few seconds of contemplation, laughed. I wasn't surprised by her reaction because she is so used to my little sister shenanigans. My dad, meanwhile, was thoroughly confused with what was going on, but after explaining the idea, he understood and was fairly excited to play along. My mom on the other hand was super excited and immediately started thinking of professional athletes to dress up as.
When I decided on the theme of athletes, I knew exactly who I was going to dress up as: Corey Seager. He is the shortstop for the Los Angeles Dodgers and has been my favorite baseball player since I started watching baseball. By dressing up as him, I wanted to do something to pay tribute to the season being postponed.  
Then, 6:00 p.m. rolled around, and the athletes made their way to the dinner table. My parents served a delicious steak dinner with potatoes and salad — perfect American food to accompany our theme. 
I dressed up as Corey Seager by wearing a Seager jersey, jeans and baseball hair ties. I also held a Dodgers towel. 
My dad, or Cody Bellinger, wore an oversized Cody Bellinger jersey, plain pants and a Dodgers hat while holding a Dodgers soft drink cup. He chose to dress up as Cody Bellinger because he was named the 2019 MVP. And, my dad just plain misses baseball season. 
My mom, an unnamed "Dodgers fan," wore a Dodgers t-shirt and a Dodgers hat, and she held a mini baseball bat. 
Then, my older sister wore a Jared Goff jersey and Rams athletic shorts. My sister dressed up as Goff, since she is a big fan of the Rams and he is the team's quarterback. She can't wait for their new stadium in Inglewood to be finished with construction. 
The creativity in the room was overflowing; we were all laughing about how many of us dressed in Dodger gear, as our family bleeds blue, as the Dodgers fans say, and we were happy to have the excuse to sport the fun jerseys while games aren't going on due to the pandemic. 
The outfits definitely added some spirit to the dinner, as we were discussing some of our favorite moments from past Dodgers and Rams seasons. The costumes made everyone laugh all dinner long, because it looked like we were headed to a Dodger baseball game, when really we were just headed to our dining room. 
My family always enjoys spending time with each other, but adding a theme so we could enjoy our favorite teams and players lifted our spirits. 
Overall, dressing up was a fun way to make an uneventful day a little more exciting. I fully understand the hype of this Tik Tok trend, and I recommend giving it a try with your family!
Leave a Comment
About the Writer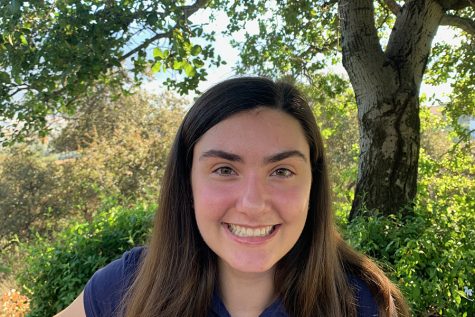 Katia Stavropoulos, Staff Writer
Katia Stavropoulos is a sophomore staff writer for the Veritas Shield. In her spare time, she enjoys playing golf, sewing, watching "The Crown" and...