The tea on Timothée Chalamet and the skinny white heartthrob
Their legs go on for miles, making up what seems like at least 75% of their body structure. Whether they're tall or not, they always look it because they're built like poles but have the structural integrity of a straw house. They're pasty white like sunscreen, something that is imperative when they go out into the sun, as all of them look like they haven't gotten any vitamin C for three summers. They're self-deprecating and lack machismo energy. They walk with a slight hunch, as if to hide from themselves. They apologize profusely for everything from saying something awkward during an interview to accidentally taking a fan's pen while signing autographs.  
Twitter often describes them as "smol beans," meaning both small in stature and small in their manliness. Yet, these are the heartthrobs of today. They're not the traditional heartthrobs — buff, assertive, loud — but rather anti-men. These are the guys who have their names plastered on viral tweets, the guys who do magazine spreads in turtlenecks instead of shirtless.
We used to hang posters of macho-men like Bradley Cooper, flexing their arms, posing in low-rise jeans, brooding. I remember being just seven or eight and going into my older cousins' rooms that were covered wall to wall with posters of Chris Hemsworth. In the early 2000s, Justin Timberlake graced the covers of Tiger Beat. People Magazine's Sexiest Man Alive list between 2000 and 2012 included George Clooney, Brad Pitt, Matthew McConaughey and Channing Tatum, the latter two having appeared in the cult favorite, "Magic Mike." 
Now, the wallpapers on our phone screens are of Timothée Chalamet and Harry Styles edited onto pastel backgrounds and smiling wide, happy, unintimidating smiles. Why are people our age, girls especially, suddenly turning to these unassuming guys, and what do these guys say about what Gen Z looks for in a celebrity crush?
For my friends and me, the person that began this transition to the new type of it boy was Ansel Elgort. His movie, "The Fault in Our Stars," came out in 2013. Everyone was instantly crushing, including my sixth-grade self. I liked him because his character was sweet and understanding and accommodating; he lacked a certain savior energy that always felt targeted toward all the insecure girls and women who convinced themselves they needed saving. And he had a cute smile. 
Ansel Elgort was just a warm up, though, for the man described in the paragraphs above, the official skinny white boy of the moment, Timothée Chalamet. He came to stardom in 2017 with his breakout role in the gay romance indie, "Call Me By Your Name." Chalamet spends most of the performance shirtless, parading the classic skinny heartthrob body. For his performance, he was nominated for a Golden Globe and an Oscar and won just about every rising star/breakthrough actor accolade that season. During the movie's press junket, he described his love for the film as well as his appreciation for his friendship with his co-star and on-screen lover, Armie Hammer. 
Chalamet is big-eyed. His face is feminine — long lashes, small nose, high cheekbones — though offset with sharp features; he's famous also for his hair, which he lets grow long and curly. He's androgynous and can wear feminine-leaning silhouettes and pull them off. Chalamet solidified his anti-macho-man status when he showed up to the Golden Globes red carpet wearing a glittery black harness, which quickly sent Twitter into a frenzy. When discussing it, he wasn't outwardly showy or flamboyant, but collected and aware, a little flustered and embarrassed by the attention his outfit garnered. 
"I find his awkwardness oddly comforting. Young people now really embrace the awkward," Nikki Ariki '20 said.
He is blatantly self-deprecating, often hiding his face in his hands during interviews. When Chalamet meets fans, he is adamant about giving each a hug, a picture and a kind word, along, sometimes, with a kiss with an audible "mwah" to accompany it. In September 2019, a video of him kissing a fan's "Call Me By Your Name" tattoo on the Venice Film Festival red carpet went viral, making him that much more loveable and endearing.
"[The attention Chalamet pays to fans] is attractive because it makes him more human," Lexy Gazmarian '22 said.
Like Chalamet, Harry Styles celebrates femininity. He sports frilly pussy bows, sheer tops, tiny sweater vests tucked into high-waisted flare pants, Mary Janes and, famously, suits in all different colors and styles from embroidered florals to iridescent purple to sequins. Styles wears rings on all his fingers and paints his fingernails to match his suit of the moment. At the 2019 Met Gala, he accessorized with a single dangly pearl earring. His "Lights Up" music video depicts him being physical and intimate with both men and women, seemingly acknowledging that sexuality is fluid and on a spectrum. Similarly to Chalamet, Styles takes great care in connecting with his fans and using his platform to spread a message. His trademark phrase is "treat people with kindness," a phrase plastered on all his merchandise and the name of one of his songs from his new album, "Fine Line."
"He just seems like such a nice person, so down to earth, and I feel like that's kind of rare to see," Emma Condit '20 said. 
Beyond Chalamet and Styles, there are a bunch of other hyper-feminine heartthrobs out there right now: Cody Fern from "American Horror Story"; Troye Sivan, the Australian singer-songwriter; Ezra Miller from "Perks of Being a Wallflower." And not only are these men not traditionally macho but many of them don't identify as purely straight. Troye Sivan is gay and Ezra Miller is queer. Sivan and Miller are unabashed about their sexuality and proudly embrace it. Their embrace of their femininity indicates a fresh and healthy relationship with their masculinity.
So why does Gen Z love these skinny, androgynous, queer-friendly white boys? 
Jocelle Lauron '21 thinks it's our generation turning our backs on traditional masculinity.
"We've grown up with the 'man's man,' and now we're tired. We want to see people who are more complex," Lauron said. 
In the day and age of Me Too and Time's Up and Harvey Weinstein and Louis C.K., guys like Timothée Chalamet are a breath of fresh air. They represent a masculinity that isn't rigid, that doesn't say you shouldn't show feelings, that encourages the idea that men can embrace a certain kind of femininity.
"Gen Z is all about body positivity and self-awareness now. So we're not gonna look for that classic, perfect image [of a man] anymore. It kind of went from avoiding the perfect image to the full-on other side of the spectrum: embracing imperfection," Ariki said. 
The "perfect guy" to me just four years ago was a guy who was undeniably, yet superficially, a boy; he was tall, fit, chiseled, powerful. And although none of those things indicate perfection in any sense of the word, they were the definition of perfect for so long. Now, young people are embracing the idea that macho-men represent something far from perfect. Muscles represent power, and loud voices represent condescension. Skinny, soft-spoken boys like Chalamet represent a hope that masculinity is heading in a new direction. 
"I think there's a growing awareness that the masculine ideal is inextricably linked to toxic masculinity, being patriarchal," said Ms. Holly Hunnewell, English teacher and moderator of Feminists in Action. 
This shift in teen heartthrob culture is an indication of a shift in society; it's like a mirror. There has been a significant effort lately to normalize non-traditional expressions of gender. Timothée Chalamet's fame is the product of that effort. He represents the idea that guys can be nice and still be attractive to women.
"To move forward and to sustain this trend, it's on us to continue to articulate that [non-macho guys] are not just a style but a social commentary," Hunnewell said.
View Comments(1)
About the Writer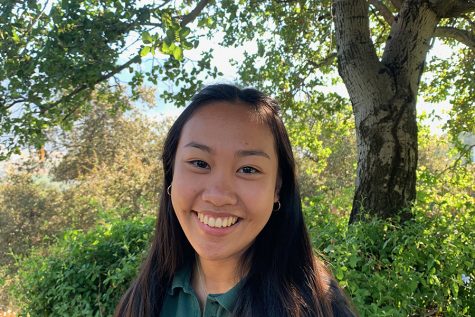 Lea Lopez, Staff Writer
Lea Lopez is new to the Veritas Shield writing staff this year. In her life outside journalism, she can usually be found watching and talking about all...