The Veritas Shield's pop culture guide for the apocalypse
Wake up. Google Meet. Eat. Sleep. Repeat. Part of the reason why this time is so difficult, besides the fact that we can't leave our house, is that we have all this time on our hands when we'd usually be hanging out with friends, stuck in traffic or at games and practices, and we simply don't know what to do with ourselves. Well, Tologs, don't fret, for the seniors of the Veritas Shield have put together a list of apocalypse-friendly pop culture recommendations to fill up all that extra time.
Kiara Hosseinion 
Because of my embarrassingly low attention span, I can't seem to get through a movie — or at least it takes me several days — so I turn to my favorite activity: listening to EDM music with my AirPods in. Recently, I have been jamming and attempting to shuffle to "On my Mind" by Diplo and Fisher's new song, "Freaks," which came out this March. Diplo's song has an 80s spunk that is contagious while still adhering to classic EDM beats. Fisher's new single, which only has about five seconds of lyrics, has a beat that will make you feel like you're driving in "Mario Kart." Whether I'm listening to these songs while walking my dog or simply vibing in my room, these two songs have managed to add some funk to my life to get me grooving through the day. 
Olivia Spina
If I'm being honest, Tove Lo's "Sunshine Kitty" album never gets old. Her Weeknd-type lyrics laid over a groovy 80s-style EDM beat is sensational, utterly divine. So, the best and only recommendation I can give during these dark hours is to get a speaker, go into your Spotify settings, turn on cross-fade, start at "Glad He's Gone," get in the shower and dance. There is no better way to get your mind off of the total mayhem that is the current state of the outside world than to shuffle and tango and turn and two-step to these funky upbeat tunes.
Georgia Kisob
When I first heard our country was going to face an epic battle with an airborne virus, I was immediately reminded of a nerve-wracking thriller I watched a while ago entitled "Contagion." This quick-paced film details a scary virus that sweeps the globe. After I watched this movie, I became hyper-cautious of germs. I was afraid to touch door handles, shake people's hands' or touch my face — which is almost exactly how I'm living currently amidst the coronavirus crisis. Considering this movie sprung to the top of the most-watched movies charts recently, it's clear that some people find comfort in this type of content. I have decided to rewatch this anxiety fest of a film and rehash my thoughts in a review for the Veritas Shield, so stay tuned.
CJ Huston
While my family has decided to play basketball and have family game night, my favorite thing to do so far is rewatch "My Babysitter's a Vampire." For those who haven't had the privilege of watching it or just feel like reminiscing about the good old days, I highly recommend it. The one downside to it is the fact that there are only two seasons (which completely frustrates me because so much more could have been produced). In case you forgot, Ethan and Benny befriend Sarah, who becomes Ethan's sister's babysitter. Sarah is a vampire, and together with Ethan and Benny, she fights the paranormal in the small town of White Chapel. They battle things such as mutant alligators to the sun goddess. The fact that I was entranced by this show as a kid makes me laugh, but it is fun to rewatch as an adult. So, find your time in your not-so-busy schedule to witness a Disney Channel classic.
Lea Lopez
It'd been a while since I'd found a TV show that I really, really, really loved until about two months ago when I arrived (embarrassingly) late to the "Silicon Valley" party. Aside from maybe "The Office," I'm usually always one for a good TV drama and honestly don't watch much else. "Silicon Valley" is the farthest thing from sappy and sentimental as it can get. It made me smile big and wide and laugh until my sides ached. The humor and writing is nuanced and clever and the actors deliver their lines perfectly. It's a mix of comedy that is niche enough to make you feel smart and highbrow while you're watching it but is refreshingly never above a good bodily function joke. It's also just fabulously quotable. This time in our lives is trying and scary and can easily put someone in a perpetual state of despondency. But I found that "Silicon Valley" gave me just enough to laugh at to feel better while keeping my brain engaged and working so as not to fall into a separate perpetual state of mindlessness. And if you're not absolutely in love with Jared and want nothing more than to give him a hug at the end of your binge, then… well… I don't know what to tell you. You must not have a heart.
Julia Yellen
If you are wishing to be transported to a different world this quarantine season, I recommend you watch "Midsommar," "2001: A Space Odyssey," "Interstellar," "Parasite" and "The Shining." These trippy masterpieces are made for the experience of watching. You will be on the edge of your seat waiting in suspense, but these movies are well worth the fear and confusion. Interpret these movies in any way you like. I refuse to give away plot points or anything that can ruin it for you. Enjoy.
I recommend these movies for anytime watching: "Frances Ha," "Perks of Being a Wallflower," "About Time," "Call Me By Your Name," "Easy A," "The Internship," "Can't Buy Me Love," "American Beauty" and "Ferris Bueller's Day Off."  If you're lookin' for a nice sitcom of sorts, somethin' to make you laugh, please watch "Community," "Rick and Morty," "It's Always Sunny in Philadelphia," "That 70's Show," "Arrested Development," "Nathan For You," "Fleabag" or "Drunk History." I highly recommend stoner movies like "Harold and Kumar Go to White Castle" and "This is the End." Finally, I really hope that you don't watch anything with Jennifer Garner in it. I weirdly can't stand her. 
Nikki Godinez
Two words: "Babylon Berlin." This is quite literally the best show I have ever watched in my life, and every single episode gets better and better. There hasn't been a lot of American media coverage, as it's a German show, but it's on Netflix and seriously needs to be watched by the masses. As a period piece reflecting the Weimar period and the chaos leading up to WWII, it surprisingly rings true for events happening today. If you are a connoisseur of culture, watch this and brag about it to your friends.
Cerys Davies
After several weeks of self-isolation, the most entertaining piece of pop culture I can get my hands on has to be Megan Thee Stallion's entire discography. Now, over the summer, I, of course, indulged in her "Fever" album, but only in the car, and the three times I listened, I was on my way to the gym. With the new release of her EP "Suga," though, all of my attention is now back on Thee Stallion. As I lie in bed, I find myself listening to the aggressive-yet-soothing sounds of songs such as "Pimpin" and "Captain Hook." This music is the perfect amount of wit and aggression that I need to get through this quarantine. The loud bass and Thee Stallion's perfectly overpowering flow culminate into the perfect form of entertainment.
Leave a Comment
About the Writer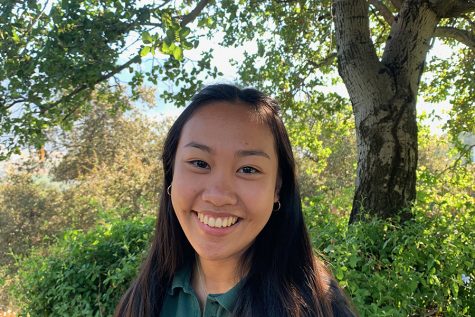 Lea Lopez, Staff Writer
Lea Lopez is new to the Veritas Shield writing staff this year. In her life outside journalism, she can usually be found watching and talking about all...