Governor Newsom issued a stay-at-home order to all Californians on March 19, instructing everyone to stay at home unless it is absolutely necessary to leave. Californians are still allowed to go to the grocery store, the bank, the pharmacy and other places that provide essential services. As quarantine becomes the new reality, many are left with mixed reactions. What do you think you'll get out of the experience of being quarantined? How does it make you feel?
Emilie Nunn '20
Things could be worse. They really could. But it doesn't make everything suck any less. I know, especially for seniors, it's a very frustrating and scary situation considering the possibility of us not being able to finish our senior year on the Hill and do all the traditions that come with it. It just sucks. Simply. But, it does give us time to reflect on ourselves and the people and activities that make us happy, which is nice. I know many of us have adapted new hobbies, from embroidery to learning to do a handstand to TikTok, which is pretty cool. It just really puts a lot in perspective. Crazy to think that what we're living through will 100% be in history books. The class of 2020 started with Trump's election and ends with a pandemic. The way of the world!
Mrs. Johnston
It's an adjustment, to be sure, and necessary to keep more people, those who are especially vulnerable, safe. I feel empowered by the idea that I am one of many, many people who have chosen to act in a way that promotes the welfare of everyone. It's invigorating to know that I/we are all part of something real, right now, that's bigger than any single one of us! (I sure do miss everyone, so keep in contact!)
Lilian Welwood '20
I have ordered blue light glasses on Amazon because the headaches after classes are over are terrible. But I have also found that for some classes I have had to rely more on myself to make sure that I understand the material more than I have had to in class with my peers. I miss group work and I miss class banter and I miss seeing other teachers in the hallway and I miss Omar and the other lunch staff and I miss hearing Thornton through the wall in our classes.
Sophia Cotman '21
The online learning really isn't that bad. It's a lot of screen time, but it really helps having the schedule. However, it sucks not being able to see friends every day and socialize. Also, I am a swimmer for the Rose Bowl, and all of our training has been put to a halt so it's interesting to do so much dry land (regular exercise). I'm wondering how the planned school events (sports, graduation, etc.) are going to go.
Nikki Ariki '20
I am ashamed of this, but originally I was one of those people who thought everyone was overreacting. Not that I didn't care, but I had so many friends who were obsessive about quarantining and not going out and I was just getting really irritated. However, I have recently taken to the quarantine life. Maybe it's the rain, maybe it's my renewed obsession with YA novels, but I no longer have any desire to go out. I see this as a rejuvenation.
Natasha Mertens '21
So far, staying home has been fine. It hasn't hindered my life in any way except for when I'm lacking in the snack department. I don't think it'll be long, however, until I'll be longing to see everyone in person again. I don't have any fear regarding the virus, but I hope that it's contained quickly. I've found myself with a lot more free time, and I haven't decided what to do with it yet. I'm sure that it's helpful for everyone else to have a bunch of free time. It's really too soon for me to say what I think I'll gain from this experience, though.
View Comments (2)
About the Writer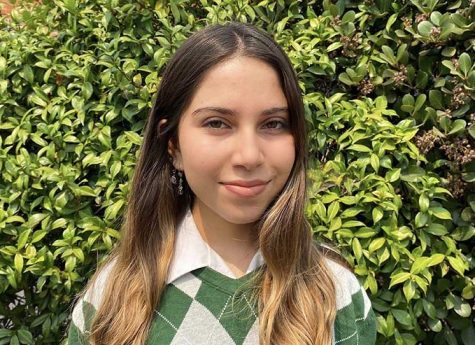 Angelina Arevalos, Community Editor
Angelina Arevalos joined the Veritas Shield during her junior year as a staff writer and now serves as the editor of the Community section. She enjoys...