Iggy's Garden: The not-so-secret garden that needs more recognition
At the entrance of Flintridge Sacred Heart, right next to his booth, our beloved security guard Ignacio Navarro, better known as Iggy, has been putting together a "little museum of art," as he calls it, since  December 2019. Currently, featuring 18 lucky adopted statues that have been saved from the ceramics studio, fill Iggy's garden. Some of the saved projects include a small clay chair, a cool-toned coral reef and a small, twisted black tree, which happens to be Iggy's favorite.
"I rescued it from the cottages. It was under the bushes and it has a little face on it," Iggy said. 
The garden started during the reconstruction of the Art Center. Iggy noticed that many beautiful plants were being taken out, specifically a small, green cactus. At the same time, nobody wanted to claim the unwanted ceramic and sculpture pieces made by students during the reconstruction of the Art Center. As a result, he rescued the abandoned cactus and placed it behind his Virgin Mary statue, a statue he brought from home. 
"They happened to take out these plants right before December, and December 12th happens to be the feast day of the Virgin Mary," Iggy said. 
With a little help from his friends', the gardeners, Iggy decided he wanted to build a garden right in front of his post. After planting the cactus behind his Virgin Mary statue, Iggy noticed that one of the school's neighbors had thrown out some gravel. Using this gravel, he started to incorporate gravel into his garden. 
Little by little, his garden has begun to form. 
"Everything here has meaning. As long as I'm alive and working here, I will be adding to my garden," Iggy said. 
The Tolog community is very impressed.
"I noticed his garden once when I was walking up the hill. I noticed it because it had a statue of the Lady of Guadalupe, which I thought was pretty." Alyssa Valdivia '21 said.
Ceramics teacher, Ms. Kent, believes the garden is a way for the school's community to come together. 
"I think Iggy's garden is a great example of his community mindset because he is always looking for ways to expand his relationships," Ms. Kent said.
Leave a Comment
About the Writer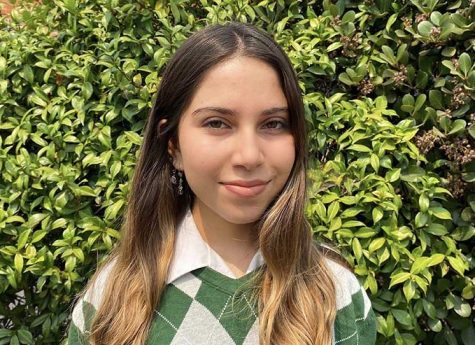 Angelina Arevalos, Community Editor
Angelina Arevalos joined the Veritas Shield during her junior year as a staff writer and now serves as the editor of the Community section. She enjoys...