'Past Forward': Behind the scenes of this year's dance concert
It's dark as you weave past other dancers to find your place on stage. The clapping has stopped and you can almost hear your heartbeat in the stillness of the auditorium. The lights go on, the music starts and, suddenly, you feel centered, serene, ready. You have done this so many times before that your mind goes blank and you let the music guide you. 
While the audience enjoyed the spectacle of this year's dance concert, "Past Forward," student dancers watched as months of their hard work came to fruition. This year, Sophia Wilson '21, Lia Ramos '20, Alexa Zuch '20, Jaden Jones '20 and Maia Driz-Diaz '22 worked together to create the individual pieces that made up this year's show. 
According to the dance company's student choreographers, the process of creating a dance is slightly different for everyone. Jones based her piece on unexpected inspiration. 
"I was playing 'Just Dance,' actually, and I heard the song for my piece, and I was inspired. I loved it. 'Bum Bum Tam Tam' is a fusion between reggaeton and rap, which are part of my two identities. I thought that creating a dance to it would help me with my self-identity and racial pride," Jones said.
For other students, the movement, rather than the song, is the building block for choreography. 
"I actually had one song picked out, and I was certain all summer that I was going to this song. I choreographed the dance, but then, because of certain events, I eventually changed the song but kept all the same ideas for choreography," Ramos said. 
Ramos and her partner, Driz-Diaz, collaborated this year on a piece called "The Blue Ribbon," a dance that blends modern and contemporary styles. Ramos describes their choreography style as "hard-hitting contemporary": a contemporary dance style with hard pop beats.  
Although a unique and amazing process, Ramos finds it hard at times to realize that choreography is her artform and she should express herself how she wants to. 
"It is difficult to learn to choreograph by yourself and not for the audience. [I] would be happy to please everyone, but [I] have chosen to take on this project to tell the story [I] want to tell," Ramos said. 
Student choreography gives girls passionate about dance the opportunity to collaborate with their classmates to create a concert that in every aspect is student-driven. 
"Ms. Jessie hosts workshops on students' progress, but she keeps out of the choreography process itself," Ramos said. 
Ms. Jessie wants her students to enhance their leadership skills by taking ownership of the concert.
"I wanted to give students the opportunity to lead and communicate with their dancers. The process of turning movement into verbalization and then having dancers translate your verbalization back into movement helps you understand your own work so much more," Ms. Jessie said. 
Dance Company member Emma Hartley' 21 enjoys the process of student-led choreography. 
"Seeing your friends' style and way of moving come to life is a really cool experience. You get to dance how they dance," Hartley said. 
Dance is not only an art form it is also a sport. To prepare for the concert, the girls have had Dance Company rehearsals twice a week since October, often balancing this on top of their other personal dance commitments. During tech week, dancers spend up to five hours a day perfecting their moves. 
"Competition season has begun at my studio, and because of tech week I have to miss a week of my studio rehearsals, which is stressful," Hartley said. 
This dedication to dance can be seen in every detail of the preparation for the concert. Whether it is ordering the right costumes that fit with the theme or finding the right lighting, a lot of work goes into putting on a FSHA dance concert. 
Leave a Comment
About the Writer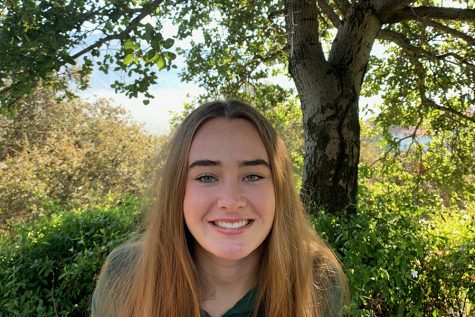 Jacqueline Fitzpatrick, News-in-Brief Editor
Jacqueline Fitzpatrick has been with the Shield for three years now and is the current news-in-brief editor. When she's not writing articles and seeking...