Kim Kardashian: Reality star, fashion icon and… lawyer??
Kim Kardashian is becoming a lawyer. I repeat: Kim Kardashian is becoming a lawyer. According to an announcement she made on April 10, 2019 in Vogue Magazine, Kim K has decided to place her focus on something other than her reality show and her business empire and step into the world of law. 
Kim K's journey into law started in 2018, when she played a role in the release of former drug trafficker, Alice Marie Johnson. After this experience, Kim started a four-year apprenticeship under the supervision of lawyers Erin Haney and Jessica Jackson so she can be on track to take the bar exam in 2022. 
You may be asking yourself, am I dreaming? Is this even possible? What has our world come to? I never thought I would see the day that Kim Kardashian started studying to become a lawyer, but this is not a dream. And, I think what Kim is doing is quite beneficial, because Kim will be able to couple her legal work, which hopes to devote to criminal justice cases, with her social media platform. This ensures that she will be heard and impact the world of criminal justice for the better. 
I know not everyone will agree with me and think that Kim is using her resources and fame in the right way. In April 2019, Vogue tweeted that Kim Kardashian was studying to become a lawyer, and many were quick to share their opinion on social media. Some were very positive about the matter and were all for her doing what she wants. One tweet read, "Good, she's already helped free someone. I hope she uses her power to free more people." Others were quick to judge and bring Kim down. One tweet, written in the voice that mocks Kim's, reads: "Your honor, I just think that's so rude and my client did nothing wrong. I feel so bad for her." This tweet makes a complete mockery of Kim's ambition and paints her as an air-headed celebrity with no intelligence. 
Kim Kardashian is not an air-head. In 2018, Kim served as a key part of then-63-year-old Alice Marie Johnson's case. Johnson had received a life sentence for a non-violent drug crime. Kim worked with Jared Kushner to help cut down Johnson's sentence and gain Johnson clemency. In fact, Kim went as far as meeting with President Trump to discuss the case. In the end, Kim accomplished her goal by helping support Johnson's legal work financially and by helping to persuade President Trump to grant Johnson her release from prison. 
Although tons of people online say they wouldn't trust Kim to be involved in their legal battles, I think it would be good to have her as a lawyer, due to all of her resources and connections. And who even cares that she has a reputation for her body and reality show when she's choosing to help people's lives? Isn't it a good thing to see a celebrity devote herself to helping others? People are always complaining about how celebrities are acting stuck up, so why are we giving Kim such a hard time about doing something selfless? 
Considering that Kim's dad, Robert Kardashian, famously defended O.J. Simpson, it does not seem all that out of the blue that Kim wants to become a lawyer. No one can say that it is impossible for reality stars to shift careers and do something serious. (Take a look at our president…) Kim is now educating herself, and those who are making a joke out of her ambitions will only motivate her to prove her detractors wrong. 
Kim's style may be different, and she may not have a degree just yet, but she's already proven herself to be helpful. I am pretty sure the people being helped do not care about who is helping them, even if it is the infamous Kim Kardashian.
Leave a Comment
About the Writer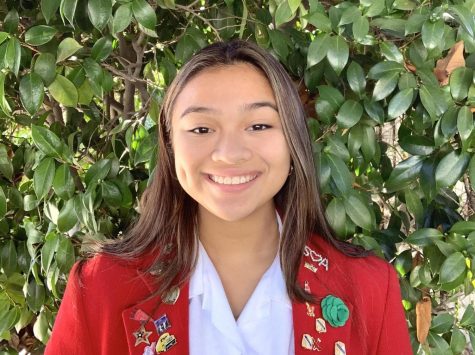 Caitlin Cruz, Editor-in-Chief
Caitlin Cruz is the editor-in-chief. She started freelance writing for the Shield her freshman year, became a staff writer her sophomore year and moved...