Marc Jacobs' spring 2020 collection stands out
Marc Jacobs' colorful and elaborate spring 2020 collection has fashionistas going crazy. As a new fan of Marc Jacobs, when I was watching the collection debut on the New York Fashion Week runway last September on YouTube, I freaked out. 
This collection really stands out, because it shows how Jacobs makes decisions without thinking about the opinion of the fashion industry. Jacobs makes his unapologetic individuality evident with his unique and unusual color pairings. This collection isn't trying to follow any trends; it is making trends. While a lot of big designers use color selectively, Jacobs isn't afraid to use as much color as he can to create striking collections.
This collection debuted on the runway at New York Fashion Week with a unique performance-style fashion show. Each model did a theatrical walk down the runway with fun hats, glasses, scarves and jewelry complemented by bold makeup and extravagant hairstyles. 
On the runway, model Kaia Gerber really stood out. Gerber's floral gown was the perfect example of a high-risk, high-reward outfit. Jacobs paired a flowy gown that extended from the top of Gerber's neck down to her toes with a scarf that had thin and transparent material. Gerber's hair was filled with pink and white daisies. Gerber modeled the ensemble with such grace and poise, which added a lot of personality to the Jacobs' clothing. 
My favorite look from this collection, though, was the light blue, short-sleeved sweater dress with a matching hat that Gigi Hadid modeled. This look stood out, because it was a classic, almost Coco Chanel-inspired outfit, vintage and classy, while the rest of Jacobs' looks in this collection were very new and modern. Although this look is vintage compared to the rest of this modern collection, this piece still complements the collection beautifully. Marc Jacobs included a classic look in this modern collection to stand out and show his designing versatility. The muted blue hat makes the look so Marc Jacobs, as he likes to add fun accessories. 
Compared to the other spring 2020 collections that debuted during New York Fashion Week, Jacobs' collection was by far the most colorful. Brands such as Marina Moscone and Dion Lee were extremely bland with their color and fabric choices in comparison. Jacobs is making a statement in the fashion industry by mixing unusual patterns and neon colors that wouldn't normally be worn together. Marc Jacobs is just expressing himself, and his message from this collection is to be who you are. 
Those who aren't interested in fashion might see this collection as bizarre and even ugly because of the many colors in the collection that usually aren't put together. Although I understand the point of view, the bigger point I see is that the bright colors in the collection exemplify happiness, joy and personality. 
After seeing this collection, I had to embrace the color, and I put together a Marc Jacobs-inspired outfit. I pulled out my neon pink Marc Jacobs snapshot belt bag, my bright pink floral sweatshirt and my bootcut black jeans. I went out the door to go to Melrose Avenue with my friend, where we went into the Marc Jacobs store. It was pretty awesome for me to visit the store wearing Marc Jacobs, because I was around other people with a similar fashion interest. Wearing this outfit made me feel like I was truly expressing my happiness to others. 
Leave a Comment
About the Writer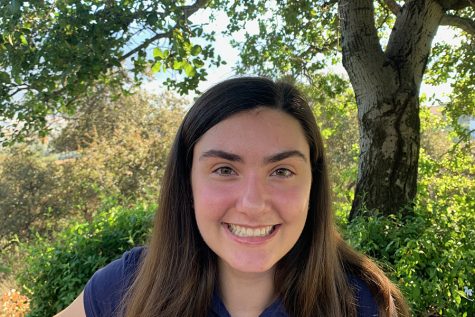 Katia Stavropoulos, Staff Writer
Katia Stavropoulos is a sophomore staff writer for the Veritas Shield. In her spare time, she enjoys playing golf, sewing, watching "The Crown" and...