On January 26, 2020, Kobe Bryant, Gianna Bryant and seven other people were killed in a fatal helicopter crash. Bryant, who spent his entire career playing for the LA Lakers, had millions of fans worldwide. Los Angeles and the rest of the world was in shock, and the Staples Center is now adorned with memorabilia such as jerseys, sneakers and flowers as a show of respect. Angelenos had a special connection with the basketball icon. 
The Veritas Shield reached out to Tologs to see how they were handling the news.
Iza Mah y Busch '20
My initial reaction was "Are you joking?" which just goes to show how much disbelief I was actually in. When my dad and I discussed it, he said that Kobe felt invincible to him. To me and my family, Kobe was a star who almost felt inhuman. I grew up going to my grandparents' house every Sunday during the basketball season to watch Laker games. On top of that, my dad would always tell me to have the focus and concentration of Kobe, even if I was working on something like art. It's just weird, because I was never a Kobe fan, but he was such a big part of my family life. The rest of the day [after I heard the news], I felt empty. A strange reality check of the fragility of life.
Allison Risha '22
I was very devastated by the news. As a young athlete growing up, I always looked up to him, even though I don't play basketball. As a teammate, I could not imagine losing one of my fellow members and the pain that Gigi's teammates are going through right now. I will always remember Kobe as an inspiration to me to give my all on the field while living every day to my fullest.
Kristen Asmar '20
Ever since I was younger, I've idolized Kobe. Going to his games, experiencing the buzz in the stadium when he dunked, smiling with my dad over our shared awe of Kobe's pure talent — he was an inspiration to me. He is one of the major reasons why I play basketball. My brother, Robbie Ray, and I would bond over our love of Kobe. I remember sitting in my bed reading when I got the text from my dad: "Did you hear about COBE?" At first, I had no idea what he was talking about, because he misspelled Kobe's name, but as I realized what my dad could be talking about, my stomach dropped. I opened Google, and there it was, posted 18 minutes ago by TMZ, that Kobe had passed away. How could Kobe, the man who created the Mamba Mentality and seemed like he was above human fragility, be dead? I texted my brother after and asked him if he knew, and when he said yes, I knew it was real. Kobe wasn't just some LA icon who was untouchable by fans; he felt like a major part of the LA community. A thing that binds us. And now he is just gone. But what isn't gone is his legacy. Kobe will forever live on in the hearts of anyone who does sports and puts value in hard work and determination. He pushed himself to thrive in his vocation, family life and other businesses, showing others and myself that we are not made for one purpose.
Ellie Lund '21
I was shocked. I actually play volleyball against Kobe's oldest daughter, Natalia, so I have seen the Bryant family MANY times. For almost three years, I would see their family at almost every tournament. I would see them so often that it got to the point where seeing Kobe was normal and not as exciting. Just a week before his passing, I played on the court next to his daughter and saw him supporting her. Most celebrity deaths that happen are sad for me, but this one was different, because he was part of my volleyball community. For me, Kobe was tangible and real, not just an image on a screen. I also got to see Kobe be an amazing dad. He was at every one of Natalia's games, constantly cheering her on. Even though I did not know Kobe personally, I got to see the side of him that wasn't posted on social media. What I saw was an amazing husband, father and person.
Peyton de Jardin '22
When I first found out, I was devastated, and I thought it was a hoax. I was in shock for a while, because I had just seen him six days earlier at my volleyball tournament. I would see him around twice a month, and it was always to exciting. I remember saying to Ellie Lund at the tournament, "Next time I'm gonna go up to him and ask him about getting Cal volleyball Kobes." One time I made eye contact with him, and I thought I was going to die of excitement. I will remember Kobe as the loving and caring father I was fortunate enough to see him as.
Ferryn Drake '20
At first, my family didn't believe it. We were skeptical of its authenticity, since the first news source to post it was TMZ. But as more articles poured in, there was no choice but to believe it. My family has a special connection to basketball, specifically the Lakers. I mean, my family debated for so long last year whether or not we should name our puppy Kobe or LeBron. It just didn't feel real, because I had just seen Kobe cheering on his daughter a week earlier at a volleyball tournament. It is safe to say that he meant so much to so many people. His legacy of the Mamba Mentality is something I have personally seen emphasized in ways outside of basketball. Number 24 will truly live on forever, and I can't imagine the pain his family and the families of all the victims are going through right now.
Leave a Comment
About the Writers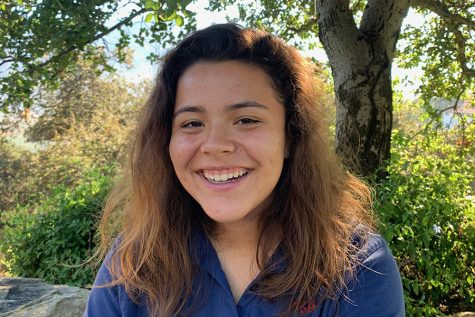 Cerys Davies, Editor-in-Chief
Cerys Davies is the editor-in-chief. She started writing for the Veritas Shield in 2017. Her sophomore year, she was the section editor and advertising...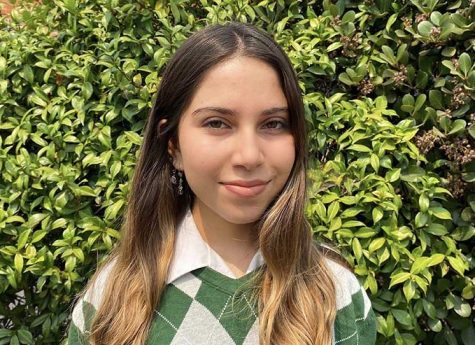 Angelina Arevalos, Community Editor
Angelina Arevalos joined the Veritas Shield during her junior year as a staff writer and now serves as the editor of the Community section. She enjoys...