Señor Fish? More like Se[NO]r flavor
I grew up on seafood, sun, and yacht rock. My favorite memories feel like a piece of sunshine lodged in my soul — sitting on the warm sand after a refreshing shower, the cool evening sun beating down on my body, exhausted from swimming in the ocean. They sound like Steely Dan's "Dirty Work" overlapped with the mindless chatter of adults, waves crashing not too far off, smooth and rhythmic.
Most importantly, though, my favorite memories taste like fish tacos so fresh out of the frier that the batter, crispier than leaves on an October afternoon, burns my lips, leaving an oily residue that looks like lipgloss and tastes like summer. With each bite, I melt deeper into the sand below me. 
From this love grew an obsession. Whenever I go out to eat, the first thing I look for on the menu is fish tacos. If the restaurant serves them, I call the waiter over, and I'm ready to order. End of story. 
After years of taco consumption, I've learned what I want my taco to be: freshly fried (never grilled), corn (not flour) tortilla, crema and salsa separate (not mixed into one sauce), lots of lime and the ocean in sight. Simple enough. But, since I don't live in Isla Vista, and it's not always hot out, and I don't want to drive 10+ miles every time I want a fish taco, I've tried to find local replacements that are at least somewhat comparable.
The other day, I put on my Anthony Bourdain-tinted glasses, drove to Señor Fish in South Pasadena and ordered two fish tacos. I'd been looking for an alternative for my go-to taco place, Baja Cali, which had once been great but has lately hit the skids. Walking up to the door, friend and fellow pro bono food critic Nicole Noriega '20 noted the "B" health rating hanging in the window. But, after two years with B-rating-loving English teacher Mr. Andrew Eisenstein, I blow it off. Health ratings are just a capitalist scam and are no reflection of the restaurant itself. 
I barely have one foot in the door, and I can already tell you these tacos are going to be bad. Taylor Swift is playing on Kiis FM, not The Doobie Brothers. The room — black floors, black walls and one painting of a cartoon fish — smells like bleach. But, hey, I'm no interior designer. I just want a taco.
We order. $3.50 for a single taco… I just traded 10 whole dollars for two tacos and a small Coke. All I can think is that this better be some eyes-rolling-to-the-back-of-my-head, drooling-for-a-second-bite, flavor-drowning-each-and-every-tastebud kind of taco. 
Anticipation builds as I watch as fish taco after fish taco comes out of the kitchen en route to being devoured by the people sitting around me. Finally, my tacos come out. I take one look at those beauties: a fat piece of fried fish on a corn tortilla topped with salsa and crema (separated, how I like it) and the perfect amount of lettuce. I topped those babies off with some lime and was ready to chow down harder than ever before.
As I took my first bite, I audibly chuckled. It's funny just how bland $10 can taste. I just got played, and not only did this taco taste like watered-down bread but it wasn't spicy or crispy or messy or even close to the piping-hot batter that once left my lips glossy. The only thing I could taste was the lime I added myself!
I gathered myself and went to grab more salsa, hoping that the crema was just overpowering the heat and flavor of the salsa and fish. Boy, was I wrong! With each bite, my disappointment grew. 
Silenced by sadness, I ate my $10 tacos and drove home knowing I'd never return to Señor Fish ever again. Señor Fish will live on in my memories, but not the same way Bear Flag Fish Co. or Chronic Taco or East Beach do. While I remember these companies for their ability to create blissful moments, Señor Fish will exist in my mind only to help me recall that we cannot know the perfect fish taco without knowing one full of flaws.
Editor's Note — As soon as we hit publish on this, we'll be walking down to the SAC to try the Hill's own attempt at fish tacos. Will they be crispy? Will they form memories that will last a lifetime? Maybe!!!
View Comments (1)
About the Writer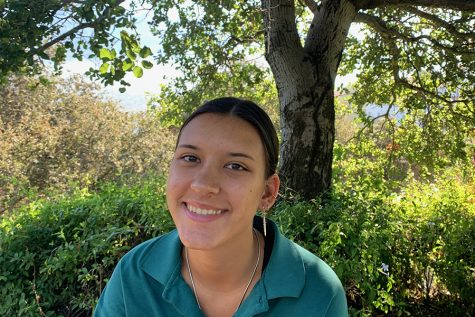 OIivia Spina, Staff Writer
Olivia Spina is a staff writer. When she is not working for the paper, she can be found making pasta and channeling her Italian heritage in various other...