LA's The Smell: An affordable way to rock out
Downtown LA's The Smell is a low-key punk-rock venue that is the very portrait of teen angst. If I had to describe the embodiment of teen angst, I would say it's a phase most teenagers go through that is full of stress and anxiety, bad moods and emo music. 
A few weeks ago, on a Saturday night, I found myself lying in bed, scrolling through Instagram, bored as usual. After hours of brainstorming things to do, I remembered that my friend had recommended The Smell to me. I saw on the venue's website that the bands Gymshorts and Beach Goons were playing, and I quickly put on a tank top and pants, eager to discover something new.
As soon as I arrived, I noticed a sea of blue, green and orange hair that filled the alley. Every girl I saw had a heavy ring of black eyeliner and dark, grungy lipstick. Though I put on eyeliner and lipstick on the occasional weekend, on this night I mistakenly wore a pink, shimmery lip gloss. The one day I decide to go to the coolest place in downtown LA, I forget to put on makeup and my usual collection of vintage jewelry. As badly as I wanted to go home and change, I pulled myself together and promised I would redeem myself the next time I came. 
At first, the entrance was difficult to find since The Smell had no visible signs or doors. After asking a nearby parking lot attendant, I realized I was standing in front of the venue the whole time. The door is small and pushed into the wall rather than on the exterior. I spotted a couple of guys and decided to ask them why it was so empty. Apparently, the doors weren't supposed to open until 8, and it was only 7:30. The still, smothering darkness distorted my perception of time. I was sure I had arrived at 9. 
Right after I found out the doors opened at 8, I leaned against the wall and mentally prepared myself to pretend to be on my phone for the next 30 minutes. A homeless man started talking to me, and during our short, uncomfortable conversation, I heard a "pssst." It was the band's guitarist asking if I was okay and if I wanted to wait with them. I immediately replied yes, and they began to tune their instruments. 
The band went inside and started setting up, and soon, more people came, forming a line. One comment that stood out to me was from a teenage girl dressed in layers of black oversized blouses who claimed her lollipop tasted like cigarettes due to her friend's cloud of smoke. From this point forward, I knew the type of crowd The Smell attracted. 
I walked in as soon as the doors opened, ready to pay $5 as instructed by the website. I quickly realized that I only had $4, which added to my embarrassment. The guy who collected the money generously insisted on giving me the extra dollar, and I was in. He was young and laid back, wearing a dark green beanie and dark blue jeans. The gesture was kind-hearted, leading me to believe the people here cared about community. 
While the band was setting up, the crowd hung out by ragged couches, adding to the punk aesthetic. There was a snack bar filled with free candy and $1 coffee, but tips were appreciated. I also noticed a box labeled "free stuff," which consisted of one singular shoe. 
The band started playing, and their music was certainly aggressive, which I enjoyed since I feel like punk is not a genre that most bands choose to pursue nowadays. I grew up listening to the Misfits and the Ramones, so this wasn't anything new to me. 
Three to four bands play each night, which is nice, because if you don't like one of the bands, you can always wait around to hear the next one. The crowd formed a pit that actually seemed fun compared to moshes at rap concerts. Those kinds of moshes are usually sweaty and dangerous, since there's usually an overwhelming amount of older people. However, this crowd was smaller, younger and had more girls than guys. Although letting loose seemed fun, I preferred to stay near the wall, continuously bobbing my head to the rhythm of the music. 
What I loved most about the people there was that they were allowed to dance in as carefree a way as possible without the feeling of judgment. Both guys and girls were headbanging forcefully, an essential dance move for punk music. Others closed their eyes and moved their arms around in a wavy motion, very much vibing with the music. People danced as they would alone in their room, and this made my day. 
Although the venue doesn't have an age limit, the age range I noticed was from teenagers to people in their early twenties. But don't worry, there was a token thirteen-year-old, who seemed to be having the time of his life. 
All in all, I really like The Smell because it provides a venue for young musicians to showcase their work. Grab some friends, maybe some eyeliner and go check it out! I guarantee a unique experience.
Leave a Comment
About the Writer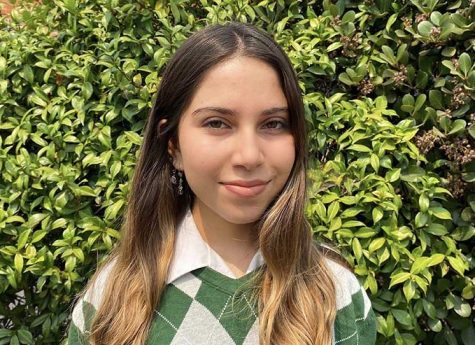 Angelina Arevalos, Community Editor
Angelina Arevalos joined the Veritas Shield during her junior year as a staff writer and now serves as the editor of the Community section. She enjoys...