'High School Musical: The Musical – The Series': Catchy songs, lots of drama and at least one very cute boy
"High School Musical: The Musical: The Series" is definitely, as Gabriella and Troy sing at the beginning of the original movie upon which the new TV series is based, "the start of something new." In this series, which airs on Disney+, a group of teens put on their own theater production of the original "High School Musical" movie.
This obnoxiously named mockumentary is set at a fictionalized East High, the same school in Salt Lake City where the original "High School Musical" movies were filmed. Nini (Olivia Rodrigo), a rising star in the theater program at East High, auditions for the role of Gabriella in her school's production of "High School Musical," directed by the new drama teacher, Miss Jenn (Kate Reinders). Nini's ex-boyfriend, Ricky Bowen (Joshua Basset) hates musicals but has decided to try out for the role of Troy Bolton in an attempt to win Nini's heart back. Ricky, however, finds winning her heart back to be rather difficult since she has moved on from him to the co-captain of the water polo team and senior class treasurer, EJ Caswell (Matt Cornett). EJ is also a major theater geek who is vying for the role of Troy against Ricky. All of these conflicting feelings lead toward the tumultuous production of "High School Musical."
I went into watching this show wanting to hate it, because nothing could ever be as good as the original. I wound up liking it a lot more than I expected, and I'm not alone. While I figured that the series would be marketed toward a younger audience, many of my fellow Tologs have started watching it. 
"I was really surprised by how much I ended up liking it," Isabella Durand '21 said. "The songs were super catchy and it just made me want to sing along with them."
Tatum Anderson '21 focused more on the characters than on the music.
"Ricky Bowen is pretty attractive, which definitely drew me in," Anderson said. 
I like the series, because it uses various themes from the original films while making something new at the same time. Although I do have quite a few complaints (Miss Jenn does not look like a millennial, and the bleeped out cuss word in the trailer seems a bit odd), this show is honestly rather enjoyable, especially for a "High School Musical" fanatic like I am.
Most enjoyable, however, is one cute boy in particular. 
Joshua Basset stole my heart the moment he first spoke in the first episode of the show. Who wouldn't fall in love with a tall, scrawny white boy with curly, brown hair? His character, Ricky Bowen, is just so easy to love and feel for. Basset's fantastic guitar-playing and singing skills definitely sealed the deal for my love for him. Even though he does have quite a few stupid boy moments (Nini tells Ricky that she loves him through a slightly cringey song, and he tells her right after that they should take a break), Basset plays Ricky in such a way that any hormonal teenage girl would want to marry him. If you, dear reader, are still not interested in watching this show, at least use my beloved Ricky as a reason to start "something new."
Leave a Comment
About the Writer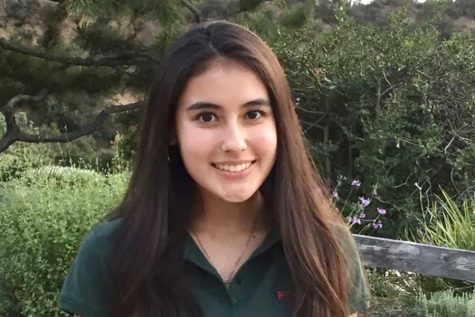 Carisa Joyner, Social Media Editor
Carisa Joyner joined the Veritas Shield junior year as a staff writer and is now the social media editor. Aside from writing articles relating to her life,...