Charli XCX forms a band. The public doesn't approve
They have it all. The platform. The connections. The image. And, of course, the talent. But what's missing? Why is there no buzz about Nasty Cherry, the four-piece all-female band created by Charli XCX? Usually, I am extremely aware of pop culture happenings like this because of Twitter and such, but I had not heard of this band until Netflix recommended its show, "I'm with the band: Nasty Cherry." Nasty Cherry had not crossed my newsfeed once, and this intrigued me, because not only do I love Charli XCX, but I love a good girl band. I wanted to figure out why no one was talking about them.
"I'm with the band" is the Netflix docuseries that follows XCX and the four lucky strangers that she chose to form Nasty Cherry. Charli XCX, a successful pop star and gay icon, attempts to play the Simon Cowell role by creating a band out of strangers, the way Cowell did with One Direction. The show follows the band's journey from their first encounters with each other to the release of their first single, "Win." 
The four members include Gabi Bechtel, Chloe Chaidez, Georgia Somary and Debbie Knox-Hewson. Not only were these four girls strangers but some of them didn't even have experience in music. While Chaidez had experience with her own successful band, Kitten, Bechtel had never even sung before and Somary had never even picked up a bass until XCX called. XCX chose these individuals because she knew they would look good together and saw potential in them. The catch, though, was that, while they might look good together, there was no guarantee that they were going to connect as a band, let alone produce good music. 
Charli XCX basically throws these girls into a house and expects them to walk out being the biggest stars in the world. The entire show is centered on these girls trying to make it in the industry under the guidance of Charli XCX. They have access to all of her connections and resources, but the members just didn't seem to click. 
Now don't get me wrong, the show is entertaining because of the interesting dynamic between the girls. There is this whole conflict between Somary and Chaidez having to do with the fact that Kitten is still a working band and Chaidez just isn't as committed to Nasty Cherry as the other band's members. There is also this tension between the girls that are experienced musicians and the ones that aren't, which is one of the main reasons that the show is entertaining but also one of the main reasons for the band's lack of success. 
According to Spotify, Charli XCX has over 10 million monthly listeners, while Nasty Cherry only has a little over 140,000 listeners. XCX has the ability to reach all of those people with her music, yet very little of her audience has caught onto Nasty Cherry's sound.
While the show has its entertaining moments, the girls in Nasty Cherry are difficult to connect with. Making people connect with you is one of the main reasons artists are successful, and they just don't do it for me. I was entertained through all six episodes, but I didn't fall in love with the band members like I thought I would. The docuseries made their friendship seem disingenuous and forced, which made me feel less passionate about their music and less connected to them as people in general. 
Going into this show, I wanted to love this band. I love Charli XCX and everything she does. And, I have a soft spot for all-female bands, especially when they play their own instruments. And here was this whole series that devotes itself to all of the behind-the-scenes work that I am a sucker for. But after a few episodes, I found myself waiting for that special moment, the type of moment similar to when the audience of "Justin Bieber: Never Say Never" finds out that Justin Bieber sold out Madison Square Garden in 22 minutes. 
The equivalent moment in Nasty Cherry terms is when they sold out The Moroccan Lounge in Los Angeles, which is a venue that only holds fewer than 300 people. And the moment just didn't have the same effect. 
The music, however, is the most disappointing part. After investing six episodes of my life into Nasty Cherry, it was quite heartbreaking to listen to their mediocre music. Tracks like "Win" and "F*** Modern Love" are the only standout songs. You would think that because they have the advantage of showing their audience the behind-the-scenes part of making music, people would be more attracted to it, but that is not the case.
The rest of their EP, entitled "Season 1," is filled with songs that sound like they have been done before, a standard attempt at pop punk that's less organic than 5 Seconds of Summer. Most of their tracks sound like poorly produced house beats with a single guitar riff intended to let the audience know they are influenced by punk even as the most superficial lyrics struggle to convey any kind of meaning. None of their lyrics really make sense: "I've got brain soup when I'm with you, been looking at your hair for so long… cause everything you do is so wrong."
There is a reason that no one is talking about Nasty Cherry on Twitter, a platform that praises the floor that Charli XCX walks on, and that is because of the band's music. They have all of the ingredients for success: the image, the talent and the platform. The only things that they are missing are some key aspects of success: good music and a dedicated audience.
Leave a Comment
About the Writer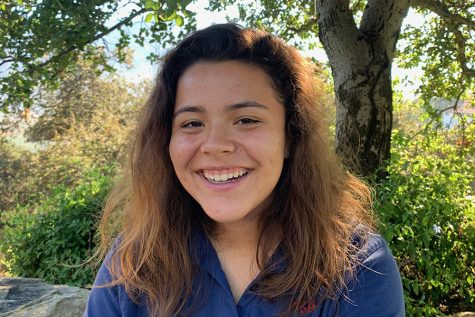 Cerys Davies, Editor-in-Chief
Cerys Davies is the editor-in-chief. She started writing for the Veritas Shield in 2017. Her sophomore year, she was the section editor and advertising...