The must-watch influencers of YouTube
In a world filled with instant messages, constant posts and numerous vlogs, we can often find ourselves overwhelmed and lost in the digital age. With new drama sparking every day, it can be hard to catch up on our favorite influencers. To help Tologs navigate the vast sea of internet culture, we accumulated a list of influencers we think are most relevant today. 
Olivia Jade
Dote-sponsored trips to Fiji, Drybar appointments, driving down Melrose Boulevard to grab a turmeric-infused kale juice and pretending to row crew for the University of Southern California — Olivia Jade, a 19-year-old YouTuber and social media influencer, is known for her posts about her lavish and privileged lifestyle. Jade gained traction in high school (Marymount High School in Bel Air), racking up a little over a million subscribers. In her posts , Jade documents everything from clothing hauls of high-end brands to SoulCycle class to getting a pressed freeze in her Range Rover.
Jade, however, recently got caught in a college admissions scandal where, in order to be admitted to USC, her parents paid for her to pose as if she was on the rowing team despite her never having rowed. Fans and the public who had once adored her for her indulgent lifestyle turned against her immediately. Jade went MIA, turning off all comments on all platforms and disappearing for nine months. It wasn't until recently that Jade came out with a video where she very vaguely said that she could not release information and then gave a half-hearted apology for her long absence.
Whether you still love her or not, Olivia Jade is not in hiding anymore. Just today, she posted a morning selfie in bed saying, "I hope you have a beautiful day." Has Jade turned a new leaf or is this just a facade? — By Kiara Hosseinion
Jeffree Star
A makeup reviewer and owner of Jeffree Star Cosmetics, Jeffree Star is a major social media influencer. Maybe you have seen his vault closet tour that features a ridiculous amount of expensive clothes, jewelry, handbags and sunglasses. Or perhaps you have seen his bougie and over-the-top vacations, cars and outfits. If you tune into his YouTube channel, you will probably see him wearing a full Gucci tracksuit, sitting in a completely pink room holding one of his Pomeranians in one hand and a Red Bull in the other. Beginning every video with "Hello everybody and welcome back to my channel" and a wave of a wand, he intrigues and inspires 16.7 million followers. Jeffree gets products from both large and small makeup companies and reviews the quality of their products. So, before you get your next makeup product, make sure it is Jeffrey Star approved. — By Liza Pyle
Tana Mongeau
With her yard-long lashes, fully caked face and clearly ribless torso, infamous YouTube star Tana Mongeau often appears nearly naked on her feed for her 4.9 million Instagram followers. Broadcasting from a mostly unsupervised youth in Las Vegas, Mongeau founded her YouTube career on storytimes and scandals. After just three successful years full of videos with titles like "I GOT ROOFIED AT A PARTY" and "I STOLE A CAR AND ALMOST CRASHED IT," Mongeau kicked off summer 2018 — and what many thought would be the end of her career — with the utter disaster that was Tanacon, the challenger to VidCon. The event, which was planned around an expected crowd of 5,000, wound up turning down many of the 20,000 fans who tried to attend, who put $65 down and found themselves covered in third-degree burns from waiting outdoors in a six-hour line. Only because these are the kinds of scandals she based her career on was Mongeau eventually able to play off this fiasco to her advantage. Now, over a year later, Tana Mongeau has not only secured her financial future with serious sponsorship deals but also her romantic future, marrying the equally infamous YouTuber Jake Paul. — By Olivia Spina
Claudia Sulewski 
Like every other relatable teen girl YouTuber, Claudia Sulewski started with vlogs, hauls, get-ready-with-me's, and what-I-eat-in-a-day's. But slowly, with each "Hey guys," she started to evolve beyond typical girly YouTube content into a more mature and more well-rounded person. I think what makes her different from her other 23-year-old YouTuber peers is that she grew with her content. Rather than making DIYs and back-to-school videos forever, she started speaking and acting more maturely and started making content more relatable to her older audience. I started to watch Sulewski two years ago, when she first moved into her new Los Angeles apartment. Her videos during this era mostly consisted of apartment tours, home decor inspiration and beauty tutorials. She showed us the progress of her interior design skills on her vlog channel while also making lookbooks and health videos. 
Then, after two years of making videos about developing the apartment, she said she was moving. Apparently, she has been in a serious relationship with Finneas O'Connel, an acclaimed musician who just happens to be the brother of Billie Eilish, the famous 18-year-old artist. Suddenly, her videos have become even more interesting. Now, she goes to concerts, festivals and award shows in which she documents her experience for her subscribers. Claudia Sulewski is definitely a YouTuber to watch, because she has an angle into the industry that not all get to see. — By Georgia Kisob
Twaimz
Issa Christopher Tweimeh, otherwise known as Twaimz, was a hit sensation on the beloved app, Vine. Once Vine died, Twaimz switched over to YouTube and currently has 4.22 million subscribers. Soon after creating hilariously famous videos such as "THE CRUSH SONG" in 2015 though, Twaimz fell off the face of the earth. Many of his followers quickly became concerned, and Twaimz stated that he was taking a break from social media for his mental health. However, in 2019, the man who is known for loving llamas returned to YouTube and has since acted as if he never left. He now prefers to go by Issa instead of Twaimz, because he felt like Twaimz was a character, and he wanted to be his real self in front of the camera. On Instagram, Twaimz now has 2.5 million followers and is followed by other influencers such as Shane Dawson and Ethan Dolan. Despite his long absence from social media, Twaimz has a following and continues to gain fans across the world. — By CJ Huston
Drew Phillips
Drew Phillips isn't just one of those YouTubers that grew in popularity during the so-called Viner Invasion of 2015. He is so much more. His brand is one of postmodern irony, utilizing his unique sense of humor to create vlogging content about his life in Los Angeles. Drew is so ironic that he comes off as genuine. As you scroll through his channel, every thumbnail is edited intensely with face and body filters, making him and his friends look non-human. Every title is in lowercase, as his brand is very much a rejection of typical YouTube norms. You see certain titles on his channel like "becoming a bag of Hot Cheetos," "I got a mullet installed," "living in a tesla model 3 (van life)," "proposing to my cousin with a lip tattoo (it's legal where we live)," and "Turning Myself into a RedBull Energy Drink." 
All of his social media — YouTube, Instagram, Twitter, TikTok — produces off-beat and seemingly low-effort content as a form of criticizing influencers' tendency to capitalize on internet trends instead of presenting their raw selves consistently online. His videos are like a reality show that an alien would make about what they think life on earth is. There are excessive random sound effects and uncomfortable moments, but he is not cringey, because he is self-aware, almost making fun of those that think his content is serious. 
To put things in the words of the fans who can't stop describing him online, Phillips "hunches his back, sleeps with cockroaches, has no bald spot, forgets how to do math, does a lot of things backwards, wants to learn how to do jumping jacks, holds current world record for most worms in brain and looks like Gypsy Rose." Absolutely iconic. — By Julia Yellen
Emma Chamberlain
At 18, Emma Chamberlain is arguably the most famous influencer from Gen Z. She first started in June 2017 as a YouTuber living in the Bay Area, going to school, hanging out with friends, drinking black coffee and making car vlogs for her rapidly growing channel. By June 2018, she had 1.5 million subscribers and had moved to LA, into an apartment of her own, to continue making videos.
Since moving, she has reached 8.5 million subscribers and become an ambassador for Louis Vuitton. Her Instagram feed consists, in addition to the occasional selfie, almost entirely of pictures of herself posing, usually first in a modelesque pose followed by "quirky" shots of her making strange faces or contorting her body –– always "relatable." She tries to maintain her relatable brand both through her YouTube videos and her Instagram, although, while her outfits once consisted of retail Urban Outfitters accessories, they now consist of expensive jackets and designer bags. She is as much of an influencer as an influencer can be: never candid, her feed sprinkled with a healthy dose of spontaneous solo trips to New York and front row invitations to elite runway shows. Emma Chamberlain's Instagram is a comprehensive representation of the evolution of her career from a relatable high school girl struggling with acne to an upscale Los Angeles influencer who's privy to the best Beverly Hills dermatologist. — By Lea Lopez
Leave a Comment
About the Writer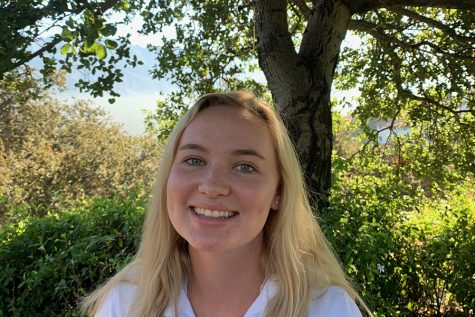 CJ Huston, Arts and Culture Editor
CJ Huston is the arts and culture editor for the Veritas Shield. She began writing for the paper as a junior in 2018. CJ serves as the president of the...