The Veritas Shield's ultimate guide to Christmas movies
'Tis the season to watch the iconic movies of Christmas. With new movies coming out each year, it is hard to watch every single one. But, there's no time like the present to start the fa-la-la-lidays, so snuggle up next to an open fire with some hot chocolate, because the staff of the Veritas Shield has created the perfect movie marathon list. After finals (or during — who are we to judge) sit down and get ready for these sensational Christmas movies. We hope you enjoy our gift to you.
"Polar Express" is by far the greatest Christmas movie of all time. It is cinematically pleasing, has a drool-worthy hot chocolate scene and hits you right in the Christmas feels. Also, the animation is an abomination to the world of cinema, which makes the movie that much more iconic.– Kiara Hosseinion
We think people should watch "Elf," because it is a classic. The film follows a human named Buddy, who has been raised to believe he is one of the elves in the North Pole. When he learns the truth about his birth father, he travels to the real world, New York City, to find his dad. Buddy's adventure is filled with funny moments that bring the holiday spirit to life. — Michelle St. Denis and Caitlin Cruz
I am going to recommend any Christmas episode of "The Office." I enjoy pretty much each one of them. They can be a little wild, but overall, they are very entertaining. — Georgia Kisob
Call me basic, but Tim Burton is hands down one of the most talented directors in the film industry. He somehow incorporates his well-known dark and gothic style into one of the jolliest holidays. "The Nightmare Before Christmas" is both satisfying and eerie, especially due to Tim Burton's notable stop-motion animation. I highly recommend it! —Angelina Arevalos
"Love Actually" is not only one of the greatest Christmas movies of all time, but it is one of the greatest overall films of all time. It's a sweet film about many intertwined love stories, and it also has Colin Firth, Liam Neeson and Hugh Grant when they were all in their prime. — Carisa Joyner
Our Christmas movie suggestion is "A Charlie Brown Christmas." This movie is a classic, and everyone should watch it. In the movie, Charlie Brown decorates his own tree for the school play to show that you don't need to have super elaborate decorations to have a good Christmas. This is a good lesson for everyone — you don't need to go overboard to have a good Christmas. It's a classic. And the music? Classic and classy. Animation? Nostalgic and grainy. Characters? A diverse personality set. — Claire McDonald and Olivia Spina
I adore "The Santa Clause" trilogy, because even though the storylines are cheesy, I got attached to the characters. Following Tim Allen's journey as Santa is a must-watch. Hop onto the couch and have a marathon of all three movies. "The Santa Clause 2" is personally my favorite, because Santa has to get married by Christmas Eve or else he loses his job. What a rollercoaster ride of emotions! — Jessie Mysza
I recommend that everyone watch the "Home Alone" film series. I grew up watching these movies countless times during the holidays, and I still continue to do so. These movies are classics that never grow old. If you are looking to watch a funny Christmas movie this season, then "Home Alone" is the right choice. — Jacqueline Fitzpatrick
My Christmas movie recommendation is the 2018 version of "The Grinch." "The Grinch" is a funny, cute, sweet and timeless movie. The music in the movie is fun and the animation is very cute. This movie always gets me in a Christmas mood. — Katia Stavropoulos
"While You Were Sleeping" is a perfect rom-com aside from its Christmas vibe, which adds to the urgency of the situation and to the heart-warming relationships that grow and stick as the plot unfolds. The movie is littered with the best deadpan one-liners slipped into chaotic and eerily realistic family dinner scenes that my family quotes to each other every day of December. — Lea Lopez
"Unaccompanied Minors" is by far the best Christmas movie. It depicts the story of a bunch of unaccompanied minors stuck in an airport during Christmas. The movie follows a group of kids that take over the airport and cause a ruckus. It is the perfect family movie to watch during the holiday season.– Cerys Davies
It's not Christmas without my annual watch of "A Christmas Kiss." Think "The Wedding Planner" but with production value that has somehow dropped by 50 percent. A young fashion designer has to design the Christmas party for her hot-headed boss who is engaged to a man she kissed in an elevator. Naturally, the boss decides he's the one, and after falling in love in only a few days, she and the elevator man are ready to risk it all. And don't even get me started on the sequel (which I also watch religiously every holiday season.) — Nikki Godinez
"The Princess Switch" is a must watch. Why settle for one Vanessa Hudgens when you can get two? The main character's name is Stacy. There's a creepy old man who talks about fate. The prince lives in a made-up European country. The family crest of the royal prince has Veritas in it. Enough said. — Julia Yellen
"It's a Wonderful Life" never gets old. This poignant classic always puts me in the Christmas spirit, minus all the commercialized holiday fluff. — Ella Kit
Watch "Snow Buddies," because the dogs are so cute, and the movie is an amazing piece of work.– Liza Pyle
Leave a Comment
About the Writer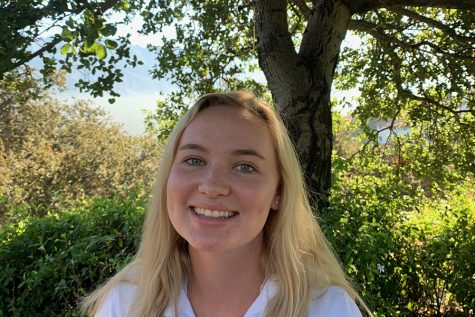 CJ Huston, Arts and Culture Editor
CJ Huston is the arts and culture editor for the Veritas Shield. She began writing for the paper as a junior in 2018. CJ serves as the president of the...