The least wonderful time of the year
The smell of Pillsbury sugar cookies baking in the oven warms my house as my mom carefully organizes her Santa figurine collection. My dad is outside on the ladder stringing the roofline with multi-colored lights while my brother and I sit in the family room watching "Elf."
This is Christmas and I hate it. 
Sure, I love presents, hot cocoa and the smell of pine needles, but the arduous one-month process of getting ready for a one-day celebration is not worth it. 
 The painful month of December involves watching neighbors drop like flies from their roofs, spending at least thirty minutes being yelled at by my dad while struggling to lift a tree into a stand that has been broken for ten years and unwrapping hundreds of ornaments all while trying not to tear the tissue paper. 
"One time, my family made me get out of the car at a red light to push the Christmas tree back on the roof," my brother, Patrick McDonald said. 
Across America, parents waste money at malls to forever scar their children by making them sit on a strange man's lap while wearing stuffy matching outfits to take a Christmas picture only to not have any good ones because the kids were crying the whole time. 
Tolog Michell Zhou shares some of my pent-up Christmas rage. 
 "I once saw my mom wrapping gifts at 6 a.m. and that is when I found out that Christmas was a lie," Zhou said. 
Not only is the process of getting ready for Christmas terrible, the day itself is not much better. Until I was about 12, my poor exhausted parents would have to wake up at 5 a.m. to film my brother and me taking only 20 minutes to rip open the gifts they spent weeks wrapping. Then, after downing about three cups of cocoa and five croissants, we would be forced to put on our tackiest Christmas sweater and sit in church for an hour and a half while the priest preaches about the "true" meaning of Christmas to all the kids who are playing on the new Nintendo DSI's they hold in their laps.
Unlike the classics of Thanksgiving — turkey, cranberry sauce and pumpkin pie — no one in my family has any idea of what food to serve, and it always ends up being a hodgepodge of assorted bread rolls and a turkey tetrazzini made from delicious leftover Thanksgiving turkey. The only truly Christmas "dish" is egg-nog, and although your crazy uncle on his fifth cup claims it is "the best drink ever," it's disgusting, 
Clearly, I do not enjoy the Christmas season. But, as a Christmas hater, perhaps I have some advice for fellow Christmas-hating Tologs for how to get through this difficult time. Drink endless cups of peppermint hot cocoa. Laugh at the Pentatonix Christmas album. Hang out with that one really cool cousin. Appreciating the small things about the season makes it slightly more bearable.
Leave a Comment
About the Writer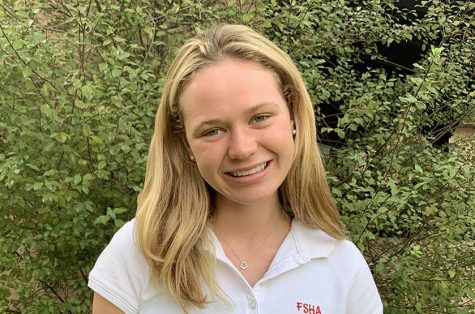 Claire McDonald, Managing Editor
Claire McDonald is the managing editor this year for the Veritas Shield. She started writing for the Shield her sophomore year and served as news editor...