An interview with a Disney executive about tokenism
Last year, I wrote a piece for our previous special issue on tokenism, which is the "practice of making only a symbolic effort to do a particular thing, especially by recruiting a small number of people from underrepresented groups in order to give the appearance of sexual or racial equality," according to Medium, an online publishing platform.
I discussed how tokenism plagues a large majority of the media we consume. Although representation of minority groups has risen, it can still seem like a false sense of accomplishment for  inclusivity. In "Tall Girl," the black best friend has no definitive role in the plot. In "Riverdale," the gay best friend, Kevin, does not get a storyline until late in season two.
TV shows and media have made diversity more normal in the past year, but real sincere efforts at inclusion aren't where they should be. This left me re-evaluating and asking what the future of tokenism and inclusion might look like.
I had a conversation with Kym Belzer,  a manager of enterprise social responsibility at Disney. We spoke about the steps taken towards inclusion at Walt Disney Television.
In what ways has Walt Disney Television tried to make their programming more inclusive?
Year after year, I have witnessed Walt Disney Television, which encompasses ABC, strive to integrate authentic and varied points of view in their storytelling. Diversity and inclusion have become a key focus area.
And why do you think diversity and inclusion have become a central focus?
Including diverse stories is essential to the health and reputational value of the brand, which is critical to keep in mind when thinking of the make-up of the leading entertainment company in the world.
Do you think tokenism is still an issue to address in media?
Today, sometimes including diverse characters or those with disabilities is checking off a box. Minority characters do not always represent inclusivity, which is a genuine must in today's society.
In what ways has Disney made inclusivity a priority?
Walt Disney Television works closely with its diversity and inclusion team as well with showrunners, producers, writers and executives, all who have diverse backgrounds, to integrate authentic stories from all walks of life.
What are the benefits of ensuring authentic representation ?
There is a theory called "symbolic annihilation," which is the idea that if you don't see people like you in stories (i.e., TV shows, books, films, etc.) that you are not relevant in society. This idea is so important, especially for a company like Disney that has the reach that it does.
What are some examples from recent years that you think have positively exemplified diversity?
There have been so many in so many different areas. "Doc Mcstuffins" I think is a great example. Family shows like "Black-ish" have been very popular. Think of "Zootopia." It won an Oscar for best animated film and included a plethora of diversity. The underlying theme was that all characters experience racism in some way. "Inside Out" highlights childhood mental health and captures the nuances of how people think and feel, while educating viewers. Relevancy is very important when producing these shows.
Concerning the LGBTQ+ community, do you think Disney has done a good job representing them specifically?
Disney has been recognized by and works closely with GLAAD [Gay and Lesbian Alliance Against Defamation] and other key organizations on a number of campaigns. There have been a number of series regulars who identify as other than straight, thinking back to "Modern Family" in 2009, which features a gay couple with an adopted daughter. Characters with disabilities are integrated into Disney content as well. Some recent films include "Finding Dory."
Leave a Comment
About the Writer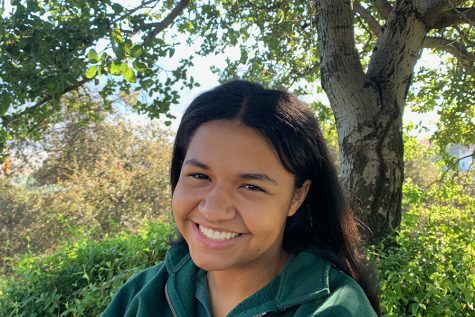 Georgia Kisob, Opinion Editor
Georgia Kisob is the opinion editor of the Veritas Shield. Her journey in journalism began her sophomore year in 2017. At FSHA, she dutifully serves her...